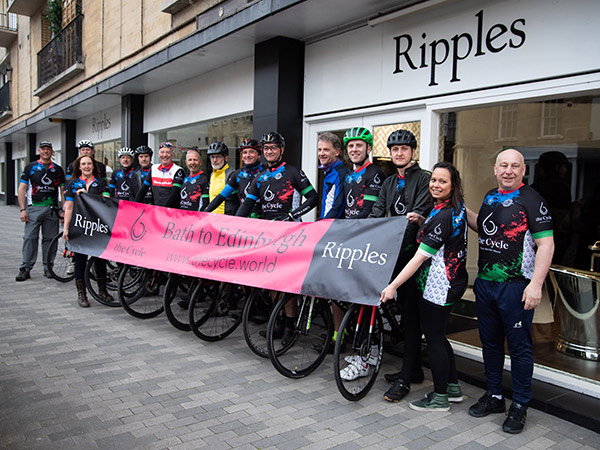 Bathroom retailer Ripples has raised over £20,000 for sanitation charity The Cycle, following a four-day bike ride from Bath to Edinburgh.
The money was raised by a group of Ripples employees, as well as suppliers and friends, who had challenged themselves to cycle the 420-mile route, with around 100 miles being cycled each day of the trip.
The group's chosen charity, The Cycle, is responsible for building safe, hygienic and sustainable Ecosan toilets in India and Africa to be used by over 350,000 people affected by living in unsanitary conditions. The charity also works to support period education, helping to establish menstrual, sexual and reproductive health literacy in schools and communities where cultural taboos still suppress women and girls.
Reflecting on the achievement, Paul Crow, managing director of Ripples, said: "The bike ride saw us cover 420 miles, scale over 5,600ft and spend over 30 hours on our bikes – a huge challenge both physically and mentally."
He also explained why Ripples selected to support The Cycle for this particular fundraising endeavour, saying: "We've been proud supporters of The Cycle for the past decade, raising over £50,000 to aid the crucial work the charity does across India and Africa. With the common thread of sanitation tying us together, we're constantly looking for new ways to raise both awareness and vital funds to help The Cycle improve the lives of those less fortunate than us and the Bath 2 Edinburgh challenge was the perfect event to do this.
"We're delighted to have raised such a substantial amount of money to support The Cycle's work; I personally visited several of the charity's projects during a trip to India in February of this year and saw first-hand the difference that donations can make."
Ripples has had a long-standing history of supporting sanitation charities through various fundraising efforts in the past. In 2013, the retailer organised a charity bike ride from London to Paris, which was followed by similar cycle challenges in both 2015 and 2018. Funds have also been raised through raffles, showroom fashion shows, and mountain bike challenges, as well as donations made for every WC product sold in Ripples' showrooms.
Aside from its recent charity endeavours, 2023 is set to be a busy year for the bathroom retailer, as it celebrates its 35th anniversary this year. The company also recently opened a new franchise showroom in Saffron Walden.