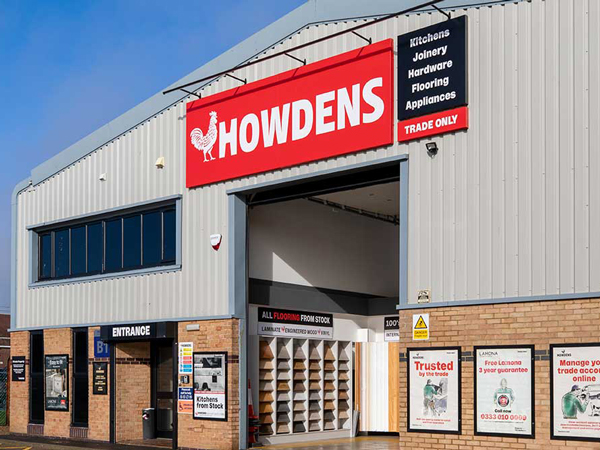 Trade kitchen giant Howdens has continued to push sales in the first half of the year but profits have taken a nosedive.
In terms of sales, UK revenues were up by 0.6% in the 24 weeks to June 11 to £895.1 million. International sales rose by more than a third (33.6%) to £31.8m, driven by strong growth in France, raising total group revenues by 1.5% to £926.9m, compared with £913.1m in H1 of 2022.
In its financial statement, Howdens described this as "a good performance against a tough prior year comparator of +16.3%". It said that revenue was in line with last year on a same-depot basis
Profits on the other hand did not fare so well. Operating profit dropped by 21.5% to £117m from £149.1m last year, while pre-tax profit fell by 22.8% from £145m to £111.9m.
Howdens said that the drop in operating profit (-21.5%) was attributable to selling and distribution costs and increased administrative expenses, predominantly as a result of planned investment in its strategic initiatives, which included new depots, reformats, range optimisation, distribution and digital expansion.
Profit after tax was £84.6m compared with £114.3m in H1 2022, and the company saw its effective tax rate increase as a result of the increase in corporation tax. It has applied to HMRC under the Box Tax Relief Scheme which will allow it to benefit from investments made in intellectual property, including new products, and it expects to receive a 3% benefit to its underlying effective tax rates.
Commenting on the results, chief executive Andrew Livingston said: "Howdens performed well in the first half in a more challenging marketplace, making progress on the record year we delivered in 2022. Our trade-only, in-stock model is hard to replicate and compete with, and we are continuing to invest in our strategic initiatives to drive growth.
"We are delivering value to our customers at all price points as we continue to gain market share and we are well set up for further success in the second half, which includes our autumn peak trading period. The combination of more local depots in convenient locations, an ever-stronger product line-up, first-class service and high stock availability, continues to represent a compelling proposition for our customers. While we are cautious about the short-term macroeconomic outlook for our markets, we remain confident that Howdens will make good progress in 2023 and our full year expectations are unchanged."
Howdens has invested in 33 new depots with 90 'reformats' planned for 2023, with plans to open 10 new international depots. It also introduced 23 new kitchen ranges and invested in expanding its manufacturing capabilities.
Looking ahead, Howdens said that despite a challenging economic backdrop, its builder customers remain busy and it is maintaining a disciplined approach to managing its cost base. It pointed out that its results are strongly second-half weighted, given the autumn peak trading period, and said it remains confident of delivering growth ahead of its markets.