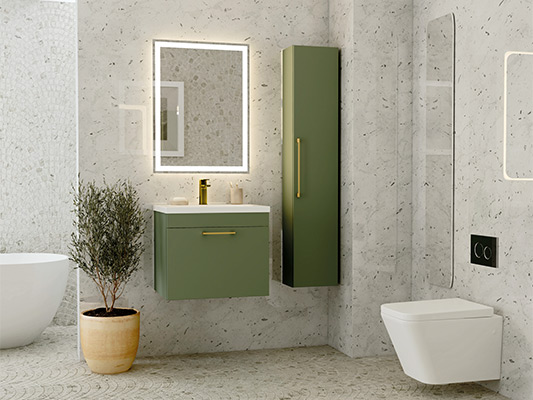 Mereway Bathrooms has insisted that it is business as usual despite turmoil at Mereway Kitchens.
Although they share a name and origin, Mereway Kitchens and Mereway Bathrooms operate as separate companies.
In an exclusive Q&A with kbbreview, Mereway co-founders Richard and Bob Norris said: "We have acted quickly in order to ensure that the Mereway Kitchens brand continues to be a force in the market.
"Mereway Kitchens and Mereway Bathrooms have always enjoyed great levels of loyalty and goodwill from their customers and we have been heartened by the reaction and level of support from the customers of Mereway Kitchens. Due to the different markets that each business operates in, the overlap between the two customer bases is not extensive and we expect any impact on Mereway Bathrooms to be minimal."
Mereway Bathrooms issued a statement yesterday to clarify its position in the market and reassure its customers that it is "unaffected" by the situation at Mereway Kitchens.
Last week Mereway Kitchens gave notice to appoint administrators leading to concerned reaction from the industry, however managing director Mark Mills said that it is in the final stages of talks to secure a buyer for the company.
The Mereway Bathrooms statement read: "On August 2 Mereway Kitchens filed a notice of intention to appoint an administrator. This was to allow Mereway Kitchens time to agree a sale of the business which is now in the final stages of being finalised.
 
"Please note that Mereway Kitchens and Mereway Bathrooms are independent businesses operating from separate premises.
 
"Mereway Bathrooms remains unaffected and continues to trade as normal.
 
"Customers can be assured that Mereway Bathrooms will continue to manufacture and supply our ranges of bathroom furniture, worktops, sanitaryware and accessories with no disruption."
 
At the end of the statement, Mereway Bathrooms urged any retailers to contact them directly if they have any questions.
Mark Mills took over as managing director in July 2020 after co-founders Bob and Richard Norris stepped back from the the day-to day management of the Mereway Kitchens business.