Nathan Maclean (pictured), managing director of Virtual Worlds, explains why, with the growth of the online channel, old-fashioned good service may not be enough anymore and suggests why showroom retailers must use the latest technology to create the wow factor in-store
The KBB retail dynamic has changed dramatically in recent years, driven largely by the advent of e-commerce.
Last year alone, UK online spending rose by 11% to £114 billion and it is expected to grow by a further 11% this year to an overall £126 billion. In fact, it is now estimated that some 27% of all retail sales now take place online.
More so, this age of constant connectivity has irrevocably changed the way consumers make purchasing decisions. They can instantly compare prices and product reviews in-store, consult family and friends instantly via social media. And when they're ready to buy, there is an ever-growing list of online retailers who will deliver products directly to them and – all too often, at a cheaper price.
Naturally, this hasn't escaped the KBB industry with an increasing number of consumers choosing to buy their new kitchen or bathroom online. Cue an increased need for KBB retailers to be forward-thinking and adapt their services to this new way of interacting and engaging with customers.
This is clearly reflected in the latest Mintel report on the bathroom sector, which says 'retailers need to build a wide suite of skills to service the complex requirements of a bathroom makeover – services will become increasingly sophisticated, with branded elements to add reassurance for shoppers'.
Here, the remit is about thinking outside the box and applying the use of the technology to a retail advantage. One clever way, for example, of getting consumers through the door with very minimal effort is through the use of an online planner – in short, a CAD planning tool that enables consumers to set out the room plan configuration for say, their bathroom or kitchen, and plot in their choice of furniture and accessories – all from the comfort of their own home.
Obviously, as would-be customers need to input their details beforehand, this not only provides a data capture opportunity, but a captivated potential customer who is actively looking at purchasing. As soon as the design is done, it is simply sent on to the retailer to follow up in a timely manner.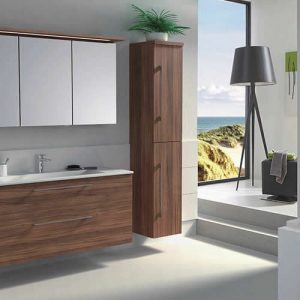 From our experience, retailers can receive up to 25 designs in a month through an online planner and some manufacturers receive more than 200 designs. Assuming they manage to get those enquiries in to the showroom, the result is the ultimate lead-generator.
Then, when it comes to in-store, it's about making the experience as engaging and interactive as possible. Of course, the heart of this lies in the showroom, which must be as aspirational and current as possible in order to showcase the full design possibilities available. A strong design consultancy will help to inspire customers.
Virtual reality
Again though, the latest technology can take the customer experience to the next level.
The industry's first generation of 4D CAD technology, for example, delivers high-quality, virtual reality and an interactive buying experience via a futuristic headset. In this way, users are able to experience a realistic 4D simulation of physically being in their dream kitchen or bathroom design using an avatar set to their appearance. This allows them to see exactly how much space there is between the island units and the oven and to ensure there is sufficient storage for their requirements by extending drawers fully and operating fittings such as magic corner units.
The use of 4D virtual reality can become an invaluable business tool. Given that most consumers can struggle to grasp an overhead, 3D plan or flat render, however realistic it looks, the 4D experience negates this problem entirely by allowing designers to express their ideas in a precise way that their clients physically experience. It also enables installers to plan work with confidence, knowing the design will work as 'real' products have been tried out in the design.
The result, in effect, is negation of the typical 'buyer remorse'. Given that a new bathroom or kitchen is a huge investment for the average consumer, it is extremely important that they get it right. In this way, it effectively alleviates the fear factor associated to buying these big-ticket items.
As testament to this, at Virtual Worlds, our customers have reported an average 50% increase in sales conversions since using our CAD technology – with some reporting a conversion rate of 80%.
Ultimately, it is important to remember that, unlike the fast-moving consumer goods (FMCG) sector, buying a new kitchen or bathroom is a rare and extremely costly experience. Therefore, amid constant tales of buyers being duped with online purchases that fail to live up to expectations and with two-thirds (63%) of shoppers admitting they don't get the best service and overall experience online, the business case for the KBB retail experience is a strong one.
However, times are changing and the reality is that the age-old formula of great customer service and an experienced design team won't always cut it and it's more important than ever to create 'stand out'.
By investing in the latest technological innovations, retailers can look to drastically enhance the buyer experience, creating a tangible 'wow' factor that will not only get customers through the door, but also help close the deal.