Bathroom retailer Ripples has paid a visit to bathroom manufacturer Laufen's headquarters in Switzerland.
Laufen regional sales manager Jamie Welch and Laufen national training manager Richard Court led the Ripples group tour, which included managing director Paul Crow, sales manager Nicola Crow and marketing manager Grazziell Pinto.
Five of the top performing sales designers at Ripples were also among the group.
The trip included a full day's tour of the ceramic and brassware factories in Laufen, near Basel, Switzerland.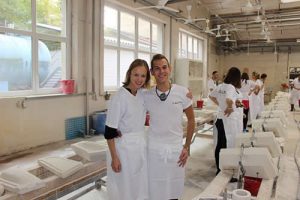 International training manager Erik Holznienkemper led the tour, which offered a look around the Laufen showroom and a chance to get 'hands-on' with the manufacturing process.
Neil Curtis, senior designer at Ripples, said: "I personally found the craftsmanship that goes into the ceramic and brassware production fascinating. The tours were really interesting and provide a valuable source of information. The visit to Laufen allows me to develop my understanding of the brand."