Glasgow-based bathroom supplier Wholesale Domestic has invested £3.5 million in a new 133,00sq ft facility in Hillington.
The newly-refurbished premises is close to its existing 45,000sq ft outlet and is expected to create up to 40 new jobs by the end of 2017. The new storage depot and showroom opened its doors on Boxing Day.
Since 2012, the company has seen turnover double, which it has attributed to the success of its online sales operation. It believes the new premises will allow the firm to grow at around 30% per year.
The extra space will also give both B2B and B2C customers access to the current 5,000 product lines and will offer web customers access to up to 30,000 products through e-commerce partnerships with other national suppliers.
Main product lines include bathroom suites, furniture, baths, showers, taps and accessories.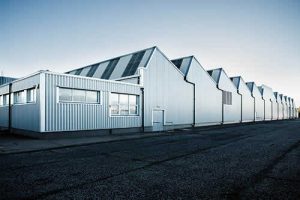 Walter Toward, who co-owns Wholesale Domestic with his brother Derek and nephew Brian, said: "Our business is all about trust. We have built a relationship with our local customers and we want to replicate that at a national level."
The company said its current areas of focus included improving the order-taking, stock control and fulfilment systems, with the aim of making it the leading national bathroom supplier.
"The physical premises are important for our trade customer base, many of whom bring their customers here," Toward added.
"We are in the process of reinventing ourselves as an e-commerce leader by acquiring the scale needed to become a national company. With e-commerce at the forefront, our strategy is to look after our existing customer base, while making the new base into a model logistics operation that can be replicated elsewhere in the country. With our narrowed supply chain, and the improved purchasing power we can ride out currency fluctuations better, and this new capacity gives us the ability to buy more at better prices. The new Hillington facility is now the beating heart of our operation, in all channels, the stock and back-up will be coordinated from here."
Image top from L-R: Walter, Derek and Brian Toward of Wholesale Domestic