Ryan Harris, owner of our adoptive bathroom showroom Harris Bathrooms in Southampton, considers the pros and cons of branded and unbranded goods and talks about what he looks for in a supplier
Recent comments from Stuart Irving of Ablutions Luxury Bathrooms and Paul Crow from Ripples have compelled me to speak out on the role of brands and unbranded products in the ever-changing world of bathrooms.
Having worked in the bathroom industry for over 16 years, I took the plunge and went it alone, starting our family business – Harris Bathrooms. We are three years old now, we enjoy every day, learning, making changes (and mistakes) along the way. We strive to provide our local clients with affordable quality bathrooms with good old-fashioned, friendly service.
Running our business is also a lifestyle choice. I enjoy every day. You have to be excited to get out of bed. Of course, my favourite part is engaging with the people we work with – our bathroom fitters – hearing the highs and lows of the day, being a sounding board. These great guys are the backbone of our business.
Demographics
When we first took the plunge, we assessed the area, demographics, competition and location. Part of this process was to find the right brands that could benefit us and our customers. We also drew up a realistic year-on-year budget.
Like all businesses, we followed the initial simple formula – we had to know our showroom fixed monthly running costs, sensibly predicted monthly sales figures, and most importantly, a monthly gross profit target. It's simple stuff, really and I must at this point thank Paul Crow of Ripples. During my time with his business, he engrained this in me early on.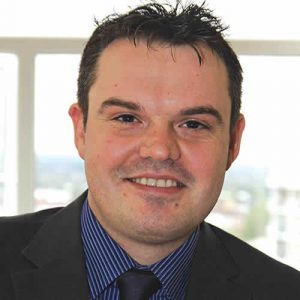 Choosing our selected suppliers was a challenge. We wanted to work with suppliers that ticked all boxes in terms of good communication, a positive attitude, fast delivery times, efficient returns procedures, product training, aftercare and, of course, good buying terms. We tested a few and, three years on, we have made some changes, as some clearly didn't tick all boxes.
Well-known brands are important, but in what ways and why? The product is key. Products do not lie. The product has to suit budgets, designs and expectations.
Our independent business is different from the likes of Ripples. I like to keep it simple. Being totally independent, we can choose who we work with and make changes quickly. We get 40% of our turnover from new relationships with builders, trade plumbers and local kitchen suppliers, and I need top buying terms in order to support these guys.
Our typical customer is no doubt similar to Stuart Irving's. I like the fact he has found suppliers that work for his business. This is key. It can be as simple as a robust back-to-wall WC pan – smooth sides, easy to clean and a strong quick-release seat, backed up with a typical long warranty. It is the same for us. Our customers are guided by me. I choose the product that suits both the design and budget.
The majority of our customers do not enter our showroom aware of brands. Some come armed with a lever arch file containing an Excel spread sheet. They have been 'showrooming' every local bathroom showroom within a 10-mile radius, including web stores with lowest prices to match – reading it off line by line for us to respond to. I'll take it, but the low margins do nothing to improve the balance sheet. I certainly wouldn't entertain a site visit or detailed drawings free of charge.
If your business is geared up for brands, why can't the brands be proud and shout about us from the rooftops? Why can't we take advantage of joint marketing campaigns and chat to a customer about why a particular brand suits them?
I would like to promote our brands, but times have changed. Years ago, it would be fine to display codes and descriptions of products on price boards in display bays.
Now, I'm not so sure. We are not here to promote brands. I want to focus on us and the services our company offers – it's basic sales skills, personality, flair with honest advice and sensible pricing that wins us the order.
So what do we do about brands? We have a mix. We have branded products, but we also have a collection of non-branded.
Our software is set up with precise up-to-date costs, and we can track margin on each sale made daily. We can monitor profits and modify each quotation we make.
Our buying terms on unbranded are better, maybe taking advantage of quantity stock net prices, and rebates or one-off orders based on quantity. I only wish to provide products that we can be confident of after-sales, spares and guarantees. Our customers seem happy, so it must be working.
Being independent, I can choose who I deal with. In return, I expect loyalty, a knowledgeable likeable rep, fast delivery, hassle-free returns, good administration and great after-care. Oh – and a 'sorry' when they make a mistake.
Faulty products
Recently, we had a client who requested some brassware from a well-known tap and shower manufacturer. The tap was fitted, but after four months, the customer reported it was faulty, with water leaking from a crack.
An e-mail from our customer was sent to the supplier, who didn't even say sorry. Having spent over £3,000 with them on showers and taps, an automated email followed, saying 'the case would be looked at in seven working days'.
To this day, 10 weeks on, and after chasing a response, we've had nothing back. What do I do for the customer who spent over £10k on goods with us? I'll probably have to pay for a new tap, pay the customer's plumber for refitting and then pursue a credit.
With another of my suppliers, I'd have had the tap replaced in two days, free of charge, including refitting costs. Which would you choose?
During these uncertain times, with price increases and changes, my advice would be – know your business. Who are you targeting? What is your market? How are brands helping you? Keep track of costs from suppliers and see how they actually benefit you and your growing business.
Every business is unique, but the balance sheet talks.