Designer Johnny Grey proves that he can do small too and shares some of his ideas for compact spaces
While generally known for large sociable kitchens, I can and do design small ones as well. Many years ago, I was asked to make a galley kitchen for a bachelor in an attic space 1.5 by four metres. It consisted of a single curved cabinet with a built-in oven and fridge, a series of small wall-hung items and a built-in table below the window.
A walk-in pantry was tucked into a roof void. I went on to do a series of kitchens around the world for this client, but he told me that first small one was his favourite.
There are two ways kitchens can be small. There's the walk-in galley with restricted floor space or a compact kitchen made by concentrating the culinary zone into one part of the room.
Here are some ideas that work for me when I design small.
A curved table or peninsula allows for easy body movement. Users of the kitchen don't bump themselves on corners or have to slow down while moving. A peninsula encourages sociability, even in a tight kitchen space – as well as providing a work surface, it allows for perching at one end. A width of 900mm to 1,200mm works well.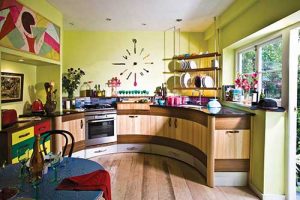 It's also good to use dedicated work surfaces. At any one moment, you can only use the width of your outstretched arms – about 1,800mm. If you have to walk around too much, your cooking is less efficient, so restricted countertops are actually better than large expanses, as long as they are properly designed. We provide dedicated work surfaces distinguished from each other by variety in the surface materials and cabinet heights [see picture 2].
I also always try to squeeze in a table. Demographic trends indicate a huge growth in city living and small apartments. Anticipating this, the star piece from Ideo's 2025 Future Kitchen for Ikea was a multipurpose hi-tech table that incorporated a live camera-led information system. Set flush into the surface of the table was an induction cooking ring. The creator of this design, Ger Edwards, maintains that the table is crucial to the modern social role of the kitchen, especially in cities. Currently, smart kitchen technology focuses on food delivery firms like Deliveroo and on Anova (high quality pre-cooked food in bags) as well as small appliances. I imagine a future when the hob will be a two-ring device, as small appliances replace the traditional four rings.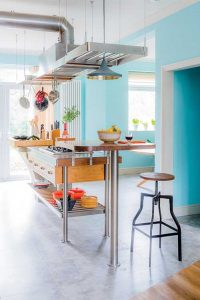 Go big on storage. While a larder or walk-in pantry can work well when space is tight, it is worth dedicating a part of your kitchen floor to a masonry pantry, compacting storage into one zone and taking the pressure off cabinetry, which is often more expensive to build.
The space below a staircase can sometimes become a large cupboard. It's all about claiming extra space. Identifying a priority of needs allows a designer to score over a computerised plan. Decisions about how much to customise the cabinetry depend on budget, but there are a number of inexpensive solutions to storage. One is a hanging rack made by screwing large cup hooks to a ceiling joist from which you attach a pole with a chain or cable. Butcher's hooks hang off that to hold saucepans, frying pans, cheese graters, sieves, strings of garlic, etc.
A place to perch, where someone other than the cook can come into the kitchen for a chat, can also be provided with a pull-out or drop-down stool or swing-out work surfaces [see Picture 3].
Small spaces can be claustrophobic. Ways of addressing this include clever lighting that produces shadows and variable light intensity, so prioritise making the design emotionally engaging.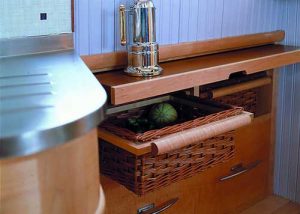 In a small kitchen, vary the materials, colours and textures and make its details tactile. Translucent glass, wire mesh and reflective metal finishes can all be used. Add an unexpected luxury feature – an end-grain chopping block, maybe some wall bars with butcher's hooks and open shelves.
We hand paint our furniture and coat it with tough lacquers. This provides a simple way of personalisation and keeps the kitchen fresh. You can always repaint it in different colours. It works best with artisanal furniture as factory finishes don't take kindly to repainting, but another option is colour on the walls. We commission artists to paint motifs on to canvas that can be glued onto door fronts or other parts of the furniture and then lacquered over for a durable, washable finish [see picture 1].