Jim Gettings, co-owner of J&S House of Design in Oxfordshire, says it's best to keep it simple when helping customers in the search for their dream kitchen
When it comes to kitchen design, don't fall back on what you know, think about what your clients need and 'keep it simple, stupid' (KISS).
Ironically, kitchens can be like ordering a coffee – your potential customers now have a huge choice of what they can have, but they generally don't know what everything is, or what combinations they can have and ultimately they try to play it safe, going with what they've always known – the cappuccino of 'standard' fitted kitchens.
When it comes to planning a kitchen we like to 'keep it simple'. What space is available? How do they use their kitchen? What do they cook, drink, and eat? And, critically, how many of the family use the kitchen at any one time?
There are simple planning tips and not even 'tricks' of the trade but, with all the appliance innovations out there that those of us in the industry know about, we can offer our customers options like a 'triple, venti, half sweet, non-fat, caramel macchiato', which they probably had no idea existed, but for us is the new 'black'.
What follows are some simple planning tips that will help you with your initial kitchen designs.
Perfect the layout
Getting the layout right at the initial planning stage is a vital ingredient to successful sales, although not always obvious, despite your years within the industry. That's why we believe it's vital not to only consider options, but to also present them to our clients, so that they fully understand some of the thought processes we have gone through to create the right design.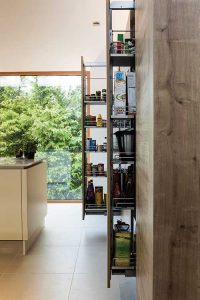 With clever investigation into the options available within the property to create the best design, it's vital that you think outside the box and at least discuss moving walls, moving doors, adjusting window sizes, consider extensions or even moving the kitchen to another area of the home, ensuring you have given the best and most comprehensive advice you can.
The all-important question is, how they want to use their kitchen? As we are all aware, more and more people want to create a multi-use space where you can cook, have dinner, work, watch the TV or incorporate a family living space. This often means that customers are considering integrating the dining room into the kitchen to create a larger area for the whole family.
There is so much that can be achieved with islands, breakfast bars and wide work surfaces to help integrate the kitchen with the rest of the home. We've moved tiny windows, sinks and wall-hung cupboards to make way for bifolding doors, bringing light and life to a kitchen without the loss of any workspace or storage.
L-shaped kitchen
We're all aware that in true design terms a galley kitchen offers the most efficient solution and works well in small spaces, such as kitchens in cottages or town apartments where space is at a premium.
However, that doesn't stop the customer from believing that you can do more with the space as experts than they have considered for themselves, and it becomes a real challenge to convince them otherwise – just wave our magic wands and it will become the kitchen of their dreams.
We do, however, have some tricks up our sleeves as many of these types of kitchens will have been designed at a cost for the developer and the storage options, like clever hidden storage, never considered. Butler's pantries, magic corners and the integration of drawer storage can add an inordinate amount of storage space without the need for claustrophobic, wall-hung cupboards.
C- and U-shaped kitchens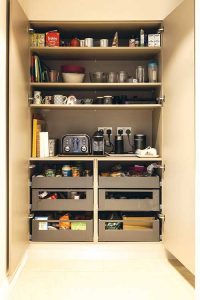 A C-shaped or U-shaped kitchen offers a great deal of space, keeping everything within easy reach from oven to sink. With an island on the outside, it doubles up as a breakfast bar or work surface.
Think about hiding away bulky appliances. Juicers, mixers, toasters, even kettles all take up space valuable work surface space and add to the general kitchen clutter look. Large under-counter drawers are a solution to hide away appliances or add in a separate cupboard, such as a baking station to help keep the kitchen tidy and organised.
Modern drawer runners mean that we can now have large and deep drawers strong enough to hold customers' kitchen gadgets and even their entire saucepan set, with all the options being accessible. And the beauty of the drawer is they open out to your customer rather than them having to go rummaging in a cupboard. Simple.
Take time to discuss kitchen technology and remember, choosing a new kitchen is not an everyday activity for the customer, neither is selecting what appliances they are going to have.
This is where it's important to think of the simple questions like what do they eat? And how do they cook, or in many cases how they want to cook and eat in the future.
Remember, they are doing this to make a lifestyle change, not just a colour change.
Internet
Don't forget that many customers have begun this journey by using the internet as a point of reference, in many cases without considering what they can have, rather than what they think they can have.
So check how strong this point of reference is. Many will have collated photos of kitchens they like, and don't like, it is good to have something to refer to.
And don't forget that at this stage all plumbing and electrics can be planned effectively around the design, so the customer is aware of the potential hidden costs and upheaval these works will impact upon the lives in the short term.