Bespoke kitchen manufacturer Tom Howley has joined the heart of London's interior design community with the launch of a new retail showroom on the Fulham Road in Chelsea
Since Tom Howley opened its Wigmore Street showroom two years ago, it has responded to a growing demand for its designs in the London area by adding a second showroom in Chelsea – the centre of London's interior design community.
Tom Howley, part of the Neville Johnson group, now has eight showrooms in various key locations throughout the UK, including London, Altrincham, Alderley Edge, Beaconsfield and Bristol. The new Chelsea showroom is split over two levels and was chosen as it is long and narrow, which design director Tom Howley says "is perfect in creating the best environment to inspire our potential clients", as many of the houses in the local area are Georgian terraces and the kitchens are a very similar shape to the showroom.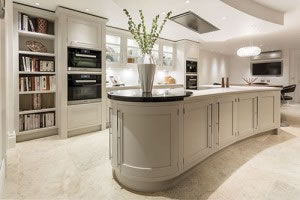 "We chose a site in the heart of Chelsea, on the busy Fulham Road, to give the showroom maximum visibility," explains Howley. "The two large, glass windows give potential clients a very clear view straight through to the back of the showroom, so you are immediately able to see all the kitchens displayed on the ground floor."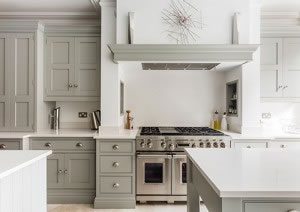 A combination of painted and hard-wood walnut designs has been selected to widen the appeal of the showroom and cater for all tastes in the local area. The studio, therefore, features displays of the brand's most popular designs, the Harrington and the Hartford, as well as its brand new Divine kitchen.
"When considering the design of the Chelsea showroom, we wished to create the perfect showcase for our luxury, bespoke classic and contemporary kitchens," Howley explains. "We like to display a range of kitchen sizes in our showrooms, as we feel they create more realistic spaces that all of our clients can imagine living in."
According to Howley, considering the local audience and the customer's journey through the showroom is also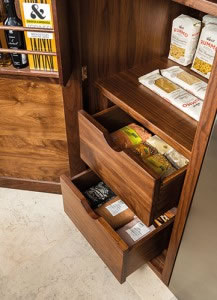 essential to creating the right layout and design for any retail environment. "When we design our showrooms, there is careful consideration of the client's journey through the showroom. The new Chelsea studio is a great example and every storage and design idea has been carefully thought-out," he says.
"Throughout the showroom, we have used beautiful, walnut interiors and solid oak drawers, which produces a really sumptuous and luxurious feel. Nearly every cupboard holds behind its door a treat in storage inspiration with clever, hidden pull-outs.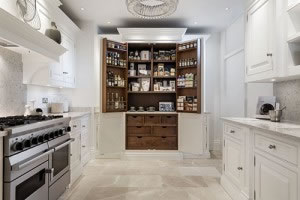 "We wanted to create aspirational kitchen displays that people could imagine living in themselves and also a space where we could host cookery demonstrations to potential clients too. The result is a combination of perfect kitchen design with the best in luxury appliances.
"The Harrington display is a fully working kitchen where we are able show customers how to use the Miele steam oven and coffee machine or highlight the benefits of induction cooking."