'They buy because it's the best, not because it's smart…'

Technology specialist Cornflake's central London APPartment features a host of home automation, all controlled by a single iPad app. Tim Wallace hears why the venture has growing relevance for KBB retailers, and why kitchen appliance connectivity has been kept to a minimum…
By the time I've reached the front door of Cornflake's Smart APPartment in London's Fitzrovia, a CCTV camera scanning the street outside has already worked out my height, weight and average walking speed.
Once inside, my progress down Windmill Street is played back to me – like something from the Bourne Identity – on a huge TV screen in the boardroom. An automatic e-mail alerts them to anyone who's been hanging around outside for longer than a few minutes… Already, I'm getting the feeling that this is no ordinary showroom.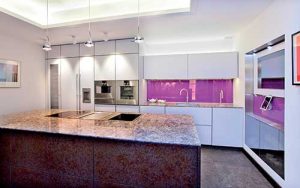 Cornflake unashamedly targets the super-rich – people with yachts, private planes and fine art collections. People who value their privacy and security but rarely cook and have probably never stacked a dishwasher. People attracted by anything that makes their lives easier, and who'll pay top dollar for the latest technology – providing it's nothing gimmicky…
I've been invited down by Mike White – UK agent for Austrian kitchen brand Intuo – Cornflake's chosen furniture supplier. He admits that he's probably better known in the industry for being "Mr Pyram", but is clearly enjoying his other role as a Cornflake ambassador. I'm also introduced to Philip Hine (pictured top), Cornflake's affable design director. Both are eager to give me a full tour of the impressive 4,000sq ft space and explain more about the company's philosophy.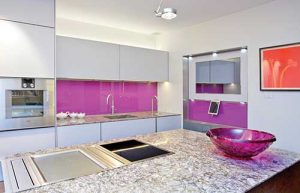 We begin with the Intuo kitchen – matt glass with Stone System worktops – which opens out on to a spacious seating area. Hine turns up the volume on the high-end Linn audio system and the opening strains of the Eagles' Hotel California fill the room. It's the original master copy apparently – crystal clear.
I'm then invited to settle into a deep sofa as he begins a screening of a recent Coldplay concert, chosen from a vast range of AV options. The lights in the ceiling suddenly harmonise with those flashing on the massive TV screen.
"It'll be holograms next," I suggest, but Hine informs me you can already rent a full size, all singing all dancing, 3D Robbie Williams for parties. It'll cost you £25,000, but the technology is there if you can afford it.
Next, I'm taken to the "man cave", complete with bar, games room, top-end audio system and revolving dance floor. "We spoke to a client who loved our sound system, so I was surprised when we didn't get the order," Hine tells me. "We discovered later he went somewhere else and paid £1 million for a pair of speakers."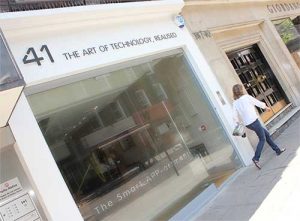 Then it's on to the plush new home cinema, where I'm treated to an action-packed clip from Hollywood blockbuster San Andreas, chosen from a vast collection of carefully categorised titles. It doesn't take them long to convince me that this is a major step up from my local fleapit.
Whole house approach
So what's the background to Cornflake, what's the strategy, and what's the connection to the KBB world?
"My wife Samantha and I bought the company seven years ago and built this place," Hine explains. "We offer a whole-house solution. We're a technology integrator – it's not just AV anymore. It covers everything – security, CCTV, TV, curtains, heating, lighting… Basically we will integrate anything. Technology is moving at such a pace that we'll soon have TVs in worksurfaces. Various people are looking at it.
"It's all a bit Minority Report," he laughs. "The biggest thing was building an app that overruns all the other apps. Our clients find it too complicated and time-consuming otherwise, and most of them have several floors. They just want a setting that makes everything work."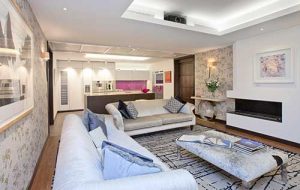 Trying to keep Hine on a kitchen, bedroom and bathroom theme isn't easy, particularly as Cornflake doesn't actually have a bedroom or a bathroom. But that's the point. We're not specifically talking about the KBB environment here. The approach is much wider. Some of what they're showing me won't be directly relevant to KBB retailers right now, but you can be sure it will be in the future. And that's the key message the pair want to get across.
"There are things Cornflake does that top-end KBB retailers could buy into," White explains. "They could find it a useful adjunct to what they already do. They're painting the other, more upmarket, side of the connected home picture."
Despite the absence of a bedroom or bathroom, Hine points out that all the technology is transferable. "We just thought it would be a bit personal to walk a client into a bathroom and say, 'you can have your speakers in here'. It would be a bit uncouth."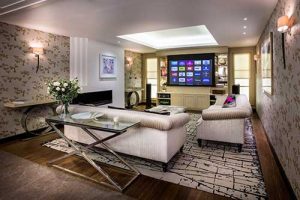 But interestingly, neither White or Hine are fans of connected kitchen appliances. Again, they see the broader "whole house" theme as far more interesting – the biometrics of the apartment controlled by a specifically written iPad app.
To highlight the point, Cornflake's chosen appliance supplier is Gaggenau, a top-end brand, but one that's quickly rejected the connectivity that others have invested millions to embrace. To Gaggenau, connectivity is more about offering a concierge service; the unit informs a service centre of a potential fault before the user notices and provides a 'seamless fix' under the radar.
As far as White is concerned, connected appliances risk "taking cooking down the same cul-de-sac as satnavs for drivers". Cooking is a "hugely tactile experience", he insists, and the kitchen can do no more than feed into that.
Lighting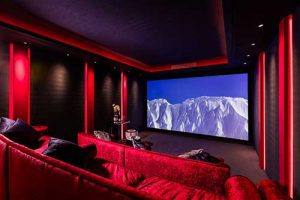 Ultimately though, there seems plenty at Cornflake to interest and inspire KBB retailers. Lighting, for example, is another major focus. The living room has circadian rhythm lighting, Hine explains, which mimics daylight – from whiter and crisper to more yellow as the day goes on. It's even realistic enough, he recalls, to have fooled a fire inspector, who asked if he could get out on to the balcony, forgetting he was in the basement.
Well over half of new-builds now have to have LED lighting, but used badly they can spoil the ambience of the room completely, he adds. "As you dim LEDs, they go grey, that's the problem. I look like a ghost, I look ill. So we show what we can do with LED lights. It's moving on at a huge pace. But these have 'dim to warm' technology. As they come down, they warm up. It's subtle and when you walk into a room you might not notice it, but you feel more comfortable. It feels right. Your retailers would absolutely be interested in this. It's a great add-on for them."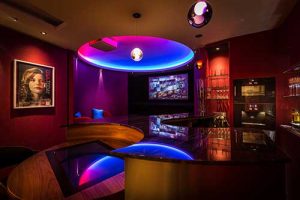 I leave with valid assurances that although Cornflake is aimed at the very top end of the market, the APPartment is something that any progressive KBB retailer should be taking a close look at. For one thing, it ties in with the emerging idea of turning your store into an experience centre. But it also underlines why showroom dealers need to be looking at design and connectivity from a wider perspective, rather than simply learning what the latest smart appliances can offer.
"The whole house idea means all this is becoming more relevant," White concludes. "We look toward next year's Milan exhibition to see where it's all going. In the meantime, Cornflake will keep breaking the barriers with leading-edge – rather than bleeding-edge – technology."
'It's gimmickry and won't become mainstream…'
---
Cornflake's design director Philip Hine explains why connected kitchen appliances 'will never sell in vast numbers'
Q: Which connected appliance brands did you consider?
A: Originally, we talked to Hoover. They have their Wizard range of smart appliances. But the reality is, we didn't quite get the concept of wanting to talk to your fridge and washing machine remotely. Why would one of our clients spending £50 million on a house want to talk to their washing machine?
Q: But can't most smart appliances be described as premium end?
A: No, they're not. They're trying to enter the top end, which is why there was such a desire on the part of Hoover to establish a contact with Cornflake. This would have been a perfect environment to develop their product, but we discussed it and couldn't get it. None of our clients will ever use those devices. Their staff will use them. So, for our clients, it was a complete non-starter. If that's the market they're aiming at, to be brutally honest, their marketing is wrong. None of our clients will ever touch that stuff, because it's pointless. They will buy an £8,000 washing machine or oven because it's the best. But they won't buy it because it's connected. The Gaggenau brand is seen as the best there is.
Q: So what do you make of the big appliance brands pumping millions into smart technology? Are there flaws in their thinking?
A: Imagine you're sat in your car with your shopping in the boot. Are you honestly going to go on your app on the phone to put your freezer on fast-freeze because you've bought £2.50 worth of ice cream? I'm sorry, but you aren't. And if you've put a load in the washing machine and gone to work, are you going to go on your app and do a spin cycle just to have it extra fresh? You'd have to be pretty bloody anal!
What's more interesting, and more relevant is if you can go on your app when you're on the train or in a cab and set the 'come home' scene. Press the button and bang, the porch light comes on, the hall lights come on, the kitchen lights come on, the heating comes on. That's the connectivity that's interesting.
But the fridge, the freezer, the washing machine, the dishwasher… I see very little traction in there. Yes, you can preheat an oven before you get home, but it takes five minutes to heat an oven these days. I don't see it as something the public want to get involved with.
Q: So it's little more than gimmickry?
A: Yes, and I know people buy gimmickry, but I don't believe it will become mainstream. It will sell, but not in vast numbers. I cannot imagine that your average John Lewis purchaser, who is upper mobile middle England, will go in and say 'I want a connected appliance'.
Q: So what's Cornflake's view on the launch of John Lewis's interactive smart-home department? Don't new ventures like this suggest the smart-home market is gathering momentum?
A: It's connected in a way that you turn your music on or talk to Alexa. You're not going to ask Alexa to turn on the washing machine – you've got to load the bugger! That's the difference – with Cornflake, you don't have to load a device, you don't have to be there. You do with a dishwasher, oven or fridge. You have to be there.
Q: Are there ways connectivity can work in the kitchen?
A: Maybe with refrigeration. Imagine you've had a delivery and you've got four people coming for dinner. So what can you cook? It will bring up a list of recipes. That's interesting technology, because all of a sudden it takes out the issue of researching it. So, we'll get to a point where every item has a barcode so the fridge knows what's in there. That's the way I think it will change – the fridge and the electronics.