To give people a feel for how homes may look in 2020, video ad tech company Unruly and News Corp have launched the Consumer Home of the Future. Here, Unruly's futurist, Simon Gosling, explains what 'Home' is and why they built it
'Home' is an audacious house built smack in the centre of Unruly HQ in London, designed to give marketers a synapse-tingling shot of the future, inspiring them to consider how they could use a new generation of tech to move people emotionally in a connected home.
If you're wondering about the role that VR, AR and audio will play in the future, then this is the one house trip you should make in 2017.
Designing the home was a joint project between myself and a variety of interior and biophilia designers, property and interiors journalists to gather insights on how the home of 2020 might look and feel. We were told it should be very cosy and comfortable, where tech disappears into the background and assists us.
We wanted the space to look and feel like a real home. We have everything from the latest connected kitchen appliances, thanks to Dixons Carphone [Currys], and VR headsets from HTC Vive, to smart, self-heating raincoats by Emel+Aris and the Dodow, a small metronomic light that helps you get to sleep quicker, from Amazon Launchpad.
We also have the finest natural quartz kitchen work surfaces from Caesarstone and even Heineken's Sub, which pours the perfect pint.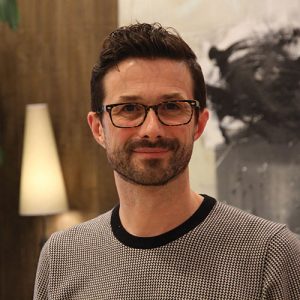 The concept of 'Home' is brought to life in the form of a fully-fledged 2,000sq ft real-life apartment within Unruly's new HQ in Whitechapel. It's all on one floor, but when you get to the top of the stairs, and stand on the lawn, you wouldn't even know it's there. You only see a 40 ft wall, onto which four state-of-the-art Epson projectors cast a looping video of a forest, (the first home of homosapiens), complete with birdsong. Upon the voice command, 'Take me Home', a movie projects on to the wall, in which the camera ventures through the forest and visitors enter through a doorway in the shape of our 'Home' logo.
They enter a darkened space. Upon the voice command, 'Welcome Home', the curtains open, Philips Hue lights turn on, atmospheric music emanates from our Sonos speakers, the fire lights on our 65in 4K LG TV – digital art by Niio.com – picture frames illuminate, the Nest thermostat turns the heat up a notch and our Smarter Coffee machine begins to brew a perfect blend.
It's hard to list everything, because every room is stacked with surprises. These include voice assistants an iKettle, Samsung smart fridge and Bosch and Siemens kitchen appliances, HTC Vive, Microsoft Hololens, Lumie Bodyclocks, Google Tango in Lenovo phablets and Daydream VR, Nest camera, smoke alarm, thermostat, Netatmo camera and weather monitor, Body Cardio scales and Steel HR smartwatch from Withings, plus a Tour de France exercise bike from eBay and a voice-activated Neato vacuum cleaner from Amazon Launchpad.
Smart appliances
In our kitchen, we have beautiful, burnt-yellow Moroccan tiles and a white quartz Caesarstone splashback. On the balcony, we have a plant wall – a haven where people can completely switch off. So there's a lot more to creating a true smart-home concept than just smart appliances.
Cooking in the connected kitchen is about four key areas. Replenishment – keeping your fridges and cupboards stocked. Recipes – what to cook based on those contents, best-before dates and even the weather. Methods – tutorials that show you, or talk you through the cooking process of a recipe. And finally appliances – connected appliances that respond to voice or app control.
Voice activation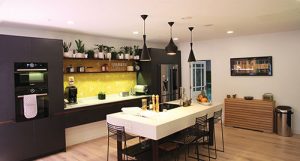 In our #futurehome, we have many smart appliances that cover these four key areas. We can order food directly from the display of our Samsung Family Hub fridge. We can ask Taste.com.au, via Alexa, Amazon's voice assistant, to suggest recipes based on ingredients that our fridge reminds us have reached their best-before dates, then take us step by step through the cooking process. We can then use voice activation, again through Alexa, to control our Bosch Home Connect appliances.
If KBB retailers asked me what they should be doing to make the most of the connected-home market, I would say ultimately align your products and services to a voice-activated world. By 2020, 30% of all internet searches will be done by voice and screenless.
Selling connected products will be made easier if manufacturers advertise the benefits that connected products can bring. The advert for Google Home does sell the benefits well, but I think people are concerned about how difficult it might be to install connected products, so manufacturers need to create content that shows how simple it can be.
So is it all a gimmick? We don't think so. I think people will delight in the convenience that voice activation and artificial intelligence (AI) brings to their cars and then wish that their homes were as efficient, which will pave the way for the uptake of smart products.
In 2016, there were 6.6 billion smart devices in the world and by 2021 there will be 22.5bn. The internet of things (IoT) market is predicted to add £1.37 trillion to the global economy in 2019, so it's a lucrative market.
Pictured top: Simon Gosling checks out Samsung's Family Hub Fridge