Premium extractor manufacturer Novy has joined the KBSA as a corporate supply member.
The membership kicked off with its corporate sponsorship of the recent KBSA Conference.
Novy lays claim to being the inventor of, and patent-holder for, perimeter extraction, as well as developing the first silencers for cooker hoods.
Novy country manager Owain Harrison said: "Novy has a long-term business plan for the UK market and we are firmly committed to supporting the kitchen specialist industry. For 40 years, the KBSA has been an invaluable resource for kitchens businesses, particularly for independents, while membership also brings the benefit of being regarded as a trusted brand for consumers. I have been a supporter of the association throughout my career and I believe the KBSA continues to be a force for good for the sector going forward."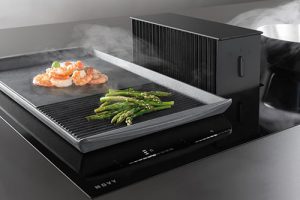 Richard Hibbert, national chair of the KBSA, commented: "We are very pleased that Novy has joined the KBSA as a corporate member so soon after its entry to the UK market. The brand brings with it years of experience and innovation in the extraction sector and while relatively new to the UK, it is already a household name in Europe.
"The KBSA continues to deliver business support services to retailers, while ensuring we help their businesses grow to consumers by helping enhance their website search rankings. We also actively support our corporate members, like Novy, by ensuring they have direct access to the right contacts within our specialist retail membership database."