Premium appliance brand AEG is bucking the market trend and has seen 40% year-on-year growth for its Premier Partner kitchen studio business in the first two months of 2018.
Speaking exclusively to kbbreview at this year's kbb Birmingham show, Gordon Dawson, kitchen channel head of the UK and Ireland at Electrolux, which owns AEG, said: "The market at the moment is tough – consumer confidence is always a challenge across the industry, but where we're seeing some really strong growth is in our AEG brand.
"This is on the back of some substantial investment in product and marketing last year – we're starting to see some really fantastic numbers coming through in the premium sector. If you take our AEG Premier Partner kitchen studio business, we've seen 40% growth [year on year] through January and February. That's great when you launch a new range of products and you reposition a brand.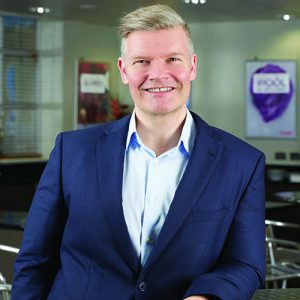 "We're growing ahead of the market – we've increased our investment in product and in independent kitchen studios. We have a five-year warranty, we're doing experiential events and we have exclusive products for that section of the market."
Added Chris George (pictured), Electrolux UK and Ireland marketing director: "Last year saw us back on TV and that's an investment that we will continue. We'll also have a big focus on experiential this year and engaging with consumers at the point of retail.
"There's a heavy duty on us to make sure that we're actually driving people into retail to look for product, rather than just making it look great when they go there.
"We're really focused on making sure we're targeting the right consumers with compelling messages. The way that we've approached the market has been from a very consumer-centric perspective – it's not looking at technology for technology's sake. What are the pain points for those consumers and how can we use technology to make things simpler?"
Commenting on the trend for connected appliances, Mr George told kbbreview: "It can't be overstated how important it is that when we're bringing in innovations, they're rooted in consumer needs and pain points. There's a lot of superficial connected stuff out there – when we start seeing AEG connected appliances coming into the UK market, it will be about making sure that we're focusing on things that will work and make a difference and things that the consumer will ultimately value. If we don't make them 'sticky', then they will use them once or twice and then that will be it.
"If we're going to invest in it, then we must do it in a way that will be meaningful and useful, more than anything else. We're trying not to follow – we're looking ahead, seeing where the future will lead and trying to create something more compelling. 2018 will be the year when we start seeing some real connected innovations coming through from AEG."
• AEG used kbb Birmingham 2018 to launch its new AEG Installer app, which is aimed to support kitchen installers.
The free app, which is suitable for both iOS and Android devices, allows kitchen installers to scan or search a range of AEG kitchen appliances to find the correct and fastest way of installing them. By entering the product number code, model or product name, or by scanning the barcode with a smart device camera, installation instructions are provided on how to fit the appliance.
Said Patrick Le Corre, Electrolux's senior vice-president, major appliances, EMEA: "AEG is the first to offer this unique support to the kitchen business and puts us in a very advantageous position ahead of the competition when it comes to best-in-class installation. Initial feedback has been extremely positive and we are looking into extending the app to include more functionality and content."