So whilst everyone was celebrating the Royal Wedding with cream tea scones and prosecco Team kbbreview were armed with spray paint guns, masking tape, newspaper and dressed in not-so regal overalls.
The task….spray paint a 2004 Vauxhall Vectra dark blue estate (which we've names Daisy), bought for the bargain price of £500 and turn it into a bad boy rally car…spoiler alert, that didn't happen!
We turned up at Henesh's house, that lovely hot Saturday morning ready to get to work, (well, Tara and Lindsay were somewhat distracted, regularly checking all social media platforms, waiting for a glimpse of THE dress). Henesh started with the mechanics whilst Deanna began taping and masking off our bad boy racing stripes, ready to be sanded down and then sprayed a beautiful yellow to compliment the original navy blue.
Lindsay and Tara (finally putting their phones down) began to spray paint….
Now, what professional spray painters don't tell you is that their job is actually very hard! And you know how when you see pictures of cars being spray painted, they are usually in some sealed off room? Well thats because the wind is not your friend when it comes to spray painting.
Even though it was a lovely hot day, it was somewhat breezy, so you had two choices…
Get really close to the car, spray = thick blobs of splattered paint
Spray from a bit further away = the wind took the paint and ended up on Henesh's driveway
So we soon realised that achieving the perfect finish was never going to happen and we decided to go with a mottled look (well that's what we're calling it).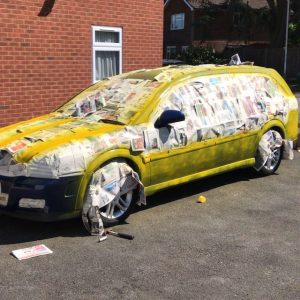 Six hours land 24 cans of spray paint later, we'd finished, but Daisy was less of a Bad Boy Racer and more of a Banger Racer.
Then the fun really started.
Daisy needed to go and get a service, so Henesh took her to his local garage, Swift Motors.
She needed 4 new tyres, new brake pads, new brakes disc, new track rod ends, new wipers, full lighting re-wire, replacing the whole offside brake calliper….the list went on, but all pretty standard straightforward work right? Well yes, you think that would be the case but the brake calliper had been discontinued for our car model (of course it had). After a few unsuccessful calls to some nearby dealers and garages Henesh decided there was only one thing for it, he'd have to go on the hunt at the scrapyard.
After a full day, back and fourth to the scrap yard and Swift Motors we thought Daisy was a goner.
But then at the 11th hour Henesh found the part we needed. Mission accomplished. Or so we thought.
When the mechanic had taken the wheel off he noticed that the brake calliper, which housed the brake carrier, was just rested into place; basically the brake carrier had lost its thread (cue dramatic music). So Henesh gets back on the phone to find a man who can thread!
Luckily its not that hard to find a man who can thread!
Daisy had been given the TLC she needed and was now ready for the road!
Now, all that lay between us and the continent was finding our fancy dress outfits ready for day 1…
We'd like to thank our partners who have been very generous in donating to such worthy causes, HPP, The 1810 Company, Uform, Nobillia and Blum.
If you would like to donate, please click here