The rate of growth in house building in October was the weakest for seven months as optimism over the future growth of construction activity in the UK took a nosedive, according to the latest UK construction Purchasing Managers' Index (PMI).
While overall the IHS Markit survey, compiled from the responses of purchasing managers at around 150 construction companies, showed growth in UK construction for October, fears about the health of the UK economy and uncertainty related to Brexit raised concern of the sector "getting stuck in the mud" as the deadline of March 2019 creeps forward.
"On the surface, the construction sector showed growth, but there was plenty for businesses to be concerned about underneath," said Duncan Brock, group director at the Chartered Institute of Procurement and Supply.
"Optimism was at its lowest level for six years, as the sector remained stifled by client hesitation, fears about the health of the UK economy and continued Brexit uncertainty, resulting in slower growth of new orders and purchasing."
He added that the slowdown in the housing sector was "unsurprising" given the recent poor performance in UK housing sales.
While construction firms continued to hire workers at a strong pace, suggesting that an imminent contraction in demand is not expected, the survey highlighted supplier delays, stock shortages and rising cost pressures from fuel, labour, timber and steel.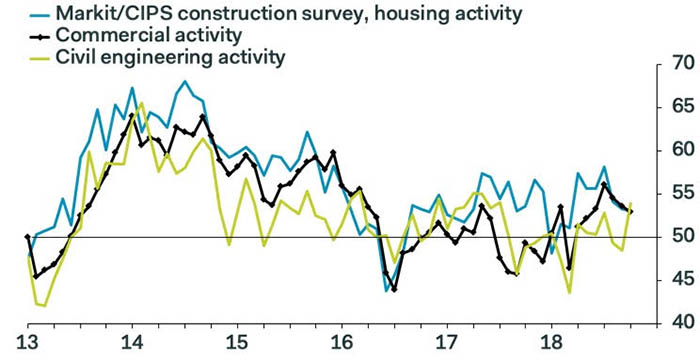 The news comes a day after the Nationwide Building Society released its latest house price index, which showed house price growth at a five-year low.
The building society said house prices were flat month on month, growing at an annual rate of 1.6%.
Robert Gardner, Nationwide's chief economist, blamed the squeeze on household budgets and the uncertain economic outlook for putting the brakes on housing market transactions and prices.
He said Nationwide expected house prices to rise by around 1% over the course of 2018.
"Looking further ahead, much will depend on how broader economic conditions evolve," he added.
The Bank of England kept interest rates on hold at 0.75% this week but, in its November inflation report, indicated that the expectation was that rates would rise to 1.4% in three years' time to return inflation sustainably to its 2% target.
The bank cautioned about relying on monetary policy relief to support the British economy after Brexit.
"The MPC [monetary policy committee] judges that the monetary policy response to Brexit, whatever form it takes, will not be automatic and could be in either direction," the bank said in its report.