Bathroom brands must "wake up" to the fact they will boost sales by using the Water Label, the Bathroom Manufacturers Association (BMA) has urged.
Outgoing chief executive Yvonne Orgill has said failing to use initiatives like the Water Label scheme is bad for business as shoppers are becoming more mindful of the impact their purchases have on the planet.
Orgill's comments come after BMA research showed that water efficiency was a key purchase influencer for households looking to buy a new bathroom.
The 2018 edition of Bathroom Purchasing Trends is the result of an online survey into the bathroom buying and usage behaviour of UK households – key insights, which the BMA has said should support product development.
It had 517 responses, of which 80% indicated that they would be more inclined to buy bathroom products, such as taps and showers, that demonstrated evidence of using less water.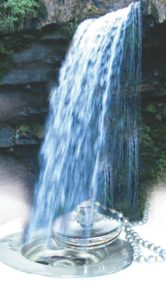 But less than half (40%) said they were not made aware of the amount of water individual products used.
"This insight into consumer behaviour provides valuable information for our members and the bathroom industry," said Orgill.
She added: "The industry needs to wake up to the fact that they are going to have to take this issue (of water efficiency) seriously."
"We cannot keep using the amount of water that we do, but they should see it as an opportunity, as our research clearly shows that consumers want to do their bit and would buy water-saving products if they had more water usage information."
The 2018 John Lewis trends report, out last month, confirmed that sustainability has gone mainstream, with shoppers wanting more details about where the products they buy come from.
"We know that manufacturers have water-efficient products and they have the Water Label that they can use to demonstrate this," said Orgill.
She said that 143 brands already use the Water Label, a scheme that allows consumers easy access to a database to assess water and energy efficiency.
"If more companies took the Water Label on board, we could collectively make more of a difference and they would sell more products too – a win-win for all."
The study found that consumers on the hunt for new bathrooms will spend on average £4,366, which includes fixtures, fittings and installation costs, and many will shop around, with 54% of projects purchased from more than one retailer.
A second study undertaken in partnership with Trend-Monitor and the BMA called Behind the Bathroom Door features detailed insights from 50 households reporting daily for seven days on how they undertook a variety of bathroom tasks, including when and for how long they spent in their shower and bath, brushing their teeth and even WC-flushing routines.
Asked what innovations they would like to see from bathroom manufacturers, answers included:
Surround sound or integrated shower sound system that allowed a relaxing shower or bath without having to take a smartphone into the bathroom that might ring;
A heating element for the bath that would keep the temperature up during a long soak;
Foot jets in a shower to clean the soles of your feet;
More use of integrated technology to provide underfloor and in-wall lighting, heating and odorising sensors.
Both reports are available in full as part of the Trend-Monitor Insight Partner service.