James Hickman, the chief executive of online bathroom retailer Plumbworld, has rejected claims that the challenges facing Victoria Plum are shared universally by other e-commerce sanitaryware businesses.
Richard Hassell, director at Doncaster-based retailer More than Baths, predicted that TPG reportedly trying to flush Victoria Plum from its portfolio of companies was a sign of the shrinking market for online bathroom retail.
Speaking to kbbreview last week, Hassell said: "Give it another 18 months and we shall see who comes out on top," he said. "Online for bathrooms will die out."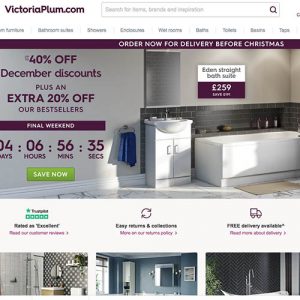 But Plumbworld boss Hickman told kbbreview that Victoria Plum was the victim of a "significant period of mismanagement" by its current owners, private equity firm TPG, and dismissed predictions of the demise of the online market as "totally naïve".
He revealed earnings were up more than 100% at the Evesham business for 2018 despite the Brexit-induced fragile economic backdrop and said that the past 12 months had been "great".
He said: "It is no surprise to me that Victoria Plum are for sale after a significant period of mismanagement by the current owners.
"After paying such a high price for the business the only way TPG could justify it was to embark on ambitious and untested growth strategies.
"They moved into bedrooms and foreign markets and added lots of low-margin branded products to a range previously dominated by own brand high-margin imports.
"They spent huge amounts on TV advertising and bought a large distribution centre to handle the predicted volume growth, as margins fell and costs rocketed it was clear that the business was on the wrong path."
He added: "Every industry can point to examples of poor management, but any thoughts that this indicates the beginning of the end for the online bathroom market is totally naïve.
"Better Bathrooms and Victoria Plum may be throwing up losses after the departure of the founders and losing sight of what made those businesses work, but others in the sector are still doing well."
Upbeat for next year, Hickman, said that Brexit had so far not "had any noticeable impact" on Plumbworld.
He said that foreign exchange hedging strategies valid until the end of next year have fully protected the business from the fall in the value of the pound against the US Dollar which would have increased the cost of the products they import from China.
"I think that Brexit is being used as a convenient excuse by businesses for poor results, which are often simply down to poor management decisions," Hickman told kbbreview, revealing that he is a "Brexiteer".
"I think that the long-term benefits of being able to eliminate European regulations and negotiate our own trade deals will be very positive for the UK and outweighs the short-term disruption that is inevitable with any major relationship transition.
"Exporters to the EU have seen the value of sterling fall by 12% since the Brexit vote, which is more than enough to offset any price increases caused by WTO tariffs imposed by the EU.
"On the import side the UK would be free to set any level of tariff it wants."
But he made clear that zero tariffs would be optimal, calling for the UK to become a free-trade zone like Hong Kong.
"It would have been far more sensible for the UK government to have developed robust plans for a "no deal" Brexit in parallel to the exit deal negotiations. It would have strengthened their hand and may have helped achieve a better deal than the one on offer," he told kbbreview.
"However we are where we are with the Government in chaos and the choice between the Chequers deal that neither Brexiteers nor Remainers want, a second vote that would rip the country apart and destroy people's faith in democracy for a generation or no deal and moving abruptly to trading under WTO rules.
"In these circumstances I think no deal is the lesser of three evils."