Full details have emerged of the shocking level of debt that forced Canburg – the former owner of the Smallbone and Mark Wilkinson Furniture brands – into administration last November.
Canburg has since been bought by a company owned by Gary Barnett, president and founder of New York-based real estate specialist Extell Development Company, through a vehicle called Sapphire 700.
But a statement of affairs by administrators Grant Thornton has revealed that Canburg owed millions of pounds to a vast range of named creditors when it finally collapsed.
The report also confirmed that Business Growth Fund (BGF) – the vehicle set up by Britain's high-street lenders in the wake of the 2008 financial crisis – was owed £5.8 million by Canburg at the date of the administration and HSBC bank £7.7m.
"We expect both BGF and HSBC to suffer a shortfall," the report states.
Trade creditors include appliance brand BSH, which is owed £254,000, and Miele, which is owed over £140,000.
Other major creditors include fabric and wallpaper supplier Linwood, which is owed over £479,000, timber supplier Hardwood Sales, which is owed nearly £473,000 and flooring supplier James Latham, which is owed nearly £445,000.
Meanwhile Studioilse Architects is owed over £122,000 and marketing agency Cultural Agenda nearly £69,000.
The report shows the total shortfall after sale of assets to be £32.4m.
Book value for raw material, showroom stock and miscellaneous assets totals £6.2m with a realised sale best offer of £950,000.
"The company has been suffering trading losses for some time and due to depleting cash in the business it faced closure," the report confirmed.
"The insolvency of the company can be attributed to cash flow pressure resulting from an inability to generate sufficient profits from its contracts and to cover its overhead base.
"Grant Thornton was engaged to undertake an accelerated sales process either of the share capital or a sale of the business and assets through a prepack admin process."
Referring to the eventual sale of the business to Barnett, the report confirmed that three offers were received on the same day – November 28 of last year.
Of these, only Barnett's offer of £700,000 – which was later increased to £1m with an additional £1m to assist with immediate working capital requirements – was "the only deliverable offer".
Unsecured creditors are estimated at £18.9m, of which £9.7m relates to deposits in respect of unfulfilled customer orders at the time of the appointment.
The purchaser is honouring pre-appointment customer orders and the pre-pack sales "allowed business continuity, ongoing employment and minimal disruption to customers".
"Had the business closed," the report adds, "additional creditor claims would have arisen, as a result of redundancy costs, of up to £2.5m."
The administrators went on to explain that Barnett's offer came as a result of a Sky News story on November 26, 2018, revealing Canburg's notice of intention to appoint an administrator. The US developer saw the article and was given further information, resulting in the sale of the business.
Barnett has now launched a new company – SMWF Limited – which owns the Smallbone, Mark Wilkinson Furniture and Brookmans furniture brands. It has two showrooms in London – in Knightsbridge and Holland Park – as well as a workshop and showroom in Devizes.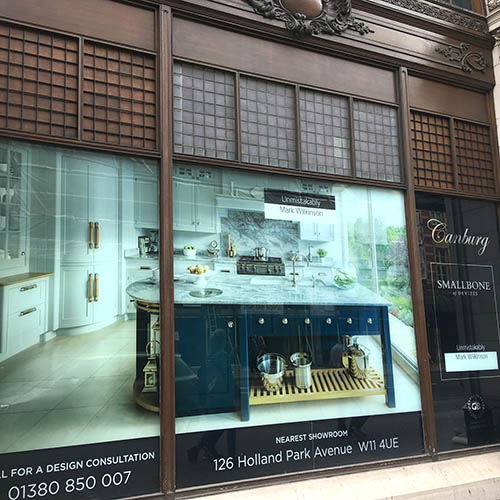 The report goes on to explain that, although the sales and assets of the company were £1m, the true value of the sale was up to £13m, depending on the level of deposits honoured by Barnett.
He has paid £429,746 in advance to the company.
Nobody at new company SMWF was available for comment.
Meanwhile, luxury kitchen brand Bulthaup has announced that it has taken over the Wigmore Street showroom recently vacated by Smallbone of Devizes.
Smallbone took over 27 Wigmore Street five years ago from Minotti Cucine after the Italian kitchen company went into liquidation, but it never opened its doors.