Reporting from ISH 2019, Frankfurt
Grohe unveiled a 3D-printed tap concept as it sought to make a splash on the first day of ISH 2019.
Amid 500 new product announcements, including for the first time, a complete ceramic bathroom collection called Essence, Grohe also said that it had improved its Grohe Sense and Grohe Sense Guard water management systems.
One new feature is an app available from April that can be used to control the systems remotely, while tracking water usage and associated cost.
Delivering a keynote speech to 350 international journalists and invited guests inside an exhibition space at the top of the Frankfurt Messe, Grohe chief executive Michael Rauterkus (pictured top) said that the 3D tap was "truly futuristic" and showed that Grohe was investing in technology not just to be relevant in the market today – but in the next five to 10 years as well.
The tap prototype, which will be installed for the first time in a new restaurant off the southern coast of Norway within weeks, is made from a unique and secret formula of granules exclusively developed by Grohe for the 3D metal printers at its Hemer manufacturing site in Germany.
"The digital transformation of our industry has only started," Rauterkus said, while Thomas Fuhr, Grohe executive director of operations, suggested that 3D taps were just the tip of the iceberg.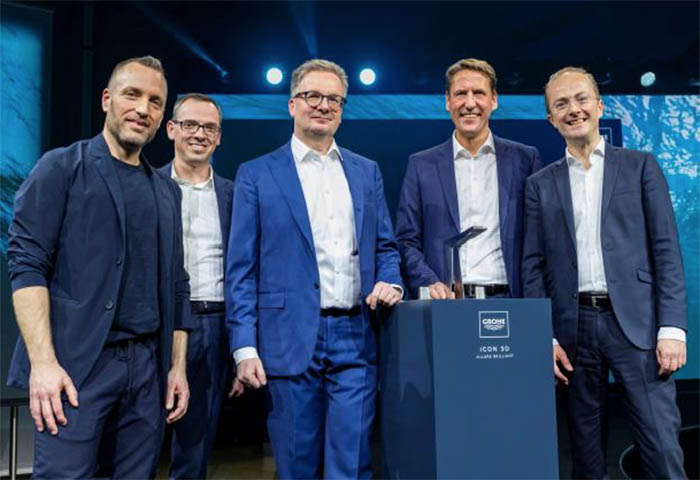 Fuhr added: "We will go beyond faucets. They are only the beginning. What we have achieved here is this. We have put Grohe quality into a 3D-printed product. The magic lies in the possibility of printing metal. The special formula that we are using allows us to be at the cutting edge of 3D printing."
He said the kitchen-and-bathroom tap company, which employs around 6,000 people worldwide and has been steadily expanding its product line-up and smart water management solutions, will make an exclusive line of the Grohe Atrio Icon 3D and Grohe Allure Brilliant Icon 3D for their customers at "exclusive" prices.
Rauterkus said the products will "revolutionise" the water experience in the home, offering the ultimate blend of industrial production and customisation, which has become increasingly in-demand.
Rauterkus suggested that as bathrooms and kitchens increasingly become integrated with other living spaces, customers want the fittings in these rooms to express their individual style and preferences.
"The design of our new faucets is beyond belief," Rauterkus said. "For consumers, it's the future of their own creativity and ultimate personalisation. Grohe is shaping the future of water."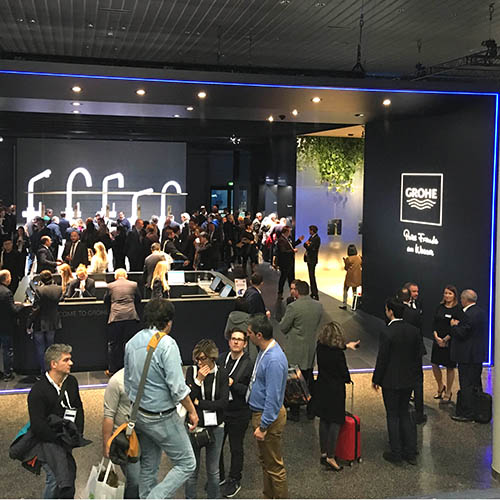 Grohe used ISH to position itself as a leader in complete bathroom solutions offering a range of colours and materials, as well as a software innovator, working with partners in other industries, including insurance companies, to develop its intelligent water management ecosystem.
Grohe said its product and technology innovations set out to address what it saw as five mega-trends changing customer demand: new living spaces, consumers become creators, the search for simplicity, taking control, and intelligent life management.
It is the biggest innovation push from Grohe so far, tailored to the needs of consumers as well as professional partners, such as architects, installers, insurers and smart-home experts.
"As Grohe stands for water, intelligence, and enjoyment, we are creating intelligent water solutions that transform lives for the better", highlighted Rauterkus. "Most importantly, we are transforming the experience of water itself".