EXCLUSIVE
Christian Asmussen, UK managing director of Danish bathroom supplier Dansani (pictured above), has outlined the company's plans for a no-deal Brexit amid growing calls from its dealer base to clarify its position.
Speaking exclusively to kbbreview at international trade exhibition ISH in Frankfurt, Asmussen said he remained confident that trade with the UK would continue without major disturbance, whatever the outcome of the current Brexit negotiations.
He also played down claims that UK dealers importing European products may face significant price increases and heavily extended lead times.
"Dealers are worried that there's less customers coming into the showroom so they've got less footfall. We need to respond to that and help them," Asmussen said. "I've had customers saying, 'what are you going to do, what's your plan?' But the owner of Dansani says that until we know what's happening, he's not worried. He's at the top of the cake and if he's not worried, then I'm not. There will be a way. We're already dealing with countries outside the EU. We're setting up our own concept stores in China. That's a lot further away than the UK."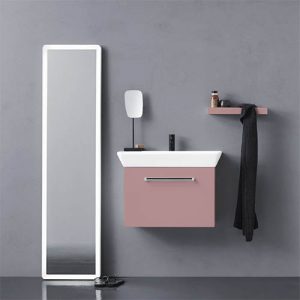 However, Asmussen admitted that a collapse in the current Brexit talks would probably mean alterations to the company's UK retail strategy.
"If there's a no-deal scenario, we might have to change the way we do things," he said. "So instead of sending product four times a week, it might only be one or two. We'd fill a container, sealed in Denmark and not opened until it arrives in the UK. So there are ways round it.
"And where currently we invoice from Denmark, we may have to end up selling the product to Dansani Ltd in the UK. We would then invoice, which would mean we would have to start charging VAT, whereas currently we don't. We don't know yet, but we can't just think, 'oh there's a no-deal, what do we do now?"
Asmussen also confirmed Dansani was not stockpiling products in the UK: "We probably wouldn't have what they want anyway," he said. "We'd end up with the wrong product on the ground. It's not what we're about. Every piece is made individually for what the customer wants.
"We don't have any stock in the UK, but where we have the biggest growth and success is with the customer who wants the full supply and install. So they're often on weeks, or maybe even months, down the line. As long as we get the orders in time, I don't see it as a big issue. Whether something will be delivered in two weeks or three weeks, I don't think that's going to be a big issue for us. It's different if you need to supply the next day or within two days, but we can't. We're always governed by the fact that from an order received, to arriving with the customer in the UK or Ireland, it's two weeks. If that becomes three, it won't be an issue as long as they know, and they understand the reasons why.
"Costs may go up, but it will be the same for all of us. Blum, Egger… everyone is buying from the same place. We'll all be subject to whatever happens and we'll have to deal with it."