The owner of Wren Kitchens saw pre-tax profits at the group double in 2018 as a result of "gravity-defying" growth at the UK manufacturer and fast-expanding retailer.
The West Retail Group, owned by Yorkshire millionaire Malcolm Healey through an investment firm, reported that pre-tax profits at the company, which also owns online electronics business called Ebuyer, jumped to £38.3 million in 2018, from £17.7m the year in 2017.
Sales at Wren Kitchens reached almost £500m in 2018, up 21% on the previous year, earnings before interest, tax and depreciation rose 66% to £62.4m and gross margins increased as well.
Matthew Walton, senior retail analyst at research firm GlobalData, called Wren's latest financial results "gravity-defying" against the backdrop of a "challenging kitchens market".
The group, which has its head office in Barton-upon-Humber and launched Wren 10 years ago, said in its latest financial report that there were "significant opportunities" to grow and suggested the major challenge from Brexit on its business is that while the uncertainty continues, "consumer confidence suffers", which it said will affect the whole market.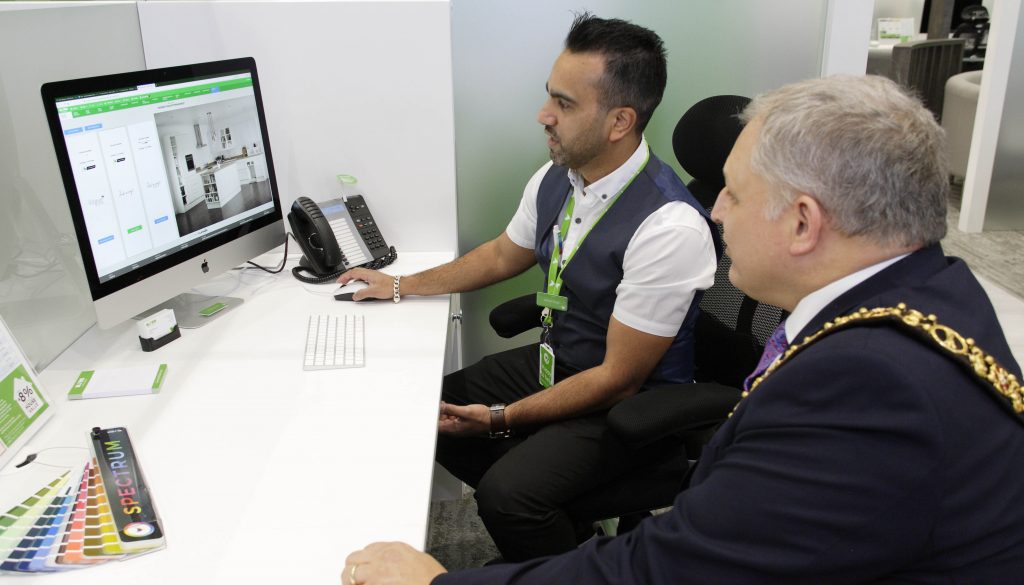 But the directors added: "Based on the company's post-year-end sales performance, this does not appear to be the case at this stage."
Wren Kitchens ended the year with 77 showrooms and said it had opened two more in Eastbourne and Ayr since its financial year-end, signed contracts on three more and is "in negotiations" to take on "several" additional sites, but would only commit to leases that meet the firm's "investment criteria".
The directors said: "The growth of the business has been driven by its ability to provide customers with a bespoke, fully-assembled kitchen at a price that even those selling a basic flat-pack kitchen cannot match.
"The number of permutations on offer is beyond that any traditional competitor can match, meaning that customers are not forced to compromise on their design and can fully utilise all the space in their kitchen without unsightly filler panels."
They said the company was "unique" among "major kitchen retailers" in producing each kitchen "just-in-time" and "as a result the impact of offering such a large range of products, in terms of both the amount of cash tied up in stock and the physical space required, is kept to a minimum".
Wren introduced its "popular" Spectrum range last year, which allows customers to bring a sample of their preferred colour into the store and then Wren can create a kitchen that matches the sample colour.
The directors said this initiative caters for the increasing demand for more bespoke and personalised kitchens.
In addition, 2018 saw Wren invest heavily in its IT infrastructure, including its "unique" planning software as well as rolling out its virtual reality system, developed in-house, across its showroom network.
In total, the firm invested almost £29 million in fixed assets in 2018, it said to capture the "significant growth opportunities" in the UK market and abroad and achieve its "strategic goals".
Earlier this month, Wren reached out to the workers of Better Bathrooms following its collapse and again to the employees of Hull furniture maker Kingston Furniture, which suddenly closed its doors with the loss of 280 jobs.
It said at the time it had vacancies at its three manufacturing facilities in Barton-upon-Humber, Scunthorpe and Howden, and for head office staff at its Barton-upon-Humber headquarters.
A Wren spokesman said: "We feel it is important to keep manufacturing alive and help the Humber region."
They added: "Wren is continuing to expand, creating 17 new showrooms nationwide in 2019, and manufacturing and delivering around 2,000 kitchens a week, so we are always looking to recruit good people.
"Last year, Wren Kitchens was named the second-best place to work in the UK by Indeed.com, the world's largest jobs website. We are a passionate family-run business and proud of our record as an employer."
Global Data's Walton suggested Wren's growth was "driven by expansion, and its continued aggressive promotional campaign, showcased by it actively recruiting former B&Q Homefit fitters and stating it would "match all B&Q quotes and supply a superior quality product".
He said growth in sales per showroom slowed from 5% in 2017 to 1% last year but added that "any growth in a challenging big-ticket market is still impressive".
Walton added that Wren's investment in its product and IT infrastructure is a "prudent move for Wren, as buying into a new look became a more important purchase motivator in H2 2018, according to our consumer survey data".
He added: "Wren's 2019 prospects remain positive, as it has already opened two new showrooms and exchanged contracts on a further three. Its vertically integrated model enables it to control costs and remain price competitive and it has reported that early 2019 sales remained buoyant despite consumer confidence staying weak.
"The kitchens market will become more competitive in 2019 with Howdens, Wickes and Magnet remaining threats. However, Wren is well placed to extend its lead atop the market."