In a bid to shake up the market with a product that's genuinely new, Derbyshire-based manufacturer The Real Kitchen Company has launched a fully sustainable kitchen range made from bamboo. Tim Wallace meets managing director Pete Sanderson
By his own admission, Pete Sanderson has become bored by the kitchen industry. He's bored by the lack of imagination shown by manufacturers. Bored by industry trade shows that he claims display nothing new. Bored by the hollow marketing spin of brands that deceive their customers.

Now 62 and a veteran of the kitchen game, the former William Ball retailer has switched his focus to manufacturing in the past few years. And he's quickly made it his goal to offer the kitchen market something genuinely different.
But where do you turn when you've seen every colour, material and product trend come and go several times over? In Sanderson's case, it turned out to be his wife who came up with the answer – and the result is his new 'Green range', which he proudly claims is the world's first fully sustainable, fully accredited eco-friendly kitchen cabinet manufactured from bamboo…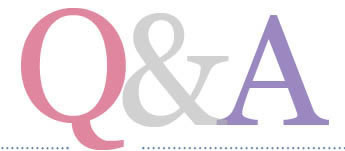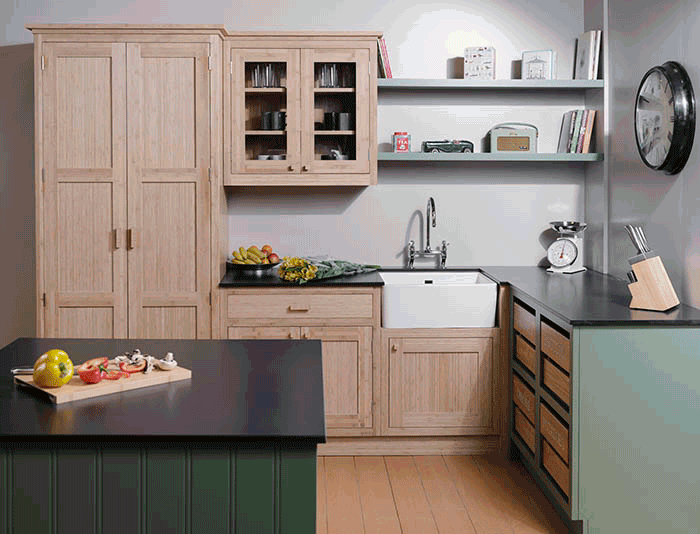 Q: Tell us more about the idea…
A: The Green range is not only eco-friendly, but it's a stunning-looking product. It's certainly something very, very new for the kitchen market. We also have our Simple range, which is a semi in-frame kitchen giving trade outlets that option at a lay-on price. These are two of the newest and most innovative products to hit the kitchen market for a long time.
Q: Who's your supplier?
A: We've teamed up with Moso – a supplier of Chinese bamboo – who've got a UK outlet in Swindon and have been helping us prototype it. We've got half-a-dozen showrooms that are waiting for displays.
Q: Is the material more expensive?
A: There's probably about a 10% to 15% increase price-wise.
Q: What first made you go down the eco route?
A: I've always been interested in sustainability and bamboo. I love bamboo. It grows really fast – it grows overnight! You can hear it growing. We looked at all the products available and a lot of them are sustainable, but they're horrible-looking. Lots of people do eco boards, but they're disgusting-looking things and making a kitchen out of them wouldn't work. So in the end it was my wife who said, 'why don't we use bamboo?' It's also a wonderful material aside from its green credentials; it's durable, harder than oak and very stable, so the outer paint finish won't crack.
Q: What's your route to market?
A: We sell to the trade, showrooms, developers and architects. We don't sell to the public – I don't like the public [laughs].
Q: Which showrooms are you partnering with?
A: A few in London – Ray Munn, for example, but we're nationwide. We've got a couple over near Manchester, one in Bristol, then down to Christchurch.
We look at the internet and cold call, then invite them up. But we're a factory not a showroom. We could do with a show area, but it's getting the time to put one in.
Q: When was the Green range launched?
A: At last year's 100% Design in London, and then at Grand Designs at the NEC. But the stand at 100% Design cost us about three grand and the show was dead. So was Grand Designs. I've done Grand Designs eight times and I've never seen anything like it – it was so quiet. It's past its sell-by date. It happened with the Ideal Home Exhibition, but now it's building back up again and was really good this year.
I did kbb Birmingham the time before last. That was good. But last time it was the same old lay-on kitchen manufacturers. It's boring to me. There wasn't much that was new. It's hard to find something that blows your socks off.
Q: What's the background to the business?
A: We set the factory up for £50,000 and started with six employees. We've now got about 21 and two factories on the site. I used to get another factory to make them, then I decided I could make them myself. The Simple range is made out of beech with veneered MDF carcasses. And we supply kitchen showrooms all over the country. We've got about 20 clients.
But we were looking for something to do that was a little bit different from the rest and we think we've found it. First, we came up with our Simple range – the semi in-frame kitchen. The side rails are fixed to the carcass, but the top and bottom rails are fixed to the door and drawer. It's all made of MDF, so it was an economy kitchen, but it's handmade – it looks similar to an in-frame.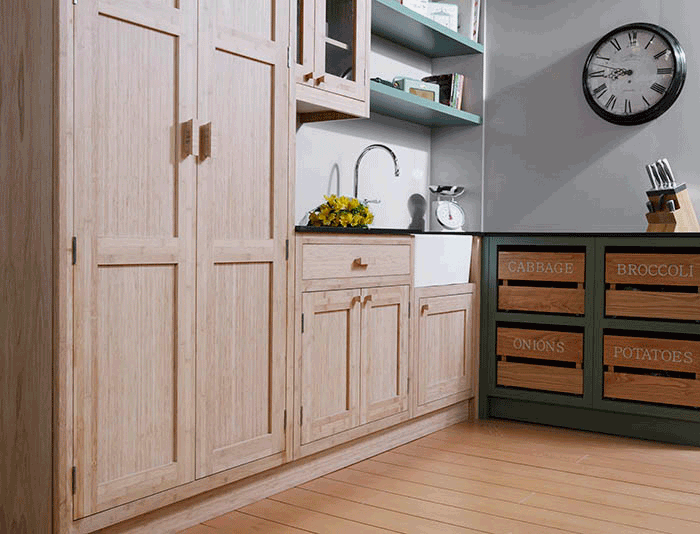 Q: How much work is involved in a new venture like this?
A: I'm 62 now, but you wouldn't believe the hours I work. A lot of days, I'm in here at 3am and go home at six or seven in the evening. There's a lot of work involved in running a factory – the paperwork and scheduling all the jobs.
I live in Nailsworth in Gloucestershire. I go home once a fortnight and my wife comes up her once a fortnight. Everyone says it's the perfect marriage, but I'm not so sure!
But now I've now got a production manager, I'm hoping he can take more on his shoulders.
Q: How much interest has there been from retailers so far?
A: We want to sell this as an exclusive product. We're only looking at a limited amount of showrooms. We've got half-a-dozen and we're looking for a further 10 unique showrooms to display the Real Green range. I'm a bit long in the tooth to flood the market.
Q: What kind of finish have you found your retail customers so far prefer?
A: I suspect they'll use it within a painted application. Painted finishes are produced using a water-based system, as you'd expect with an eco-friendly product. There will also be those customers who want to use it just for the carcass material – selecting it because it's a solid material rather than a veneered plywood carcass or cabinet. Thus far, it's been well received and we're just starting to see projects filter through to production.
Q: How easy is the production process?
A: We've invested in a new system that's a bit like Easyquote – you can push the button and place the order. It automatically does the cutting list and the materials list and all the costings. Someone is building it to suit us, it's a private arrangement. It's very exciting and I think it will take off.
Q: What's your turnover?
A: About £2 million. That will go up to £3m next year hopefully. We're not a poxy garden shed business, but we're not a Charles Yorke or PWS. Charles Yorke is just up the road, near Mansfield. We've got their former production manager now. He wanted the challenge – something to get his teeth into.
Some of the big distributors are just churn-out machines. We can pick up work from them. We can beat them on price on in-frame stuff, but not on the bog-standard lay-on single doors. We pick up a lot of work like that.
Q: Are you worried your business model will soon be copied?
A: If it goes in kbbreview, someone will copy it. But it will take someone six to eight months to get the accreditation.
"Lots of people do eco boards, but they're disgusting-looking things and making a kitchen out of them wouldn't work. Bamboo is a wonderful material"
Pete Sanderson, managing director, The Real Kitchen Company

Q: How easy is it to attract new retailers?
A: You haven't got to make them switch. Even people selling in-frame are interested in this. We've approached a few showrooms we know. It's all made to measure and made to order. We're a bespoke, handmade outfit. We don't stock anything.
Q: Have you planned for the various possible Brexit scenarios?
A: What can you plan for? Nobody's got a clue what's happening. Everyone's speculating. It wouldn't surprise me if nothing happens. Common sense says if trade becomes more difficult with Europe, it's going to make UK suppliers a lot better off.
Q: So it's a good time to buy British?
A: It is. They say Brexit could be good for UK manufacturers. The logic says yes. We'll wait and see. A lot of retailers think German and Italian stuff is all going to go up in price and they'll price themselves out of the UK market. But we'll see. You know what rumours are like.
Q: What's the plan from here?
A: A long rest [laughs]. I want to get the Green range and the Simple range launched and get a steady flow. I'm not interested in being a millionaire, but it'll take over big time when we push it a bit more. It could end up being what we do most of. Sustainability and eco is becoming bigger and bigger. It's everywhere now.
• For more on sustainability, see:
Sandy Armitage on sustainability
Keith Wardrope of HPP on sustainable practice