'We had to deliver the region's best showroom'

When city-centre department store Gardiner Haskins moved out of its six-floor home to smaller premises nearby, it decided to major on fitted kitchens and bathrooms. Chris Frankland went to find out why
Gardiner Haskins in the centre of Bristol may have just moved across the street and downsized from the six-storey Grade II listed department store building where it had traded for 60 years, but there is nothing small, either in scale or aspiration, about The Brunel Rooms – its new 12,000sq ft showroom.
Set over three floors and showcasing kitchens and bathrooms on the ground floor with beds and fitted curtains (and offices) upstairs, the retailer's new home was known as The Old Candleworks and has during its life been used variously as a soap, candle and tyre factory, garden centre and even a car showroom.
Managing director Ben Allen tells me The Brunel Rooms seemed a more appropriate name as Gardiner Haskins, which was founded in 1825 as Gardiner and Sons, had a business producing ironwork and supplied products to legendary engineer Isambard Kingdom Brunel. Other famous projects included the ironworks for the Twin Towers at Wembley Stadium.
Gardiner Haskins is a financially stable company that owns all of its properties, has no debt and a pension scheme in surplus. It also operates a successful department store 40 miles away in Cirencester that continues to do well and will not be downsized. As Allen explains, this store, which celebrates its 40th anniversary this year, "has evolved to serve the needs of the community and sits on a thriving high street where people still go to shop".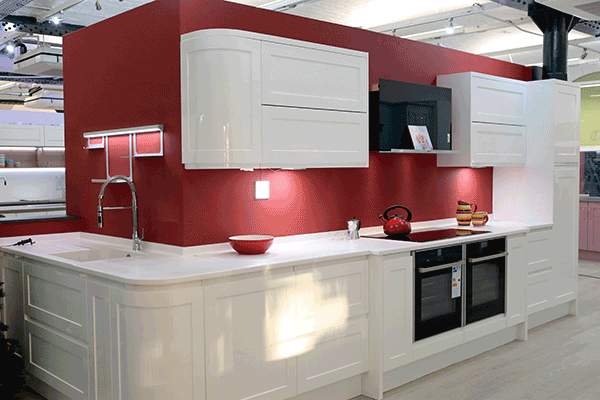 So why move and downsize its Bristol operation? And why carry on with just kitchens, bathrooms, beds and fitted curtains?
Allen confirms that although the company remained profitable, the way people shop has changed radically in the past 10 years with massive growth in online sales, and he believes this would, in the future, make large town-centre department stores financially unviable. This trend was reflected in sales and profits that had been diminishing over the past three years. Profits for the 2017 financial year were down 32% to £891,579 on sales of £14.2 million.
So the decision was taken to re-evaluate the business model and focus on areas of the business where, as Allen emphasises, "inspirational showrooms are fully appreciated by customers and exceptional service from consultation and design through to installation deliver a compelling proposition". He also realised that it was better to make the change while still in a position of financial strength rather than wait until it was too late.
Allen explains: "The retail landscape has changed radically and successful retailers need to really understand how they add value and remain fully relevant to their customers. We knew we had to deliver the region's best showrooms where customers would be inspired and are confident we have achieved this goal."
They moved into the new building in November last year. Allen admits that the toughest thing about the restructure was having to make 70 staff redundant. He says that as a family-owned business with "fantastic, loyal and long-serving staff", this was one of the most difficult decisions he has ever had to make. "We committed from the start to provide staff with outplacement support and enhanced redundancy packages."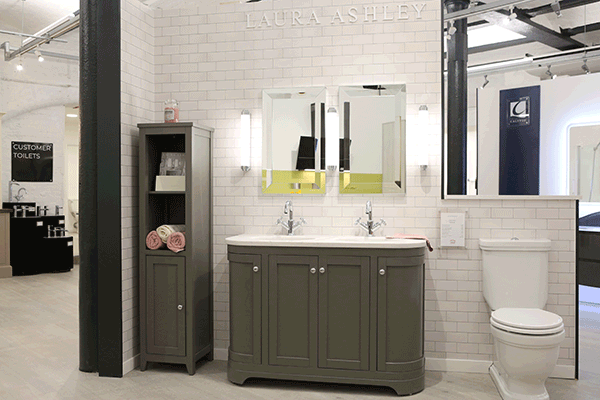 It was decided to strip out the parts that were hardest hit by online and carry on with those where quality of service and advice really mattered to the buyer – fitted kitchens and bathrooms being the main two. Here, it was felt, Gardiner Haskins could offer a quality of service no online retailer could match and now they had the opportunity to house that in a larger, aspirational showroom designed by them from scratch – a true destination store.
The company prides itself, assistant manager and kitchen designer Alec Yull tells me, on providing a project-managed experience where every aspect of the kitchen (or bathroom) sale is taken care of from initial consultation and design, to the finished installation. For one customer, it even created a pair of custom-made dog bowls from quartz to match the kitchen worktops – a snip at £500! Flooring from Karndean, and lighting from its Lumination shop-in-shop concession, complete the offering.
The Brunel Rooms may be smaller than the old premises, but it allowed far more space for kitchen and bathroom displays. The warehouse-style architecture, with its solid, brick-built walls, feature arches, iron beams and columns, creates a dramatic space. Large shop windows allow feature displays to tempt passers-by and, as retail director Steve Whitcombe adds, they leave the lights on at night so people can see in.
"We have seen average order value significantly increase, the quality of leads improve and a higher conversion. We are delighted with the response from customers"

Steve Whitcombe, retail director

Showcase
It now has 20 kitchen displays and has gained 20% more space. And, as Yull points out when he takes me on a quick tour, they designed every single display in-house to showcase just what their brands could do and highlight features, finishes and colours that people might not choose without actually seeing how they'd look in a complete kitchen.
And they have included a great variety of styles from traditional to modern, painted and high gloss, with bespoke touches and finishes, such as the Prentice shaker in the window painted to match Farrow and Ball Cinder Rose. Next to it sits a striking Spanish/Mediterranean-looking J-profile timber-faced kitchen also from Prentice finished in rough-sawn oak that has already won several converts.
"We had a fantastic opportunity to design the showroom from scratch," says Yull. "Richard [Harris] and I have significant experience totalling more than 40 years. We constantly research the direction customer trends are heading and look to reflect that in our displays. Not just in product selection, but also design. This gives the showroom a feel that's modern, diverse, caters for all tastes, but at the same time is cohesive. Our goal was to deliver a customer experience that sets us apart from other retailers and simply can't be recreated online."
In terms of brands, it was a clean slate and they had a chance to change if they wanted but, as Yull explains, they had built up a strong relationship over many years with the kitchen brands they sell and saw no reason to change. So the line-up is still an all-British one – Prentice and Crown Imperial, plus English Rose and Mackintosh from Omega.
Yull admits that dealing with UK-based suppliers has advantages on the rare occasions anything goes wrong. There is another benefit, as MD Allen points out, as it lessens any post-Brexit uncertainty.
The bathroom area may be smaller, but it is extensive and has 50-plus bays of varying sizes, some just cameos and some full bathroom sets, such as the impressive window display from RAK – one of its major brands. In fact, as fitted kitchens and bathrooms senior manager Richard Harris reveals, Gardiner Haskins was the first flagship store for RAK in the UK.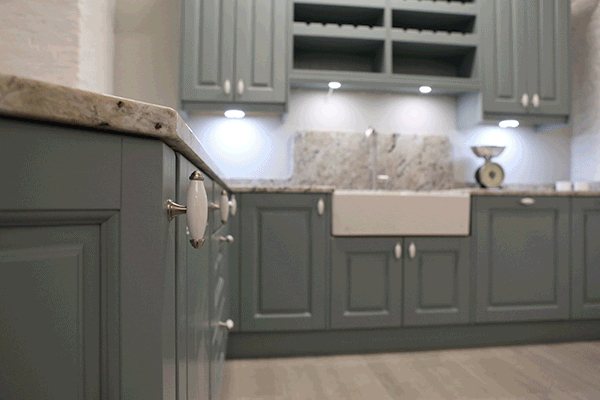 Spacious
Other brands include Roper Rhodes, Methven, Merlyn, Lakes, Laura Ashley as well as St James's brassware and Waters baths.
Harris enthuses: "Given the amazing space that our bathroom showroom occupies, it was imperative that each display flowed from one into another, retaining the spacious, open feel. We wanted to demonstrate numerous different bathroom layouts. The intention of inspiring our customers through the use of clever design and innovative materials is always at the forefront of our minds."
As Harris guides me round, he points out some interesting details, such as the HD printed wall panels in a Merlyn shower enclosure. That said, there are plenty of tile options too from RAK and Tileflair (also based in Bristol).
There are also lots of illuminated and heated mirrors/mirror cabinets, and one mirror that has Bluetooth built in.
Retail director Steve Whitcombe adds that in the new showroom customers have good sight lines through the whole store and kitchen browsers can clearly see they also do bathrooms. In the old store, you had to go down a long corridor to find the bathroom area. He and Harris expect that the two will feed off each other.
Yull touches on working kitchens and the working display just to the right as you come through the main entrance is fitted with Neff appliances. They work with the brand to stage events and will do more of these in the future.
The showroom launch event (pictured above) used that kitchen, but also pressed other live appliances into service. Local chef Dean Edwards and Great British Bake Off semi-finalist Briony May both cooked for the 250-odd people that attended.
Whitcombe confirms that although it is early days, sales are already showing signs of increasing: "We have seen average order value significantly increase, the quality of leads improve, and a higher conversion rate than in the previous showrooms. This has led us to employ two new designers. We are delighted with the response from both new and old customers."
Sales-wise, Yull reveals that Gardiner Haskins sells something like four to five kitchens a week. On the bathroom side, Harris says it's not quite that easy as, unlike kitchens, not all sales are for complete fitted bathrooms. But he tells me sales are noticeably up since the move.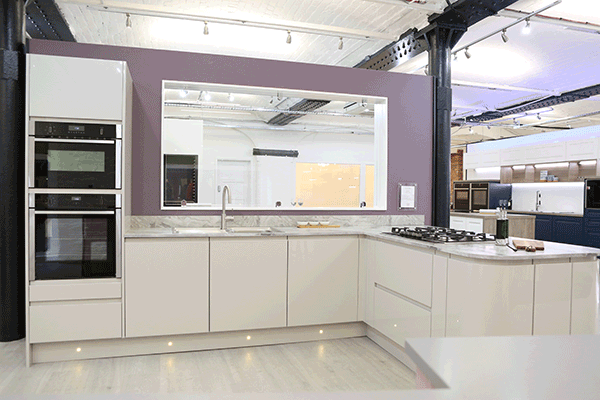 Online
Gardiner Haskins may have gone to town on its new showrooms, but MD Allen assures me that in today's smartphone-obsessed world the retailer is not neglecting the online side. It has invested a lot of time and money to optimise SEO performance.
The company is also interactive on social media and posts regularly on Facebook, Twitter and Instagram. A quick look at its reviews on Facebook reveals a rating of 3.2 out of 5.
Allen confirms the importance of online: "In the past five years, our marketing mix has become almost exclusively online. This has been a challenging journey, but we are confident we have the right marketing strategy and skills."
It seems almost cheeky to ask about their plans for the future when they have already implemented so many far-reaching changes. Allen confirms that it is a case of monitoring and consolidation as well as revamping its website and e-commerce offering.
As for the old six-floor building, which is still vacant and still owned by the company, Allen tells me they are in talks with a developer to turn it into a mixed-use residential, leisure and commercial complex that could make the area more of a destination, which in turn should bring them more footfall.