Blanco's UK managing director Simon Hart said the trading environment has been "tough" since the UK vote to leave the EU almost three years ago, but "particularly" difficult since last October.
In an exclusive interview for the May issue of kbbreview, Hart said sinks and taps brand Blanco had been preparing for a no-deal Brexit for two years, because "nobody knew what was going to happen", and that still remains the case.
The Brexit process has been so delayed and fumbled that the UK is now preparing to participate in the European parliamentary elections on May 23 – an event that the Government had no doubt hoped to avoid.
With all options still on the table, including the possibility of a second referendum, Hart said the uncertainty was definitely hurting consumer confidence, which he believed was the reason for the UK kitchen market's troubles since the start of the year.
"On paper, we should be going through not a buoyant time, but quite a good economic period. But the kitchen industry has been hit hard over the past three to four months," Hart told kbbreview.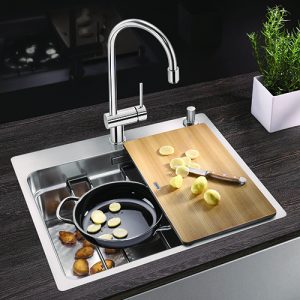 High-profile London KBB retailer Neil Lerner Kitchen Design went into administration in April after 30 years of trading, blaming "an unexpected and severe downturn in sales due to the uncertainty surrounding the economy and Brexit".
Hart said Blanco had a 150-point Brexit plan in place that covers every eventuality from increases in import taxes to problems getting products into the country.
He told kbbreview that the brand had to be certain that the level of service delivered to customers was the same, "irrespective" of potential "market turmoil" and said it was helpful and reassuring having a privately-owned German parent that "took a long-term perspective".
"Quite often what happens in business is that people look for quick fixes and quick things that will help them win clients. Some are successful and some fail. We don't take the short-term view on anything."
Hart added: "The recession was a time when the weak were separated from the strong, and it is happening again with Brexit, which is why we are suddenly seeing so many companies failing."
Read the full interview with Blanco's Simon Hart in the May issue of kbbreview, pages 47–48.