Smallbone is undertaking a major refurbishment of its flagship store at 220 Brompton Road in London's Knightsbridge.
The work is more than just a routine refresh, however, the company said, and will involve the rollout of "an extensive new concept".
While the work is in progress, Smallbone has erected bespoke printed hoarding panels showing photographs of its newest kitchens going from day to night.
Smallbone said it is keeping its nearby Thurloe Place showroom open for clients while the Brompton Road store is being refurbished.
Speaking on behalf of SMWF Limited – the new owner of Smallbone of Devizes and Mark Wilkinson Furniture – head of sales Bob Moore said of the move: "This is not a routine refresh but a rollout of an extensive new concept that will elevate our flagship showroom to best in class.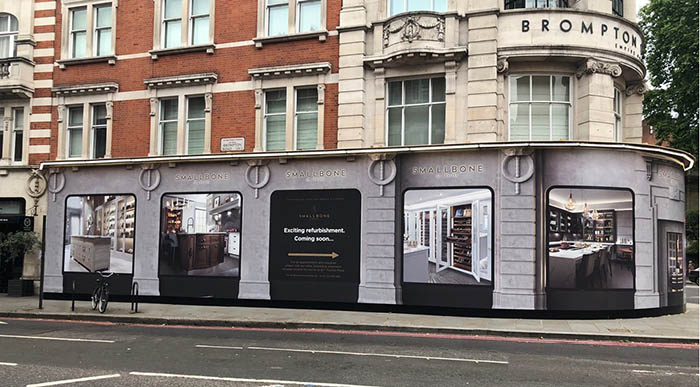 "Since relaunching as SMWF Limited, we have restarted our advertising campaign and are back on track with a revised marketing and sales strategy with our new American backers.
"There are other new showrooms currently in early planning stages and new product launches in the pipeline.
"We are also looking to expand the offering for Mark Wilkinson Furniture."
He added that it was currently looking for a larger flagship showroom to showcase more of what the Mark Wilkinson Furniture brand has to offer.
The work on the Brompton Road Smallbone store is expected to be completed by September/October.