Timber and construction materials distributor Arnold Laver has launched a new stone-effect surfaces brand to the UK, called Meganite.
The Meganite Movement series from the US-based manufacturer has been introduced, said Arnold Laver, in response to the trend for high-quality marble and concrete surfaces and is said to be suitable for a wide range of applications in kitchens and bathrooms.
Meganite can be used for kitchen worktops, wall coverings, splashbacks, counter tops and shower walls and is intended for both commercial and residential applications.
The concrete and marble surfaces are said to be non-porous and come in a wide variety of colours. Both feature "natural, flowing veining" and the importer says they can be seamlessly joined and fabricated.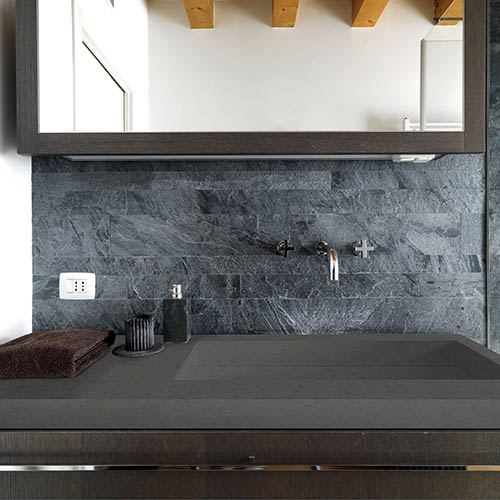 Terry Palmer, category director at Arnold Laver, said: "Meganite's Movement Series is specifically designed to bring elegant, modern patterns and contemporary design styles to environments that face substantial wear and tear, because the product looks fantastic, is hard-wearing and easy to clean and maintain.
"The design of Meganite's Movement Series is inspired by luxurious natural stone and it boasts diverse aesthetic appeal, highlighted by distinct veining running through each slab. This creates a sophisticated and natural look, with the longevity and robustness that you'd expect from a manufactured product."
Palmer added that, as a result, Meganite is "proving popular with architects, designers, fabricators and specifiers working on all types of projects from residential homes through to high-end hotels and restaurants, as well as in the healthcare and education sectors".
US-based Meganite is a family-owned solid surface manufacturer founded in 1976.