'I welcome competition'



Ten years ago Fari Zanjani took the bold step of opening a kitchen showroom on Finchley Road with no industry experience. Now he is flanked on all sides by kitchen showrooms and has succeeded where others have failed. Chris Frankland went to find out how he has adapted his business to compete against some top names
Most kitchen retailers we speak to would be horrified at the prospect of another showroom opening up a few doors down from them.
Not Fari Zanjani. The owner of Hampstead Kitchens on London's Finchley Road thrives on competition.
And that's just as well, because he has had two new kitchen retailers open up either side of his showroom in the past few months, not to mention a well-established Poggenpohl store two doors up and what was Neil Lerner – now another Häcker dealership – not far beyond that.
When he first opened up nearly 10 years ago, Poggenpohl had already been there some years. Wasn't he afraid that they would steal business from him?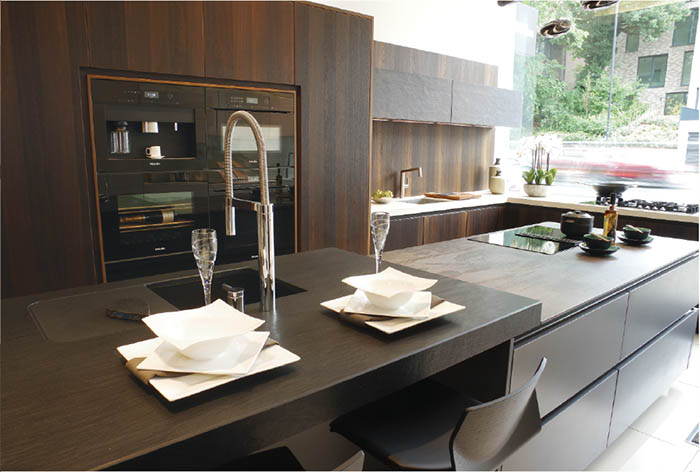 "It works the other way. We steal some business from them. We provide fantastic service, high-quality furniture and for 20% to 30% less than they are offering. And we took quite a lot of projects away from them – doctors and lawyers who want quality but don't want to spend a fortune. Here they get good quality, good design, good service and good installation. We are a smaller company and so we really dedicate ourselves to our customers. We give a very personal service. We will change a design maybe up to 10 times if that is what people want – free of charge."
And the competition has intensified since he moved there, with the latest two being Italian brands Binova and Valcucine – literally either side of him. Zanjani says: "Good luck to them." He welcomes the extra footfall that these and other companies bring in. It benefits him, too.
He tells me that he has also inherited quite a few former Neil Lerner customers.
Zanjani says: "In fact, when Neil Lerner closed I was very upset. Every company around here attracts more customers and gives a chance for everyone to compete against each other. Because where we are is not down near the station where more people pass by. They have to specifically come here to this parade for a purpose. Nobody walks round here really. So the more kitchen companies there are, the better for us. I welcome the competition."
But he had to take some pretty bold decisions early on if he was to compete in the high-rent, high-rates environment of a London showroom in a prime location and he soon realised he had to change his brand proposition.
He tells me how, when he started out, he analysed if the furniture brand he was selling was what his local customers were really looking for. He tells me: "We were doing well, but customers were coming in – they would ask 'can you do this?' No. 'Can you do that?' No. In that company's catalogue, you would find one or two pages that were in my view suitable for the Finchley Road or London look. They tried to have one catalogue that fitted every category.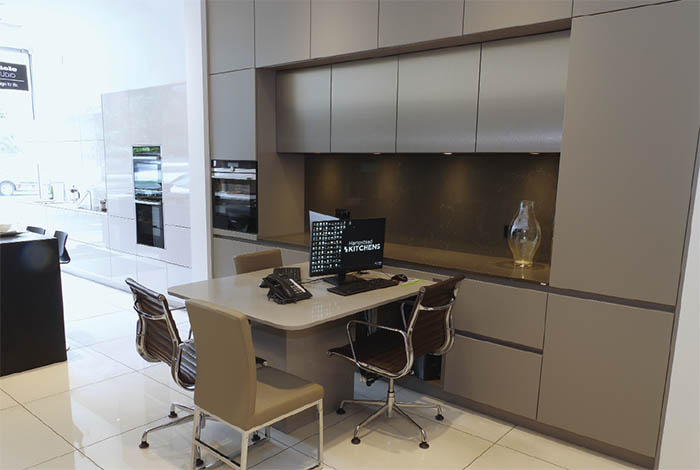 "I've sold very few traditional kitchens over the years. There's no demand for it here. If you opened their catalogue, you'd see three or four pages of traditional kitchens. It wasn't right for us."
He had the location sorted, he just needed to sort out the brand proposition.
"This is the second Wigmore Street – it is THE place for kitchens all the way up to Golders Green and Brent Cross. Poggenpohl has been here for many years. This parade has become very exclusive for kitchen showrooms – and interior designers."
Then he found the solution: "We realised that we were missing something and decided to increase turnover by becoming a multi-brand dealer, introducing high-quality German brands at a different price category."
So he took on Rempp and Beckermann.
"Rempp is our core luxury brand, which competes with Poggenpohl and all these Italian brands," he says. "They have a fantastic range and it is high-quality, all made with wood from the Black Forest. They are a small company and I have learnt from experience to always go for small companies. Small companies tend to give you a good service. When you phone the factory, there is always someone on the other end to help sort things out for you.
"Beckermann, our other brand, is another good, small company – it has been established for over 120 years."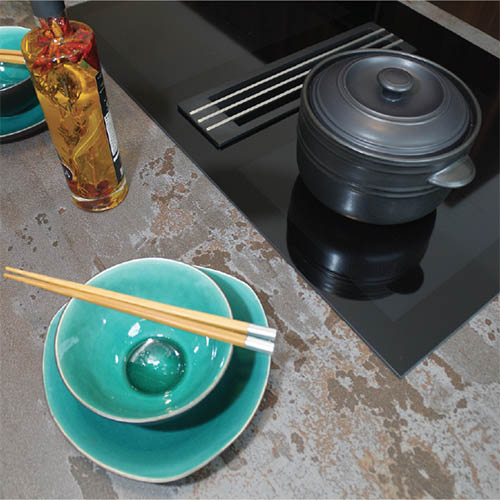 Zanjani explains that Rempp is his high-end proposition, with Beckermann in the middle and Burger from Bauformat for those on a tighter budget.
He explains that the great benefit of Rempp is it can also do totally bespoke designs and finishes.
"We have a Rempp bespoke kitchen at the front of the showroom in the window made to our own design. It just hypnotises people and people seem to want it."
The German brands were just what the doctor ordered for his business. Before he took them on, his average kitchen sale was around £15,000. Now it is £40,000 to £50,000 – with a minimum of £20,000 and no maximum.
It also meant he could sell premium appliances and quality sinks, taps, worktops and splashbacks to match. He deals with BSH, Miele and Gaggenau and sells a lot of Dekton worktops, although he deals with all major quality brands. He also sells more gas hobs than induction, probably because of many of his customers prefer to cook with a naked flame.
So with his location, how much business is from passing trade? Well, his answer might surprise you: "Up until recently it has been 90% passing trade. We never had to advertise. We were always busy. It is quieter now, but we are more exclusive. We don't entertain the cheap end of the market. Our prices start at £20k going up to £100k. With a cheaper kitchen you still get the same headaches and the same amount of aggravation. It's not worth it. And rates and rents never go down. You have to do something that pays back."
And reaching that payback is trickier when rent and rates are at the level they are on Finchley Road: "Rent has gone up. But there has been a slight reduction in rates as the council has tried to help out local businesses. But our rent review came just at the wrong time. Another reason not to do cheap kitchens. If people want that, they can go a little bit further up the road to Brent Cross as all the sheds are there."
The majority of customers to pass through Hampstead Kitchens' doors are local – mainly Greater London, although Zanjani explains that some customers who have properties abroad do ask him to ship kitchens further afield. He tells me of one recent customer who lives more or less opposite his showroom who had him ship a kitchen out to a property of his in Nigeria.
"Going for premium brands helped us make sure we increased turnover. Business has increased each year. We have fewer customers, but they are 
quality customers and they are spending more"

Fari Zinjani, owner, Hampstead Kitchens
"We can supply anywhere," he says, "but they may have to use a local fitter. We know enough fitters around – if the money is right, they will go!"
Zanjani runs a tight ship. He has two designers – he did have three but one recently left and he is looking to replace them – and two full-time installers, one of whom has 30 years' experience in fitting kitchens. He takes care of the general running of the business, helped by his wife.
Amazingly, prior to setting up Hampstead Kitchens, Zanjani had no connection with the KBB industry.
"I was previously into commercial property," he tells me. "I just wanted to do something different. My wife is an architect. We were very much into furniture and design and we were thinking about going in that direction, but ended up in the kitchen industry. It is probably the hardest industry to get into. It was a steep learning curve. If I had gone for furniture, where you just buy pieces in from Italy – sofas, etc – it would have been a lot easier. But I love to provide a good service for my customers."
And so how has his business progressed over the years?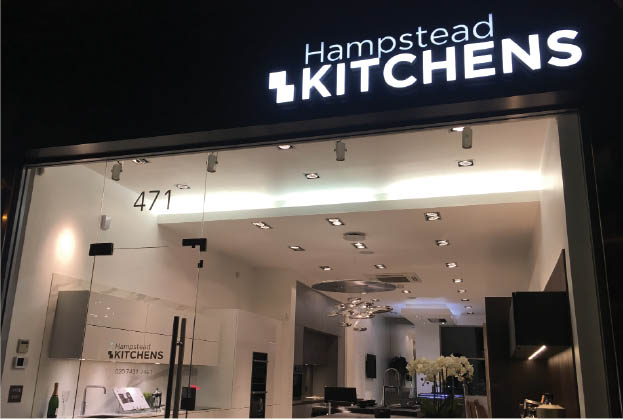 "Brexit has affected everyone," he confides, "but we have been fine. It's not quite as good as before, but we are still doing good business. Going for premium brands helped us make sure we increased turnover. Business has increased each year. We have fewer customers, but they are quality customers and they are spending more.
"Before we were selling five or six kitchens a month, now we are doing three or four, but each one is the equivalent of two of the kitchens we were selling before. I'd rather have that than mass volume. We can devote more time to each customer."
So what does the future hold for Hampstead Kitchens? Well, Zanjani smiles and tells me he had been planning to move into the shop next door and knock down the dividing wall. But Brexit made him more cautious and then Valcucine moved in.
He reflects: "We have four or five displays and that's all we need. How many does he have next door? He has one. Sometimes less is more. We can show people our finished projects on the computer and our customers don't mind if we send people round to see their kitchens."
And in any case, he explains: "This business keeps me so busy, six days a week, it is just about getting home, having a bite to eat and going to sleep!"