Michael Rauterkus recently stepped down as CEO of Grohe but just before he did, Vicki Evans spoke with him at its UK HQ to get an overview of what the company has achieved during his time at the helm
Simplicity is Grohe's mantra. That word is all over the Grohe's branding. Simplicity in marketing, simplicity in design, in business, installation and customer care. Simples. Right?
It is a great word, but what does that actually mean for the average retailer?
Currently, it means a twofold approach. First, wanting to create a hassle-free service. Second, being a one-stop-shop for all bathroom services.
Let's tackle the first point. How do you create a hassle-free bathroom installation for your customer when their entire house is in chaos with installers popping in and out and potentially no working bathroom for several days?
Michael Rauterkus, former chief executive of Grohe, knows that one of the main questions customers have is "does it work?" The question is usually born from concerns that pieces won't fit together, or won't be assembled quickly and that this will result in a nightmare.
This factor is so strong that it can stop people even considering the investment in a new bathroom, according to Rauterkus. He says: "People are insecure and don't want to invest thousands in a bathroom and have the worry of 'does this work?' They want to make sure that it is right."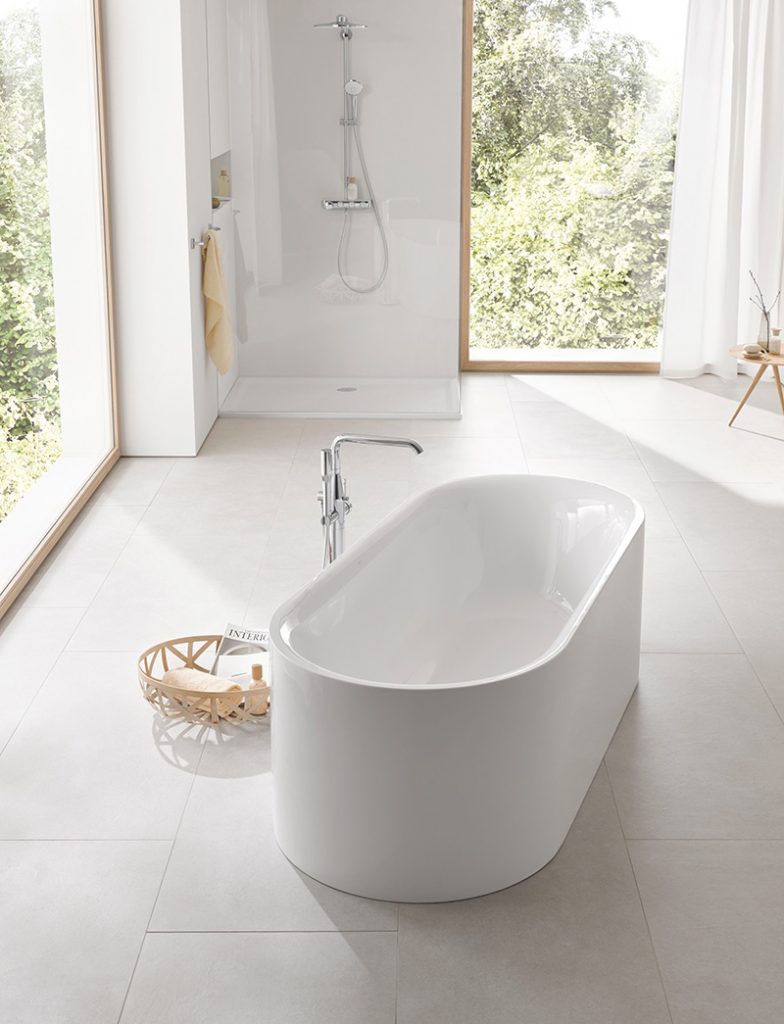 A bathroom is not a casual purchase and Rauterkus jokes that no one goes out on a Saturday morning to look at taps on a whim. This is a hurdle that retailers need to remove when people are making a serious purchase. "Fashion is something that you buy every season, but a bathroom is an investment for years to come," says Rauterkus.
Because of this, the central part of Grohe's business model is to be easy to deal with. He says: "We try to make buying the products hassle-free for the consumers, hassle-free for the installers to fit it together and with a hassle-free aftercare service. It's the whole experience."
Then it's a case of being a one-stop-shop for the complete bathroom service. Grohe's bathroom ceramics collection Bau and Euro first previewed at ISH 2017, and since then it has expanded this collection to include a whole bathroom offering.
Rauterkus knows that there are always designers who think they don't need another ceramics supplier, but he believes that having a full collection makes everyone's life easier. Easier for the products hassle-free for the consumers, hassle-free for the installers to fit it together and with a hassle-free aftercare service. It's the whole experience the retailer, as everything comes from one place and matches – as one company's white is not the same as another's.
Grohe's market research has shown that simply having the bathroom come in one box or delivery creates a sense of ease. "Consumers see a bathroom. They don't look at individual products," says Rauterkus.
Think global
Grohe has been experiencing steady and consistent growth in terms of revenue and development over the past few years. The trials and tribulations of the world's economies, and especially with the Brexit situation in the UK, have not stopped Grohe from developing.
Over Rauterkus's time as CEO, he has developed the brand and made it a global player, especially in Europe, the Middle East and North Africa. Thomas Fuhr, former executive director of operations, has taken up the role and will take over the expansion and innovation that Rauterkus started.
Grohe is a global brand, and it operates in more than 130 countries. The UK is a massive part of the whole business, but how can an independent retailer feel safe in the hands of a brand with a global focus?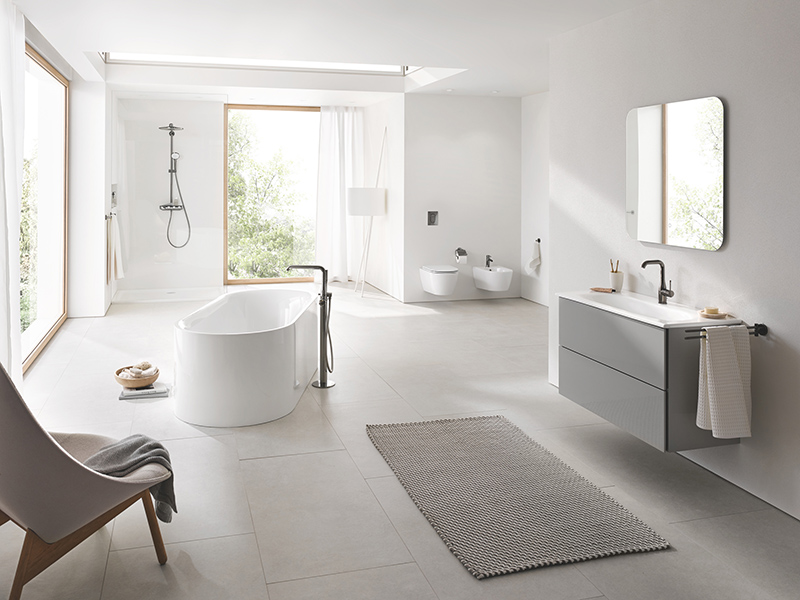 It is simple. Rauterkus believes there is no difference if you are an independent retailer in Stevenage or Milan – they are still the same. "Every market says, 'I'm different'," he explains. "It reminds me of an old colleague that used to work for a pet food company, and their customers would say, 'my dog in my country is different.' After two years of research and a 500-page report, they found that a dog is a dog."
Grohe believes that a retailer is a retailer. There will be struggles with each business's economic and political situations, and adjustments will need to be made. For example, Grohe has invested heavily in bringing in stock to the UK just in case of Brexit- related issues. However, the brand remains the same. Grohe says that what it learns from its global presence strengthens rather than hinders it.
Rauterkus is adamant: "Grohe has a global corporate strategy with local relevance. That is why we have strong local teams, and they know their market and what works for both retailers and consumers." The local knowledge comes from the people on the ground feeding back to the company to help cement the brand in each country.
The UK market may not be doing too well because of Brexit uncertainty, but as a global brand Grohe is not concerned. Rauterkus brushes away any concerns about the turbulent time in the UK economy. He explains: "Our potential in the UK is so big,
Brexit is irrelevant. We have enough market share to gain. We are doing OK, but there are huge opportunities to grow.
"People here [in the UK] are getting tired of the debates going on and on. We said that we would get enough inventory here and move on with our lives."
Grohe knows how to do business around the world, so even if things are difficult in the UK, the brand will continue to invest here. It sees it as a vital market.
But this investment, Rauterkus jokes, is no 'free lunch'. And just as its retail network demands innovation and new products from it, so Grohe expects its retailers to strive constantly to improve service and customer care.
Hundreds of people crowded around the Grohe ISH stand this year to get a glimpse of taps that had been in development for over three years. The Allure Brilliant Icon and Allure Atrio Icon 3D faucets were the highlight of Grohe's presentation for this new manufacturing process.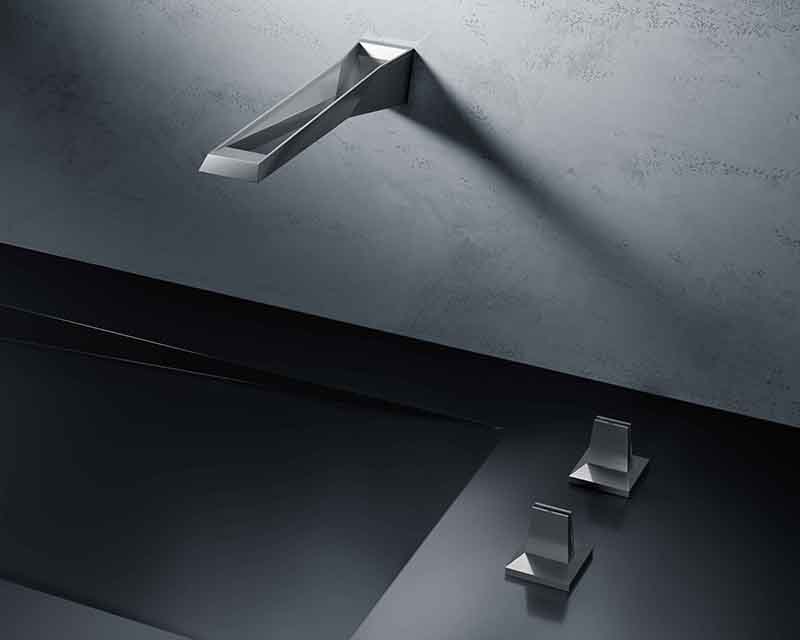 Part of the challenge for Grohe was the investment in a completely new way of producing taps. "For us there is no wait and see," says Rauterkus firmly. "We have to be at the forefront of technology and imagination. This is what our consumers demand from us.
"We are inspiring people for the future. This is not a game. We need to build capability for the future, so that is important. If European, and German, companies are to survive, they need to develop these technologies. We cannot wait for China to produce it – that is not an option."
Rauterkus could see there would be the demand simply by observing people at ISH. Everyone was queuing to have a view of something new and unique.
So, was it a case of the chicken or the egg? What came first – the desire to invest in 3D printing or the wish for a design that could not be created the traditional way? The answer is a bit of both. There was a desire to invest in new technology, and the limitations of the material were obstacles that Grohe had to overcome. The only way it saw of doing this was through a massive investment in 3D printing.
The development process was long, but the majority of the time was spent dealing with creating a powder that could withstand the demands of faucets and the computing power to convert the design into a fully formed tap.
Currently, the faucet is a high-end item that comes with a hefty price tag, but can 3D printed taps be more affordable in the future?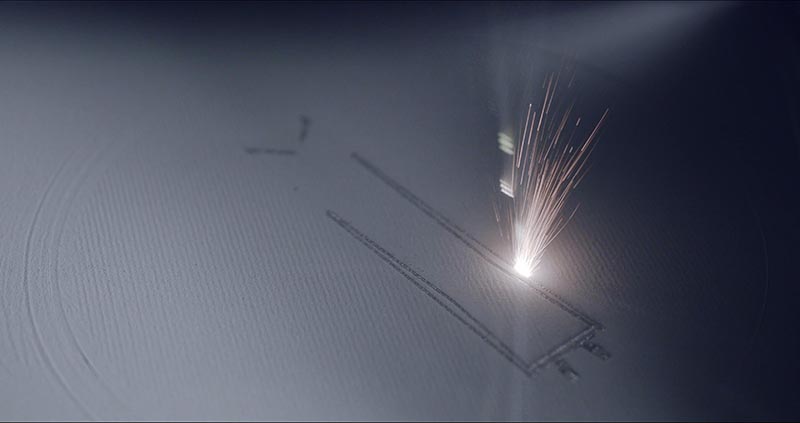 Rauterkus believes so: "In the UK, designers and architects are asking for something special. There is always is a challenge with something special going into mass production. It is not for the day-to-day right now, it is currently very exclusive, but all innovation starts from a very high level. In two, three or four years from now, the products become affordable."
The sustainability aspects of this new design are also a significant concern for Grohe as the tap requires fewer materials overall, it doesn't produce excess waste and is more environmentally-friendly than its chrome and brass sisters.
Also there is no need to stockpile spares and machines could print on demand the exact part required. This also has implications for the longevity of designs as they could print pieces that have been out of production for 50 years, which would extend the lifespan of the product.
The tap won't become mass-market any time soon, the general level of development in 3D printing is nowhere near that. However, if future predictions can be believed and one day 3D printers will be as standard as 2D printers in the home, then maybe all taps will be 3D printed in the future.