RETAIL OR TRADE:
IT'S ALL ABOUT DESIGN
Kitchen Connection of Ascot (KCA) is one of the few retailers that majors on the contracts side of the market. Vicki Evans met with Jamie Harding, commercial director, at its Berkshire showroom to learn why this is such a lucrative sector
Retailers often shun the contracts side of the market, but Kitchen Connection of Ascot (KCA) has its business cemented in this field. There is around an average 80:20 split between contracts and retail, but KCA is committed to providing the same quality of service for both.
Husband-and-wife team Adrian and Janet Wing saw a gap in the market 26 years ago and decided to start KCA. They began with just the contracts side but, through consumer interest, the retail arm of the business was born.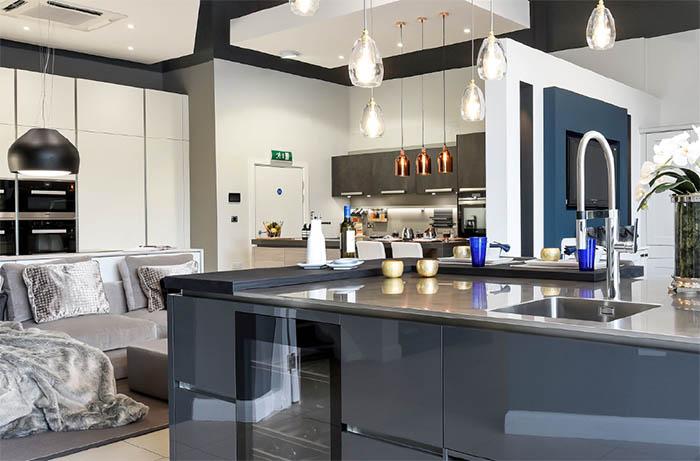 Jamie Harding (pictured), commercial director for KCA, explained the reasoning behind the focus on a business that few kitchen designers dare to touch. Harding explains: "Adrian identified a gap in the market as he had seen several people doing contract work, through architects and developers, but they weren't giving the service. His ambition was to give a retail environment to the trade market."
After being at KCA for just a couple of minutes, it was clear service was a top priority for this retail business. As I came through the door, I was welcomed immediately, and while one of the designers hurried off to find Harding for my interview, another designer made me a latte and fetched some chocolate biscuits.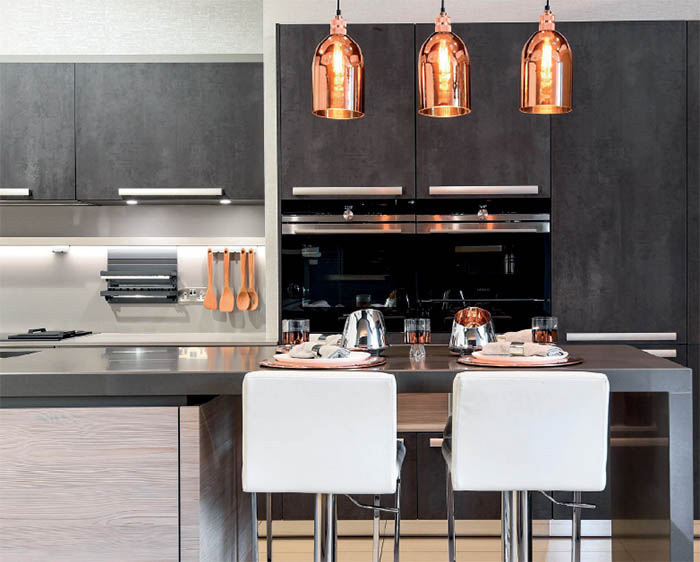 When I arrived, there were two appointments in the showroom, designs and samples were laid out for clients, while they too sipped their coffees. They could have been retail customers looking to revamp their kitchen in the town or contractors who were in need of 30 kitchens in Belgravia – you would never know, as the service would be the same.
Although KCA deals directly with the general public, there is a separate sister company called Extreme, which was born from customer demand for more bespoke projects.
Over the years, the two brands, Extreme and KCA, have been more clearly defined. Extreme deals with super-bespoke designs that set their sights on creating something unique for each client. KCA, on the other hand, is focused on the more attainable end of the luxury scale with a focus on volume.
Contracts
KCA trades off the fact that it can provide volume, but what makes it unique is an emphasis on design and customer service. A contract with 100 or 200 kitchens at a time is not KCA, and Harding explains why these aren't the kind of contractors they want to deal with.
"Where KCA adds value is on the product, design, service and our ability to give something a bit different.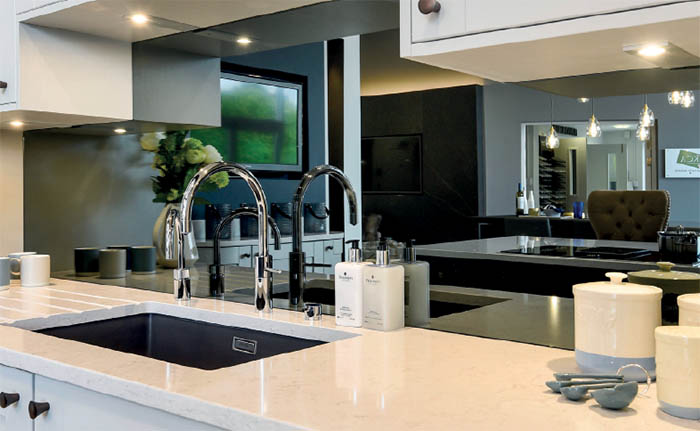 "The core clients are the smaller developers who may have fewer plots, but have higher values. A classic KCA contract might be eight plots, but with each house having £30,000 per kitchen, and that is where we can come into our own."
Generally, the area that KCA operates in is London and the home counties, as well as the Cotswolds, Dorset and Devon.
However, KCA is not constrained by geography, as it is all about the project for the company. "If the project is right and we can add value, we will travel to meet the need," says Harding.
"We are passionate about design, and we are a design-led company. The best part of any of our team's jobs is in a kitchen that they help create. Helping the contractor sell the properties and add value to what they do."
The designs are a vital aspect when working with developers as even though they will have a buyer profile in mind, they cannot make bold design decisions for them. "You can't be too personal, as developers want more of a blank canvas for the buyer to put their personality into it."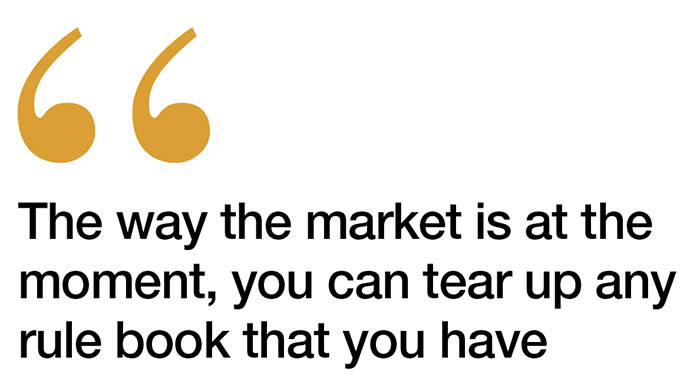 In the showroom, the kitchens are modern, sleek but have a variety of features and finishing touches. A lack of outlandish designs does not mean they only retail safe and boring kitchens, but there is an acknowledgement that anything too trendy might scare away potential buyers.
Some developers have been working with KCA for more than 20 years. So how do you sustain a partnership with a single contractor over such a long time? In one word, Harding says: "Relationship."
More than 80% of all KCA's work is from repeat business or recommendations – both on the retail and trade side. The business's strength comes from the connections that they have built and the projects they have done in the past.
So, with such a successful contracts business, what advice would they give to other retailers who are considering getting involved with this sector of the market?
"Communication is key. Developers need a lot of infor-mation quickly for their variety of projects. Go into it with your eyes open about the pressure. Don't shy away from things and do what we do and just hit it head-on," advises Harding.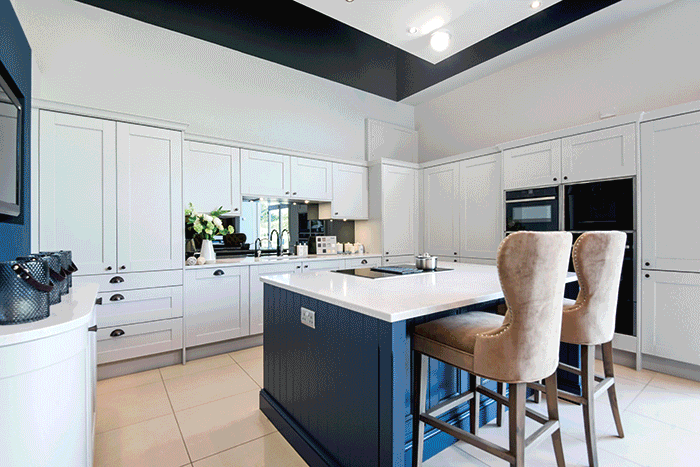 Colleagues, not suppliers
KCA has a full spectrum of products in a variety of price points and styles to cater for customers on a tighter budget as well as the luxury end. The majority of the kitchens are sold as Systemat, then there is the high-end Davonport and Daval. This range of suppliers means that there is a diverse array of styles from modern German kitchens to an English 
country house.
"What our developers love about this is that we are not tied to one brand," Harding explains. "Many retailers only stock kitchens by one company, but by being a bit more independent, we can choose what type of products we are selling. So, if a developer is creating something more contemporary, then they can use us, but in the same way, if they want something more traditional, they can also use us."
Aside from the furniture, KCA is selling Cosentino surfaces, it is a Project Partner for Miele, and it also does work with Neff and BSH. Blanco is its sinks and taps supplier. KCA has worked with these brands for years and has long-standing relationships with all the developers they work with.
"We only work with people whom we have long-standing relationships with that we can hang our hat on in regards to quality, after-sales and guarantees. We want to know that our customers are being looked after by them down the line," Harding explains that it is all down to loyalty, which is then reciprocated with its brands.
To survive any potential issues surrounding Brexit, there have been several investments – especially by foreign brands– in strategies to ensure the industry is prepared no matter what goes on in the next few months in terms of trade deals and imports. Blanco, in particular, has already invested millions in the UK with a 150-plus-step Brexit plan.
"If you work with people for long enough, they become more like colleagues rather than suppliers, and it is good to be able to share our business with them," says Harding. Customer service and being personable is a top priority for KCA, so eventually the suppliers evolve into colleagues.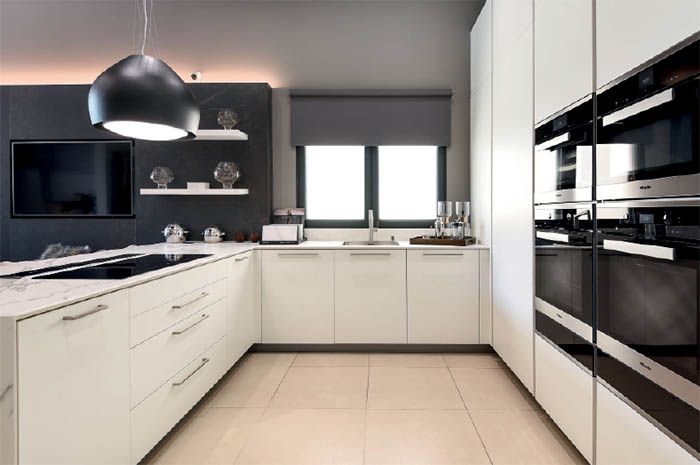 Taking market share
KCA has continued to grow and grow throughout the past few years. There has also been a greater trend towards creating living spaces rather than just kitchens, as the way that people talk about rooms has changed over the past few years.
Harding explains how the change in attitude towards the home has encouraged a natural expansion in KCA's offering. He said: "We now say that we also do living spaces, as kitchens have changed. Once upon a time, a kitchen was a room for cooking and a dining room a room for dining. Now living spaces, hub of the home – all those cheesy phrases – are what people are talking about."
When KCA revamped the showroom in 2017, there was more of a focus on spaces rather than separate rooms. The inclusion of more open-plan areas, which is more common for new-builds, features heavily within the showroom, However, it tries to showcase as many styles as possible to show off the design potential at KCA.
"The way that the market is at the moment, you can tear up any rule book you have," says Harding. "The past few years have been a testing time 
for everyone.
"However, the enquiry level we're getting now is stronger than it has been in the past five years."
There is a sense of calm positivity from Harding – the conviction that there is nothing really to fear. Harding concludes: "The ethos is that we just have to be better than the rest, so when the market does shrink, we are just going to have to take a bigger market share."