Bespoke kitchen retailer The Wood Works is celebrating 30 years in business and early last year opened its first high-street showroom in London's Mill Hill. Chris Frankland talks to founders Richard and Donna Delane
Any company showing bold growth and expansion when many are going out of business deserves a close look. Such a company is bespoke kitchen and furniture manufacturer and retailer The Wood Works.
It opened a 3,000sq ft high-street showroom – its first – in early 2019 in London's Mill Hill, even though 2020 sees the company celebrating 30 years in the furniture business.
As I walk in the showroom, I am impressed by a great line-up of kitchen displays, including a unique and eye-catching wine storage display concept. While there are bedrooms and studies at the rear of the store, their bespoke kitchens are very much the star of the show here.
I am greeted by Richard Delane, who founded The Wood Works with his wife Donna, who joins us after a few minutes, during which Richard gives me a quick tour and rustles up an espresso from the built-in coffee maker in one of the kitchen displays.
As the three of us sit down, I ask why they took the bold step of opening a sizeable London showroom in such uncertain times.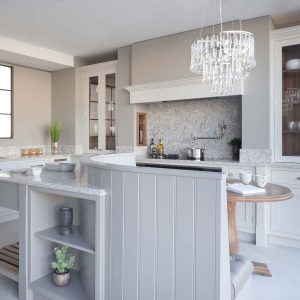 Richard explains: "We always felt that because we didn't have a proper flagship showroom – apart from the small one at our factory in Letchworth – people couldn't touch, feel and see the product – and what we do needs to be seen. In the past, we were having to rely to an extent on price to complete orders. The showroom has allowed us to say, 'look, we're as good as anyone else, if not better in a lot of ways, this is what we do, come and see it'."
At its Letchworth factory, where all of its furniture is manufactured, The Wood Works has a small showroom on the mezzanine floor but, being on an industrial estate, it doesn't get any passing trade. In any case, as Richard and Donna reveal, they have never done any business in that area, as most of their business has traditionally been in London and within the M25. Largely because it all started in 1990 when the couple took over the premises in east London, where Richard's father had operated his Denmor Furniture business since 1961 [see timeline overleaf].
Strategic planning
I ask them if the move has paid off.
"Definitely," enthuses Donna. "We are delighted. The building before was a car showroom over five shops. It was a massive commitment for us, but we absolutely believed in it and we worked our butts off to get here. It was a significant investment."
Richard adds that the location is good for them as there is a constant stream of passing traffic.
As Donna confirms: "People who are driving past might not need a kitchen right now, but it will be in their minds, and when they do they will come in here. Lots of people who come in tell us that they drove past a couple of weeks ago."
But has it paid off in terms of increased business? The answer is a resounding yes.
Richard recalls that when they were in Hitchin, before they moved to Letchworth [see timeline], they were selling one kitchen a month, even though they were high-end and quite expensive. At that time, bedrooms and other furniture accounted for around 70% of the business.
And now? "Now," Richard tells me, "we are doing six to eight kitchens a month and that's down to this showroom and social media." Donna points out that this means kitchens are now 60% of their business, with bedrooms at 30% and 10% for offices, bars, etc. They do 10 to 12 bedrooms a month, but their value is lower.
Quizzing the couple more closely on their use of social media, Donna says: "We started to push the social media side when my son Josh came into the business three years ago. He qualified as an accountant at KPMG but he hated every minute of it. He has changed the business completely. For the first time ever, we had a five-year strategic plan."
Initially he joined to manage the finances, but now he is the company's head of marketing. "Josh was the one who made us get this showroom," she reveals. "It was in his plan to get a high-street showroom – and not just one, but a chain.
"He also put us on to social media. We now have 30,000 followers on Instagram. We post daily and have a lot of interaction with our followers. With lots of people who come into the showroom, their first words are that they follow us on Instagram."
I ask Richard how important his background in furniture making has been for the business.
He is in no doubt: "Very important. Over the 30 years that we have been doing what we do, we have been tasked with doing various specialist pieces. That has given us a great insight into what does and doesn't work and how it will function in the client's home.
"We have spent a lot of years looking at unusual pieces of furniture, how they might function and we have brought that into what we do. We try not to make anything that doesn't function properly, that's too small or too big. That's where we have that experience to draw on. So yes, our furniture heritage is massively important."
Family and heritage
Richard's grandfather was a cabinetmaker and his father set up the Denmor Furniture business in 1961.
He explains: "My business grew out of that. Denmor was mainly aimed at high production, mass-produced furniture for the living room and dining room. That's going back to the days when you had Harris and Queensway which had five to six hundred branches. Bit by bit that market shrunk and the family decided to close the business down. I was in the business. I loved it. So when that closed I decided to start The Wood Works."
Initially bedrooms and other furniture were its mainstay and they just made the occasional kitchen for previous clients who had gone to them for a TV unit. But by the time they moved to their larger 20,000sq ft factory in Letchworth [Hitchin was 6,000sq ft] in 2017, the kitchens business had grown considerably.
So with furniture-making in their blood, offering bespoke kitchens was easy.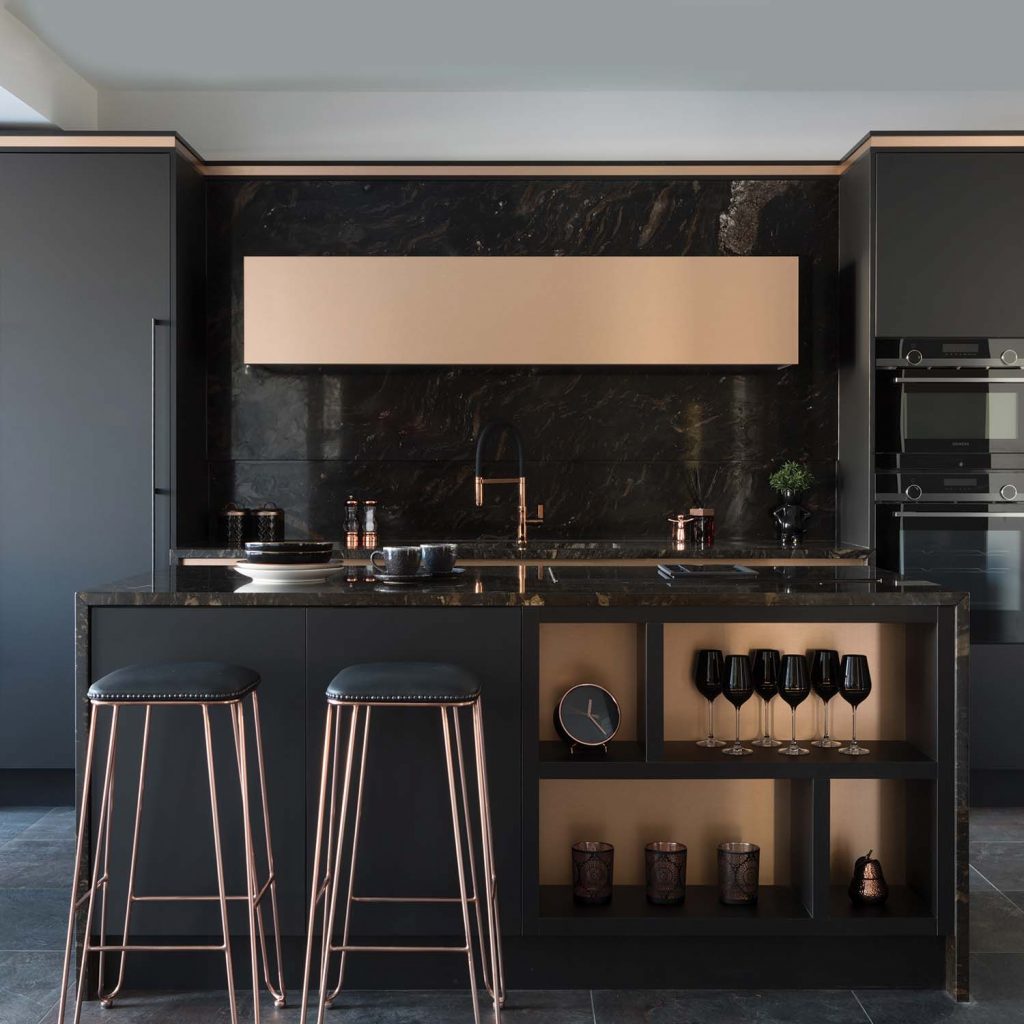 Donna picks up on the point: "People bandy the word bespoke about too much and can't justify it. We can. Our designs are completely bespoke. We make everything to fit. We ask clients how high they would like their oven. We will go and measure it, because it's dangerous if you have a microwave too high up. So we measure the people too. We do worktops at different heights for clients who are very tall or very short."
Part of that bespoke offering includes specially customised Gaggenau built-in appliances, which it sources from a company called Bespoke Projects.
As well as retail clients, The Wood Works also gets regular business from a core of architects, designers and developers. But what surprises me is the number of whole-house projects the company takes on.
As Donna explains: "I think our main point of difference and what makes us what we are is that we can completely kit out a whole house. We will often do the kitchen, utility room, four bedrooms, a study, TV room – everything. People like that as we are a one stop shop."
She adds: "We've normally got one or two complete houses on the go at any one time, which could be 20 rooms. And we do lots of unusual things – bars are very popular now.
And to put some scale on that, Richard tells me: "We agreed a deal recently for 11 units where we'll be doing 11 kitchens, 11 utility rooms, 22 bedrooms and various other pieces. That is not that unusual for us. This is for a huge period property that is being divided up into 11 flats and we'll be completing that over a two-month period."
Such a level of contract work means a large back-up team. Richard fills in the detail: "We have five teams out every day (two in a team). We have a roving fittings manager who goes out at the beginning, middle and end of projects to make sure everything is OK. Our project manager is more office-based. The growth of the business has meant we had to get these people on board. We are probably at the stage now where we need a second project manager and fittings manager, because we live and die by our product."
And the same is true for design, confirms Richard: "We currently have four design teams – that's eight people. In Letchworth, we have three CAD technicians. Everything is drawn in the manufacturing base software, so what we draw can then be downloaded and manufactured."
In terms of the style of kitchens, Donna confirms that they are all open-plan these days. Richard adds: "I can honestly say that I can't think of one kitchen project in the past five years that we have worked on that was not open-plan with just a kitchen in a room."
Bespoke as they are, and Donna tells me they regularly do kitchens for £100,000, their prices start at a modest £25,000 and their average is £35,000 to £45,000.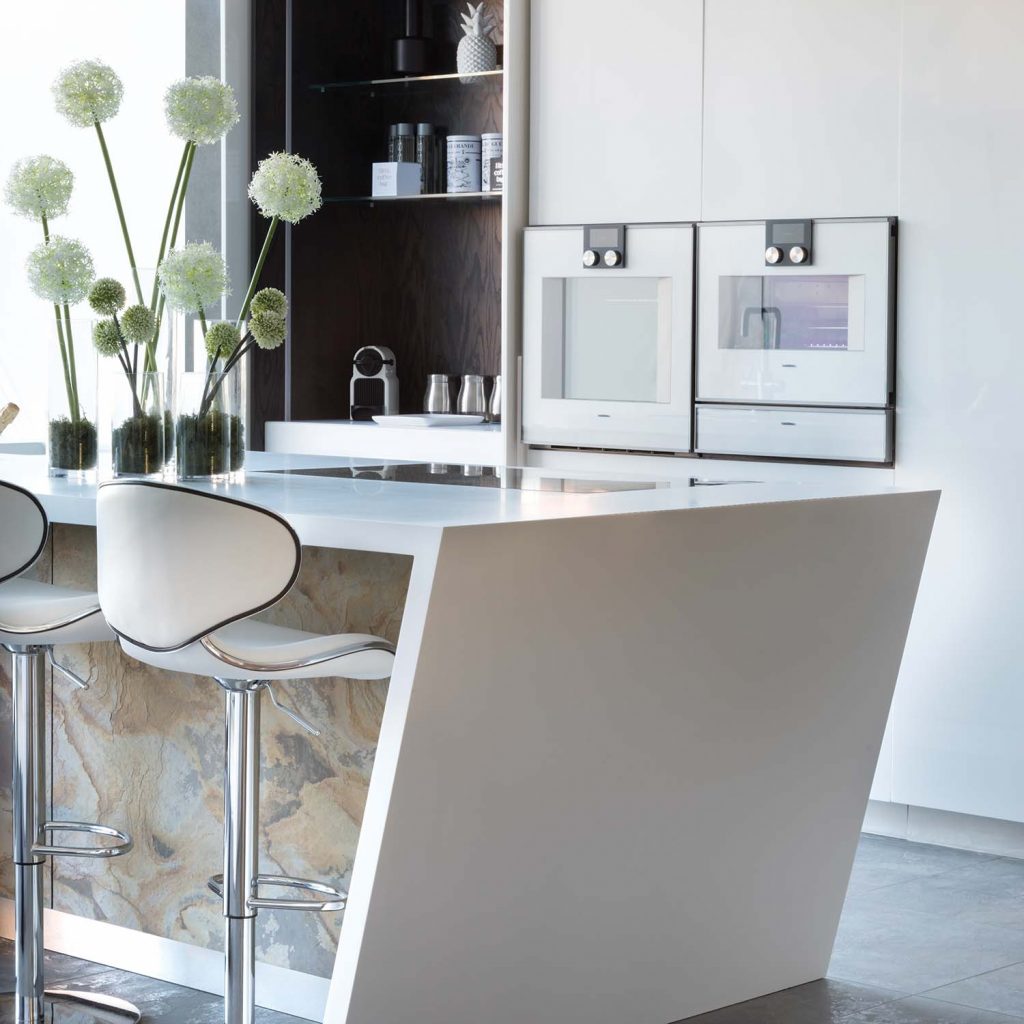 Being bespoke, they will work with any carcass, door or worktop material the client desires, but their usual carcasses are 18mm Egger board.
Richard explains: "Our modern kitchen is still the most popular and it is by default our cheapest kitchen, but we have found a strong pull going back towards shaker and more traditional."
So what is in the future for The Wood Works?
Donna says they will be enlarging the small showroom within the Letchworth factory in March and that they will need to drive footfall to that.
"Ideally [head of marketing] Josh would like us to open one more a year until we get to six or seven, but we will see what happens. I think one every two years would be more feasible.
"It's an exciting time for us, bearing in mind that after 30 years you might have thought we'd be trailing it off a bit, but it's the complete opposite."