'We'll do anything for your house – apart from build you another'
Passmore Group has added kitchens to its already extensive portfolio of products as part of its target for 60% growth early this year. Chris Frankland goes to see the new displays at its Leeds HQ and talks to managing director Tony Passmore and his team about how he aims to achieve that goal.
The market is tough right now. So when kbbreview got an e-mail from Passmore Group saying they were aiming for 60% growth by March 2020 and have added kitchens to their already extensive portfolio of bathrooms, bedrooms, mobility and building services, I knew I had to find out more.
A few weeks later, I am ringing the entry phone at their Leeds HQ, a little off the main drag in Wortley. I am greeted by managing director Tony Passmore (pictured far left), who organises a much-needed cappuccino and sits me down in the new kitchen display area to discuss why they made the move into this sector and how they plan to achieve that ambitious growth.
After a brief tour of the new kitchen displays by designer Julie Gokce, I tell Tony Passmore how that claim of 60% growth had sparked my interest. He surprises me by revealing that the company has already seen a 56% increase in orders between September 2018 and December 2019, bearing in mind that kitchens didn't officially launch from Leeds until the last week of October.
"I know we have added kitchens to the mix, but 56% is a lot," says Tony Passmore. The company turns over £7 million and has seen 26% growth over the past two years.
But it didn't achieve this by resting on its laurels, despite the loyalty and reputation it has clearly built up over 55 years.
Not only has it officially added More Kitchens to its brand portfolio of More Bathrooms, More Ability (accessible bathrooms), More Bedrooms and More Build (offering a variety of building services), but it has also been on the acquisition trail.
It took over the 100-year-old Charms bathroom showroom in Harrogate in 2017 and in mid-August last year took over a kitchens, bedrooms and bathrooms business that had been trading for four years from Whiteleys garden centre in Mirfield.
Although Passmore now has an offering in every area of the KBB market and also does general building work, which is how it all started, a large part of its business is still in contracting, which accounts for around 30% to 40% of turnover, compared with 30% for bathrooms and 20% for mobility. All sectors, says Tony Passmore, are growing at 10% to 15% a year, and he expects kitchens to add around £2m to the business within two years.
He adds: "The contract side is totally different, but because we've been doing it since the year dot, we are seen by local authorities as the leading company for consistency of delivery. They just need it to be done right, on time and on budget and we are really good at it. It is all grant-funded work in private houses for people who need to adapt their house to suit the needs of someone in there."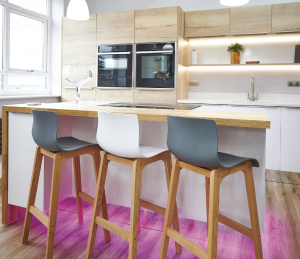 Tony Passmore explains that even before the official launch of More Kitchens, they had been doing maybe a dozen or so a year for clients they were already doing a bathroom or building work for.
"But," he adds, "it is very difficult to sell kitchens if people can't go into a retail showroom. You've a bit more chance with bathrooms, but with kitchens you've got to display them. We didn't make the leap until we felt we had all our ducks in a row and could replicate the marketing, levels of service, product differentiation and value proposition [in the rest of the business] with kitchens.
"We got to that point a year ago, when all of a sudden we are getting five-star reviews. The market was generally flat or declining and we were expanding, and we decided the time was right to focus on kitchens."
With the business operating in so much of the KBB market, Tony Passmore says kitchens were a logical next step.
"It has been on the drawing board for four years. It completes the business. Customers have the security of an established company with heritage. The reviews we get in bathrooms and ability are five-star and even in its embryonic stage we are generating the same in kitchens. It gives the customer that full, all-under-one-roof peace of mind from a company they can trust."
He tells me that the Harrogate showroom has lots of space to add some larger kitchen displays and he expects to have those in by the end of the year.
But he admits: "There's a big kitchen presence in Harrogate – I think somebody said 37 showrooms. But it's all high-end and we think there's a gap to fill in that mid to upper end. And with the reputation we have built up there – we can hit the ground running. As we proved here. In the six months we have been here, we are generating an awful lot of kitchen enquiries and orders."
Passmore took on 10 extra staff to handle kitchens. Designer Julie Gokce and installations manager Rob Hands came on board as part of the Whiteleys acquisition and both have more than 30 years' experience in the industry. The installers used for kitchens are also specialists in that area.
Brand is king
As Tony Passmore tells me, they place great value on staff training and are constantly recruiting. Installers take part in an in-depth induction and training porgramme and initially go out with experienced fitters to learn the ropes.
This is part of Passmore's obsession with delivering its promised quality of service and determination not to damage its brand by failing to do so.
As Tony Passmore tells me: "We are never the cheapest, but we believe there is enough value in our brand for the customer to pay that bit more, knowing they will get the service. And they don't have to pay in full until we're finished, there's no deposit, it's all done in-house by us. We have 55 years of heritage, we are Which?-accredited, we have three showrooms, our own installers – there are so many USPs. One of our taglines is 'we sell peace of mind'. Selling kit is easy – delivering and installing, that's where the muck and bullets are."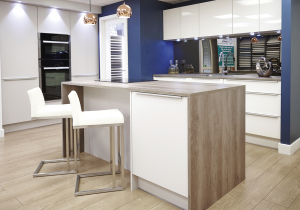 I ask Tony Passmore which brands they have gone for in kitchens.
"If our brand is about excellent, service and delivery, then our supply chain has to deliver that," he explains. "We looked at a number of different businesses and ended up with JJO in Lancashire. They were extremely positive and helpful. Julie [Gokce, designer] has a lot of experience with them and had the product knowledge. Symphony was our other choice. Again they have a proven track record. Six months in, they are both delivering the levels of service, support and backup that we need."
And appliances? Gokce tells me it is mainly CDA, Caple, Neff and Bosch.
When it comes to kitchens, Tony Passmore points out that they tend to take on the kind of projects a lot of other retailers shy away from because of the complexity of the building work.
Rob Hands adds: "Customers get a designated project manager who will organise all the trades. It gives them peace of mind. It's attractive to them. They know that if they have any issues, they can ring just one person."
Gokce tells me there are five designers in total: "The majority of us do designs for kitchens, bathrooms and bedrooms. It is brilliant to handle several rooms in the house. One designer handles all of the rooms for a project."
Projects range typically from £15,000 to £50,000. Gokce explains: "And that's down to the fact that you're not doing a lot of straightforward replacements. And kitchens also extend to cloakrooms and utilities – it all leads on. If someone is doing the building work, they do them at the same time."
And Tony Passmore adds that it is all about peace of mind.
"There is a lot of trust in what we do. Where I think we're unique is that 50% of payment for the job comes after, not before, completion, which gives them huge leverage. They have a slug of our cash and I don't think any other company does that."
Isn't that risky? He counters: "There's only a risk if you don't deliver what you say you will. Our bad debt in any one year is less than £1,000. Because we deliver what we say we will. The reviews are telling us we are doing a great job. And it's only in its infancy – we haven't even begun yet.
On the bathroom side, he tells me that in Harrogate they sell mainly Roca and Laufen, while in Leeds it's Vitra, Burlington, Aqualisa, Bristan and Geberit, although they may bring in Roca and Laufen when they give the displays a refresh.

I note, though, that there are no brands mentioned on their websites, apart from Passmore's own brand, and no prices.
"Correct," says Tony Passmore. "Because we are the brand. Our typical customer will often say they want to be careful about how much they spend and who they spend it with. We solve their problems. Trust is a big thing. We aren't the cheapest, so price is not part of it."
Making the most of digital marketing is also a top priority for Passmore and a large proportion of its leads come through its online presence. Head of marketing Rebecca Silvers explains that they handle content creation in-house, but use an outside agency to manage Google Adwords and optimise the content plan based on keyword research.
She adds: "We react to what people are searching for and each site now has over 100 content articles. Kitchens is quite new, so that's a work in progress.
"We have just worked with the agency on a CRO [conversion rate optimisation] project. We restructured all of the sites to provide a better user experience in terms of layout, keywords and titles, which makes it easier for Google when they crawl your site and index it."
Social media
I ask her if social media is a big part of the marketing mix. She tells me: "Yes and no. I think it's important, but we use it for brand awareness and a platform for us to get our content promoted on.
"We have a Houzz profile and our digital agency is recommending that we explore Pinterest too. But there's no point having a Pinterest profile and posting something every three or four weeks. That is more damaging than not having it at all."
Passmore's digital marketing is supplemented by print advertising in local lifestyle magazines and directories. It also uses direct mail campaigns and runs a referral scheme that offers £100 off final invoice. It also uses e-mail to keep customers updated on the progress of their projects.
Silvers adds: "At the end of the day, digital is at the core of everything and all the other methods of marketing we use feed into it."
Tony Passmore adds: "That lead generation [from digital marketing] has been a cornerstone of the business. No business is anywhere without good leads. We are constantly improving and that's why I think we're generating more leads."
So has Brexit had an effect on business?
"The effect has been the labour shortage," says Tony Passmore. "We are in construction and 15% of construction was migrant labour – and half of that labour has gone back home. The industry was 25,000 people short before Brexit, and now we have wage inflation and a real shortage of good people.
"It's not so much people putting off buying, because people still spend, even in recession. We help them decide who they are going to spend it with by our brand and the value proposition. We are bucking the trend from what I see and read."
So what is next on Tony Passmore's agenda?
He sums up the key priorities: "Build kitchens to get the scale we need. Put kitchen displays into Harrogate. Look at potential acquisitions to the south towards Sheffield. That would fit. I think that's two or three years' worth there!"
One thing's for sure. Standing still does not seem to be in Passmore's game plan.