For those who fear that innovation in the kitchen industry is in decline, the New Zealand market provides some consolation. With a high ratio of independent designers and few imported kitchen showrooms, custom-made furniture is in demand. Widely recognised as New Zealand's most awarded kitchen designer, with around 40 awards for design, a book and an international reputation for bespoke furniture, Mal Corboy of Mal Corboy Design tells Rachel Ogden why good kitchen design should always have a price tag to match
Mal Corboy might have been working in the kitchen industry for 36 years, but it wasn't until 2003 that he charged for his first design. "It was a year after I'd won New Zealand Kitchen Designer of the Year the first time," he recalls. "I charged NZ$50 and I thought 'I've made it!' Of course, I charge many times that now. I don't make my money selling kitchens. I make my money from designing them."
The idea that profit comes from the kitchen concept and not commission is a hard one to grasp given the structure of the UK market. However, in New Zealand, things have always worked differently, as Corboy explains: "A lot of people think Australia and New Zealand are the same, but they're not. New Zealand has more independent designers, people like myself. I do all the kitchen design and project coordination, working directly with the client and then we have a couple of manufacturers that build all our work, while in Australia there tends to be more kitchen showrooms with in-house designers.

"The differences are significant, because in New Zealand our climate dictates that more of our time is spent inside so, per capita, people spend more on a kitchen than they would in Australia. For instance, houses in Australia that cost A$700,000 to A$800,000 (£329,000 to £376,000) will probably have a kitchen fitted that costs around A$20,000 to A$30,000. In New Zealand, however, most people in that market will be spending upwards of NZ$70,000 to NZ$80,000 (£30,000 to £35,000). We got into our open-plan style of housing a lot earlier. Houses are quite big and so kitchens are more of a status symbol. Houses are rising in value every day, so people are making money sitting in their own homes and they figure that they may as well spend some of it."
At the high end, people don't want to feel like they can walk into a showroom, pick a kitchen and someone else can walk in and pick the same kitchen. They want it custom-made and they want it custom-coloured
Drilling down further into the divergent Australian market, Corboy explains that there are also style differences between the states. "Queensland, for example, where it's hot and muggy, has a lot more what I call outdoor kitchens, where the kitchen will flow through into the outside space," he continues. "Then you get somewhere like Melbourne, where they have a lot more culture and tend to go for more European styles, while Sydney tends to be heavier on traditional kitchens."
However, thanks to the internet fuelling consumer desires, the Australian landscape is going more the way of New Zealand, with an increase in boutique design houses that emphasise the value of expertise.
Made to measure
There are other reasons why bespoke design is a dominant force in the New Zealand market, too. One is fewer budget retailers and the absence of Ikea stores, which is likely to be due to a smaller, more spread-out population. Instead, hardware companies – Mitre 10, Bunnings and PlaceMakers – cater for the lower end of the market. While some manufacturers, such as Poggenpohl and Alno, have had an enduring presence, the recession caused many imported kitchen companies to shut up shop. Strong growth has resulted in a return of some retailers, but many New Zealanders still defer to custom design.
"At the high end of the market, people don't want to feel like they can walk into a showroom, pick a kitchen and someone else can walk in and pick the same kitchen," says Corboy. "If someone is spending upwards of NZ$100,000, they don't want an imported kitchen. They want it custom-made and they want it custom-coloured. Generally, they go for the more contemporary, modern style, but lately I've been designing what I call industrial-transitional kitchens. They're not really traditional, they're not really modern, but a combination of both."
Without manufacturers to dictate styles, Corboy feels the standard of kitchen design in New Zealand is becoming ever higher, meaning the need to be aware of general trends and visit trade shows at home and further afield is key.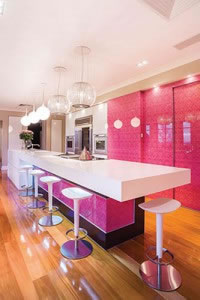 "We have the Auckland Home Show, which covers everything in the house and we used to have a show called designEX in Australia. That was quite good, but it has disappeared," he says. "Generally, we all head to Europe and America. I go to KBIS in America and I've been to Eurocucina in Milan about 10 times now. I don't tend to get inspiration from the kitchen side of things there. I love going to Zona Tortona and the Brera district and seeing the edgy young designers. If I go to Eurocucina's Hall 9, where all the kitchens are, I end up bored, seeing the same thing over and over again. Whereas if you go to the edgy, avant-garde areas for design, you can see what they are doing with colours, texture and pattern and think about how you can bring that into a kitchen. I love looking at shoes or even walking past hair salons to see what colour the bottles are. If they're changing the shampoo bottles to a bright yellow, I'll know that – all of a sudden, that will start to come into fashion and then we'll start to bring it into interior design."
Materials have also played a large part in the evolution of design in New Zealand, with surfaces such as Dekton and Laminam alongside natural materials. "For a few years, there were hardly any exciting materials, but now companies are realising that they need to bring out new products," explains Corboy. "We've had people importing some really cool granites and marbles that we didn't have access to locally and we're starting to use laser-cut raw metals for things like door panels. New materials mean we can layer the design – we can still do a white kitchen, but use different products to bring in texture, so it's no longer just a flat, boring white kitchen. We're also using lots of black tapware and schist for splashbacks instead of glass."
It's not surprising that when Corboy is asked which designers impress him, he mentions Johnny Grey, as they have a similar approach to the process of design, but there the similarities stop. "When I started to get into design, I took inspiration from Johnny's books and I met him about 12 years ago. Now I'm privileged to call him a friend," recalls Corboy. "He's built up a name for what he does, whereas I've got a name for my use of lighting and colour in kitchen designs. For companies that impress me, I'd say Boffi. It's been a leader in doing stuff well and I'm glad they haven't got a huge presence in New Zealand. I don't think there is really one showroom that I know in Auckland that makes me go 'wow, that's stunning'. They're designed to sell boxes. People go in and all they want to do is sell you as many boxes they can get around a wall, so they're not design-focused. Innovation is not coming from the showroom side at all."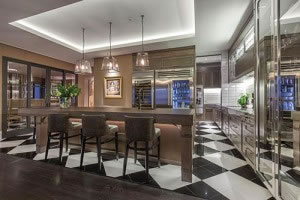 Instead, Corboy believes that the internet is helping to drive a desire for more design-led kitchens, citing sites such as Houzz and Pinterest as a source of his clients' inspiration. "My clients, in some cases, are better informed than me," he laughs. "They can research all the different websites and see different elements of the kitchen that they like, so there's no need for a showroom. The internet can be bad, too, because people can see kitchens and products that in reality aren't going to fit into their design, or into the space."
International
Relying on design as a sole source of income may seem risky in a world of steady jobs and commission, but Corboy's strategy has paid off. Not only does he now work internationally, in places as diverse as Trinidad and LA, but business stayed steady during the tough times.
"The recession got rid of a lot of companies who weren't doing the industry any good, but could survive when the market was flush," remembers Corboy. "During the recession, people at the top of the industry worked harder to build up a good contact base. My business partner Fern and I decided not to drop our fees, which I think was huge. We decided that we'd rather have less work, because we knew it was going to be hard to bring the fees back up once the good times returned. I believe that the greatest referral base you can have is your clients. I always want to design something that the customer is going to love and use. I don't have to live in their kitchen, so I've got to take into account their needs and make sure that we can produce that."
Given the diverse nature of Corboy's clients, his design process is necessarily extensive, taking into account that everyone will use their kitchen in a slightly different way. "For instance, I could be an hour out of Auckland, in the country, and talking to a dairy farmer," explains Corboy. "They'll only go shopping once a fortnight, so their storage requirements are going to be greater than an inner-city couple who live next to three or four restaurants and cafés. It's about getting those functions of the kitchen right and then the form – how it's going to look, the colours and the materials that they love and want in their kitchen. For me, the old working triangle is long gone, I don't even take it into consideration. It's more about zoning for storage, plating up, cooking and tasks."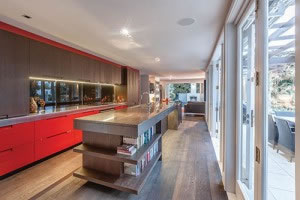 While a formal design certification isn't a requirement in New Zealand, an NZQA qualification is available in kitchen design and Corboy is certified. However, as he explains, clients never enquire about his qualifications. "I think clients value your portfolio of work, they can see what you are producing and what you are doing, they see it in magazines, they can see projects on your website and they can see the references on websites such as Houzz. I think that's what clients value more."
Being a designer who sees the whole kitchen process through, from creation to fitting, Corboy is especially vocal about the extent of knowledge a good kitchen designer should have. "If you're telling people you're the expert in a field, you need to be that and have some sort of training. I produce production plans, I can tell you what the gas laws are, I know how many radii are on a number of plinths, I know how a cornice works, and so on. That's the difference between a designer and a salesperson who takes your plans, shoves it on to a CAD program, drops in units and you walk away. I'm not a salesperson – the sale is already done the moment the client signs my contract. The two manufacturers that are licensed to produce my work are where the client buys their kitchen. There are designers who will just design and walk away, then the client goes to a cabinetmaker who'll then start to make changes or maybe their plumber has an opinion on the colour of the kitchen, but I believe in being there to keep it all on track."
Appliances
Just as Corboy doesn't sell kitchens, neither does he sell appliances – but he will take his clients shopping for them. Brand choice is limited in New Zealand and frequently tied to what sells in Australia. "We don't have a lot of the appliance brands that you get worldwide as we have a very strict WELS [water efficiency] rating," says Corboy. "As an appliance has to conform to get into New Zealand, what generally happens is that they'll do it for Australia and we get on the back of that. Smeg and a couple of other manufacturers have a line that's just for Australia and New Zealand and we do have some big brands, such as Miele, Gaggenau and Sub-Zero and Wolf."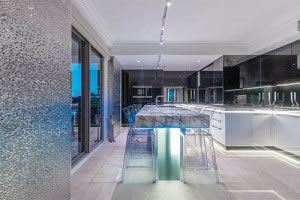 Ultimately, a far greater issue than what appliances to choose is how the design works with the rest of the space and it's led to Corboy diversifying beyond kitchens into being just as much an interior and exterior designer.
"Open-plan living has changed my career," he says. "I have to consider how the flooring is going to look, what colours are on the walls or what light fittings are going to be there. I have to have an overall view of how the whole space fits and works. I'm even designing restaurants now, which broadens my horizons and educates me. I may not design a kitchen for a couple of weeks, then I go back and it refreshes me. If I was churning out the same kitchen day after day after day, I'd hate it. But I'm not."