Ex-British Ceramic Tile (BCT) employees have joined together to create The Branded Tile Company.
BCT – which was one of the largest tile manufacturers in the UK – ceased production in January 2019,  with around 380 employees being made redundant at the time. The BCT name lives on with new owners Al-Murad Tiles, which bought BCT's intellectual property in August 2019, which included its website, tile designs and customer list.
The Branded Tile Company will focus on branded tiles that will be made in collaboration with UK designers. Currently, the company is working with the Victoria & Albert Museum and producing some of their classic designs. The goal is to expand the V&A collection and introduce other big fashion interior brand names.
John Chater, founder and managing director of the Branded Tile Company, worked at BCT from 2017 to 2018 as commercial director. While at BCT, he saw an opportunity with its branded tiles, which were big sellers for the company, and decided to create The Branded Tile Company.
Chater said: "BCT did a really good job with V&A, but they left it in the box because it did its job. That's where I saw the opportunity. V&A could be four times the size it was at BCT. It was, at the time, just about a £1 million brand at BCT but it could be a multimillion-pound range. Providing it has the right designs and is marketed correctly.
"The plan is to build on what BCT has done and the goal is to be the UK leading supplier of UK designer tiles. We currently have V&A and our next brand signed up, but I can't reveal the name yet, but they are an even bigger name than V&A. We are in discussions with a couple of other leading fashion-focused brands. We are looking for brands that can cover a wide range of the consumer market."
The V&A range coming next year will be different from the current Victorian style range. Chater said that he wanted to draw inspiration from the whole of the V&A, which showcases a wide variety of international designs and not just classically British styles. The current focus is on the Asian and Japanese works of the art in the museum.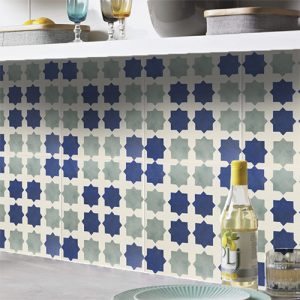 Chater wants flexibility within the company to listen to the market and change what it offers. New designs and products will be rolled out year on year, so there is a variety of branded products for customers to choose from.
Chater said: "As we have seen in times of recession, if the product is not different enough, then it won't do well. There are people out there who, even in these challenging times, will still want to spend a significant amount of money on products that fit their aesthetic, which are good quality, have a strong design and a story behind them."
There has been a quality upgrade of the BCT tiles from ceramic to porcelain so the tiles could be used on floors and walls. "We want good quality products, but with differentiation and a story in the marketplace. That is what customers and retailers are looking for," said Chater.
The current tiles are manufactured in Spain. The Branded Tile Company worked with the manufacture to upgrade and create a better tile. One goal for the company is to use British manufacturers. However, Chater believes that the brand needs to be more established before that is possible.
The Branded Tile Company has an online shop that sells direct to consumers, but it will also work with independent retailers. Chater said: "The independent trade is so important. They can help customers in terms of getting the right fit and the right look for that customer's project. We want to bring brands to help them sell more and more often. People buy tiles from anywhere between three and eight years as a cycle, so they have to be sure about what they are buying and independents play a part of that."
Joining Chater is Claire O'Brien. She is now head of ceramics design for The Branded Tile Company, and was previously head of design at BCT. Marcus Wilkinson is head of procurement, and he held the same role at BCT.
The rest of the team is made up of Clive Daley, who has worked in senior roles in the home improvement sector for 30 years with companies such as Homebase and B&Q. And, Alice Rawson, a printed textiles and surface pattern design graduate from Leeds Arts University, is a junior designer for the company.
Speaking about the redundancies that happened at BCT in early 2019, Chater said: "It was horrendous, a dreadful situation. Around four hundred people people made redundant. The largest local employer in the area. You had people there who were third- or fourth-generation tilers. If this were Italy or France, we would be making films about these guys about how their great-great-grandfather worked on the site in the 1870s. The people at BCT were artisans. That was such a missed opportunity."