The owner of Honest by Design, Nikita Pearce, an interiors and kitchen design business in Winchester, recalls how she got into the KBB industry and why she feels we should be aiming to attract, value, promote and retain more women
I didn't choose to work in the KBB industry. I fell into it by chance. I was 21 and studying for an interior design degree. A friend in recruitment had a 'Junior Interior Designer' position land on her desk. She put me forward for it and I got the job.
Fast-forward a few months and I realised that the work I was doing wasn't interior design at all. It was kitchen design – which, at the time, I didn't even know was a thing! Even though I was thriving in my role – winning the Young Designer Award for Kitchens at the kbbreview Retail & Design Awards in 2010 when I was just 24, and being named as a finalist the following year, I searched for a way back into interiors.
So, why was I so keen to leave the industry I found myself thriving in? The short answer to this is that it felt dominated by men in suits and looked about as creative and inclusive to women as a building site.
On the other hand I saw interior design as an industry full of strong women running design practices. Women working together, balancing family life with successful businesses. Role models.
Sales as a whole doesn't attract anywhere near as many women as men. This is not exclusive to the KBB industry. It is seen as competitive, difficult to balance with family life, and where the glass ceiling absolutely still exists. In my opinion, by looking and acting like a traditional, sales-oriented industry, we are putting off creative and talented women from embarking on a career in the KBB world.
The words of one industry veteran rang in my ears for years after one interview I had. "I'm not sure you're hungry enough…"
Not hungry for what, exactly? To sell for financial gain? Well no, true. I'm not "hungry enough" to sell purely for money. But I am hungry enough to fulfil each brief I am given. To design the best possible space for each client. To forge deep and lasting connections – so clients come back for their next project and become brand ambassadors. This is sales motivated by passion and people. And women are great at it.
Clients spending significant sums of money want to feel listened-to and understood. They want you to remember the ages of their kids, what they love to cook, and what they hate about their current space. Women are naturally suited to this. Of the past 20 kitchens I have sold, 16 of the purchases were made almost entirely by a woman. And if women are driving the purchase, doesn't it make sense that we should reflect this within the industry? That we should aim to attract and promote women? This doesn't just go for designers but suppliers as well. Saleswomen are proven to nurture lasting relationships – and that's good for everyone.
Creativity
I don't have anything against smartly dressed men. But do we really need to encourage such an air of sales about it all? I asked my new assistant designer, Katie, what she thinks. She's an illustration graduate and, like me, she was looking for a career that combined creativity and analytical skills. And, like me, she has fallen into the KBB industry.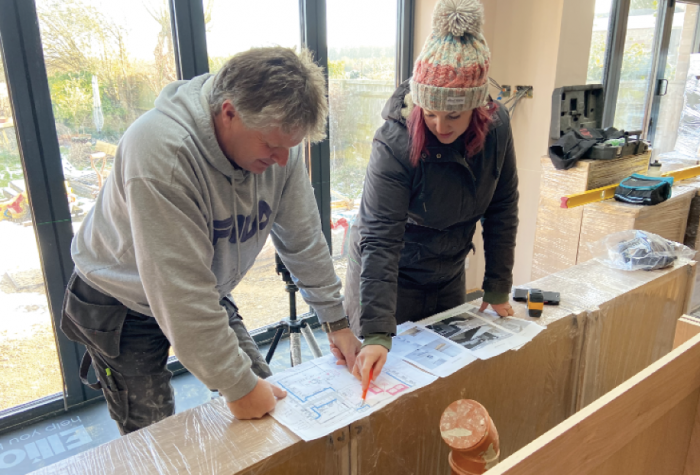 However, unlike me, she is not put off by what she sees, despite revealing "it seems very male-dominated, and therefore a lot of young women could be put off pursuing a career in which they may be overlooked and excluded". For the record, overtime I obviously started to love kitchen design, and am now very proud to work in this industry. But, I don't want to work in an industry where anyone feels overlooked or excluded, least of all 50% of the population.
So, what can we do about it? We need more strong, visible, inspiring female role models, pushing boundaries, running successful businesses and shouting about it. We need to celebrate women, employ women, encourage women and nurture their talent. And for those of us women who are already doing all of that? We need to put ourselves out there, so that we get noticed as often as our male counterparts do. We need to make time to write for magazines, enter awards, feature on podcasts and front businesses.
I know how hard it is. I have a partner who runs his installation business alongside mine, a home that's an ongoing renovation project, and a two-year-old daughter. As women, we have so many balls in the air already. But what's one more, when it might just ensure the next talented young woman who 'falls in' to the industry immediately feels welcomed, included, valued and celebrated enough to stay.