Pole position
Greg Jakubek and Krysia Lake have teamed up with established, London-based, bespoke stone specialist SPC to help launch Polish kitchen furniture brand Remeb in the UK and create a new kind of specialist studio
If you were asked to list everything you associate with Poland, chances are kitchen furniture production wouldn't even make the top 50. But, of course, not being famous for something doesn't necessarily mean you're not good at it.
British brother and sister team, Greg Jakubek and Krysia Lake, are hoping that introducing Polish brand Remeb to the UK market will make people recognise their expertise in furniture design and production. "Because of the eastern European connection, we imagined Remeb kitchens would be of a certain level of quality," they explain. "But, when we saw them during a trip to Poland in 2013, we were blown away by the quality of craftsmanship and the finish. The attention to detail is just phenomenal."
Having both come from a design background – Jakubek through graphic design and Lake through interior design – the duo were so impressed with the furniture that they offered to launch the brand in the UK.
Before making the decision to invest in a showroom in the London area, they decided to test the water for the brand by taking a stand at the 100% Design show in September 2013.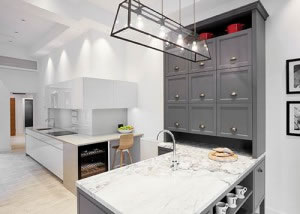 "We knew that if we wanted this venture to really succeed, we'd need to find a showroom," explains Jakubek. "However, rent is very high in London, so we decided to put the product in front of the design community first. If their reaction to it was good, then we would take it to the next stage but, if we didn't get a great response, we could easily walk away from it.
"The architects and designers who visited us during the show absolutely loved the product," he proudly proclaims. "They really appreciated the quality of the finish. We made lots of really good contacts and almost started selling kitchens straight away."
Lake adds: "Some of the architects we met with at the show even told us that they felt the quality of our product, at the level of market we're in, is better than Bulthaup and Poggenpohl."
Two of the architects they met during 100% Design liked the product so much that they commissioned Remeb UK to design their own kitchen projects – not a bad endorsement for quality.
Their abounding confidence in the brand is perhaps unsurprising considering the founders happen to be Jakubek and Lake's Polish first cousins, Pawel and Krzysztof Jakubek.
Though it may be completely new to the UK, Remeb certainly has an impressive heritage in its homeland, where the Jakubeks have been producing premium kitchen cabinetry from their workshop in Reguły, near Warsaw, since 1989.
As well as designing and producing kitchens for the Polish market, they also export to several of the biggest European markets, including France and Germany.
Passionate
Considering the strength of the UK KBB market, I'm interested to find out why Remeb's founders have never tried to launch the brand here themselves?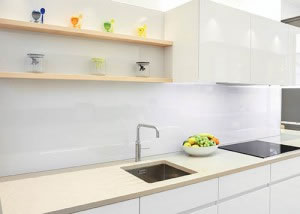 "Of course, our Polish cousins recognised the potential for the brand in the UK," Jakubek admits. "But, they had found it a difficult market to crack, you need the right people on the ground. Myself and Krysia both have strong design backgrounds and, of course, we're passionate about the product, so we felt we could really make it work here."
There are already a significant number of kitchen brands being sold through kitchen retail specialists in the UK, with the market dominated by some extremely well-established German, Italian and British brands. So, what makes them so confident that a small, unknown brand like Remeb could be a success?
"We're very proud of what our cousins have achieved in Poland and have complete confidence in the brand and the quality of the product," Lake explains. "Obviously, there are similarities between Remeb and other products, but with the extra detail in our product and the fact that all of the cabinetry is bespoke and made to order, we also believe Remeb offers consumers something that little bit different."
Following the positive feedback and success at 100% Design, Jakubek and Lake decided that, in order to properly establish the brand, they needed a showroom. In 2015, they teamed up with Mark Jermyn, owner of bespoke stone specialist SPC, to create a retail showroom specialising in both surface and kitchen furniture design and manufacture.
"The thought of opening our own showroom was daunting," says Jakubek. "But Mark, who we met while we were quoting for a job, was looking for a way to expand his business in the KBB sector and was already set up in a showroom in St John's Hill, Battersea.
"We chatted about our businesses and, because of the synergies between kitchens and stone, felt that a collaboration made perfect sense for both of us. The showroom is the ideal location and a fantastic platform to establish Remeb as a brand in the UK."
Collaboration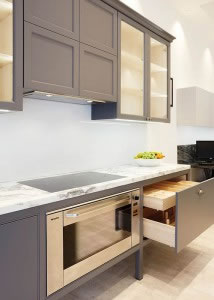 Jermyn, who has been in the stone business for over 25 years and has worked across the kitchen and bathroom sectors, adds: "We moved into the showroom about a year ago, but were waiting for the right collaboration to come along. Kitchens and bathrooms have been the bread and butter of the company all along, but I felt that, if we wanted to grow in the sector, we needed an association with a furniture brand and proper kitchen displays that would give our samples of stone – including marble, slate, travertine, granite and quartz resin surfaces and well-known brands like Cosentino Silestone, Compaq, Caesarstone – real context.
"We've worked with various different kitchen companies over the years – we've really seen it all. So, when you experience an outfit that are sharp and clearly know what they're doing, then it really stands out. What's great is that Greg and Krysia have the backing from the guys in Poland and their years of experience and expertise. The reaction to the furniture I've had most from people is 'Polish? I'd like to have a look at that'. Part of it, I think, is that they're curious to see what a Polish-made kitchen will be like, but then it's more like an eagerness to see something completely new, a kitchen brand that isn't German or Italian."
Remeb UK refitted SPC's existing studio with kitchen displays and the showroom collaboration opened in November 2015. Greg and Krysia completed seven kitchen design projects off the back of 100% Design and, since the showroom opened last year, have been getting an average of two enquiries a week.
The showroom is located on a busy high street with Clapham Junction train station just a short walk away. According to the trio, the area has become a "hotbed" for interior design and architecture practices, with many independent homeware and interiors businesses opening up on the same street.
It is permanently staffed by Jermyn and the SPC team, while Jakubek and Lake split their time between their own design studios, site visits and the showroom itself.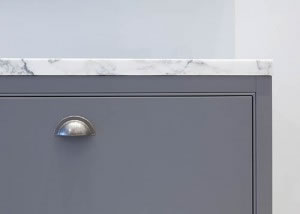 Comments Jakubek: "There's a huge amount of development going on in Battersea at the moment and it's really becoming a hub for the interior design community. It's the ideal location for an up-and-coming kitchen furniture brand, like us, that is really keen to work with other disciplines like architects and interior designers."
Lake and Jakubek say that their keenness to work with architects and interior designers has enabled them to appeal to an audience that's much further afield than their Battersea base.
"Obviously, by giving ourselves a London base, we are trying to get our name out in the local community and are getting a good level of footfall, and jobs, from consumers, architects and interior designers, off the back of the showroom," Jakubek explains. "However, the kind of business we are trying to build, off the back of relationships with other disciplines, is one that does not have to be restricted to local jobs.
"We've already fitted a kitchen in Skegness, last week I did a site visit on the Isle of Wight, and this Friday I'm in Newbury. The furniture comes over from Poland, so it doesn't matter where it's delivered – distance isn't really a problem for us at all."
Considering that many kitchen specialists tend to avoid working with architects and interior designers, I'm keen to find out why Remeb UK are specifically targeting this sector for leads and whether they feel more retailers should be working this way.
"There seems to be a love/hate relationship between retailers and architects or interior designers," says Jakubek. "Some architects don't like dealing with retailers, because they feel like they're encroaching on their space and retailers don't like architects designing kitchens etc, etc. We're different because we want to listen to their views and actually work with them, not against them.
"Maybe we're off to a good start, because we've actually designed and fitted kitchens for several architects themselves. My belief is that we will benefit from working with other trades and vice versa."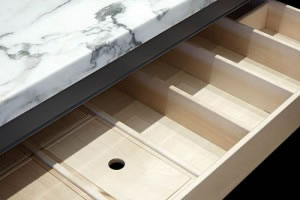 At only 650sq ft, the showroom is relatively small, however the team have clearly taken time to think about the layout and displays in relation to the design possibilities Remeb offers, the day-to-day functionality of the showroom as well as the target customer base and local housing stock.
"The aim of the showroom was to highlight our skills as bespoke cabinetry makers and also the skills of SPC in stone fabrication while, at the same time, showing how we can work together to design great kitchens.
"Ours is not a traditional kitchen showroom in the sense that it's a working environment for SPC staff, so we had to be mindful of that when we were designing the showroom," Jakubek explains.
"It's not a big space, so we didn't want to over-cram it. We have four main displays – a good balance of contemporary and traditional – that we feel really show off Remeb's design skills and manufacturing ability."
Getting the company off the ground here has, Jakubek and Lake tell me, been much easier since they partnered with SPC and moved into their Battersea showroom. Average order values are around £20,000 for a full design, bespoke manufacture and installation service – excluding worktops, which clients could, if they wished, source from any supplier. They are getting between one and two leads a week through the showroom and currently have six quotes between them, "bubbling away".
Frustrating
However, what they have found frustrating is, considering the scale of the business in the UK, the difficulty in finding brands in other areas of the market, such as sinks, taps and appliances, willing to work with them.
"Because we're new to the market, we've struggled to get suppliers on board," Jakubek explains. "Most didn't want to know us when we didn't have a showroom and even since we've moved in here, because so many brands demand lots of display space, we don't fit the criteria. It's been a very steep learning curve.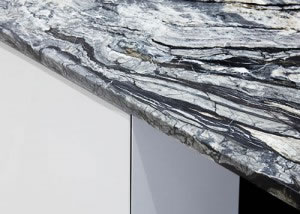 "When we fitted the showroom out we hadn't been able to secure accounts with suppliers, so most of the products on display we got from Remeb in Poland. However, we're now part of the Der Kreis buying group (KBBG) and some of their supply partners have seen what we are trying to achieve here and have been very understanding and supportive.
"We are slowly going to fit out the showroom with suppliers that want to work with us like Blanco, Quooker and De Dietrich."
All parties seem extremely pleased with how the collaboration is working out for both companies. On one hand, Remeb benefits from the association with a well-established, specialist, stone fabricator, while SPC now has a showroom that puts its skill set into context specifically within the KBB sector. So what's next on the agenda for both businesses?
"We plan to be in this location for the long-term but clearly we have aspirations for the brand," says Jakubek. "Expansion is on the radar, of course, but we will be careful about when and where. The next two years will be about growing the business and building the brand's presence in the UK. There's the hope and there's the reality, isn't there? But, as an average for the first year, it would be good to get a £20,000 kitchen confirmed every two weeks. Eventually, we want people to tell us they came here because they 'really wanted a Remeb kitchen', like they do about other brands now."
Jermyn concludes: "I've got a pretty well-established client base in the local area and I'm hoping that if Remeb takes off, they'll take us with them and vice versa. The idea that we could take this model to another part of London, to a bigger premises, is probably the next stage."