Ashley Turner and Mark Chappell fitted for other retailers before they opened Baymoor Interiors in Devon. They set up on their own as they felt they could offer a better service. Chris Frankland finds out more.
Independent retailers pride themselves on quality of service, right? Nothing new there. But when the guys
at Baymoor tell us they set up their new kitchen showroom because they wanted to offer a better service to their customers – well, they should know as, before opening up on their own, they were fitters for numerous other companies.
And the story they tell is one of disappointed customers, where retail-ers have failed to get the design right and the unfortunate fitters, in this case Mark Chappell and Ashley Turner, were left to put it all right.
As Turner says: "Over the years, we have installed for various companies and we always found issues with the products. It was generally down to us to sort the problems that the business ought to have been sorting out."
And they'd get feedback from those customers who told them 'we'd use you again, but we wouldn't use them'.
"And that, says Turner, "is really the basis of why we set up on our own. We won't walk away from a job unless we are happy with it. We care about the customer. Every customer is potential feedback for more work."
Unfortunately for Baymoor, the Covid pandemic got in the way and delayed their opening until August 2020, despite having set up together as Baymoor in 2017. They were still fitting other people's kitchens and some they had sold online while they were looking for premises.
The Newton Abbot showroom was a bare shell when they found it and, since they had the skills, they decided to fit out the entire studio themselves.
Turner recalls: "Everything in the showroom, all the displays, are installed and designed by ourselves. We didn't use any subcontractors. It took seven months of grafting to fit this out from an empty industrial unit."
But, as Chappell explains, four of the seven months were during lockdown anyway: "We couldn't open, so we could use that time to get the showroom 100% finished. We are proud of what we have achieved."
That means that when people look at the quality of fitting in the showroom, they know that is the quality they are going to get in their new kitchen. As Turner says: "It shows our complete service, not just the kitchen displays. We are demonstrating everything we can do – from start to finish."
Surprise
Chappell explains how they did not advertise the opening locally, only on Facebook and Google. He recalls: "We came as a bit of a surprise for everybody. We just appeared from nowhere. The building was here. There was nothing visible. Then all of a sudden the signage went up, we unveiled the windows and we were here."
The showroom cer–tainly looks good. It has 100sq m of space on the ground floor and a further 50sq m on the mezzanine level. There are five displays – three traditional and two contemporary. They are intended to show a range of options. In traditional, which they say most of their customers go for, they have one in-frame, one MDF and one real ash door shaker. In contemporary, they have a J-profile and a true handleless. But the displays are big and intended to be comparable to a large-sized kitchen in a real home.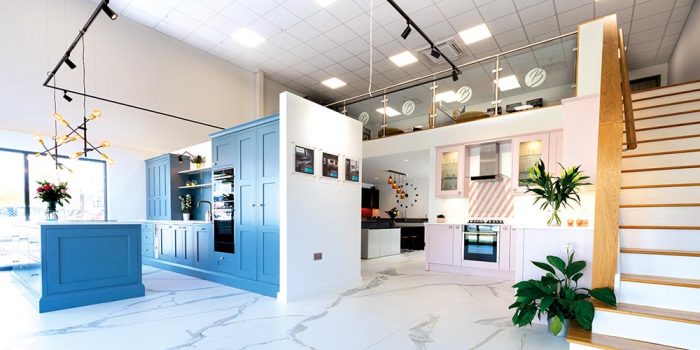 As Chappell says, they are big enough that customers could say, 'I want that in my home'. And many do.
Turner explains that they work a little differently from many showrooms: "We just deal with one door supplier, one sink and tap supplier, one appliance supplier, one cabinet manufacturer. We work directly with them all, so we have a limited amount of products that we need to show. We didn't need to have six or seven displays with six or seven shaker doors from different manufacturers. That meant we could have five big, fully working displays."
They say this layout will also allow them to hold in-store cookery events in the future.
The duo explain how Baymoor's kitchens are entirely bespoke – made to order for each project.
As Turner explains: "Our cabinets are made to order to our specifications. The doors are the same – there are some stock items, but they will make any size, any style, any shape and any colour to our requirements.
"It's not one bloke in a shed making it with hand tools, but you can have exactly what you want. That said, there are some handmade elements. Some doors are made by hand, for example. The cabinets are CNC machined, but they are put together by hand."
Baymoor spent a lot of time finding its cabinet supplier. Initially though, they were reluctant to deal with Baymoor as they were 300 miles away.
Cabinets
"But we said that's not a problem," explains Turner. "We said we would collect our kitchens. We will do what we need to do to get the product we want to sell. It's a 580-mile round trip, but we eliminate an area where there is an issue. We have no couriers involved. That means we can also check an order is complete before we take it away and before we get to the customer's house."
Turner spells out the value of this relationship: "We want to deal direct with a company, so that if there is ever a problem, it is between us and them with no one in the middle playing a blame game."
They keep it simple in other areas, too. For appliances, it is just Neff and Siemens. Sinks and taps are from Blanco, while worktops and surfaces are from Cosentino. They also do boiling water taps from Quooker.
They may have opened after the first lockdown ended, but then they were hit by the second one in November. How did that affect them?
"It wasn't too bad," recalls Turner. "We were doing Zoom online consultations, video phone calls and we were getting a steady stream of enquiries and brochure requests and lining work up for post-lockdown.
"We were also still doing some fitting work on kitchens we had previously sold."
Chappell says that rather than using their usual subcontractors during that time, they did some of the fits themselves. Turner adds: "Quite often customers were really happy that the directors were fitting their kitchens."
And was there a sudden influx of business when they reopened their doors on April 12?
Turner says not. "I'd say the opposite.In January and February, we were busy with online enquiries, emails and brochures. But it was almost as if as soon as the April 12 date was announced, people decided that they would wait until they could visit us in person.
"It's difficult for us to judge whether we are getting a normal level of business as we haven't done this before. We were open from August to November and then closed again until April. People ask us if we have noticed a big upturn in business, but we have no history to measure it against."
As Turner reflects, they do not have a steady stream of 10 or 20 customers through the doors every day. People tend to book appointments anyway.
That said, they are under no misapprehensions about the effects of the coronavirus pandemic.
Turner says: "If you had asked us last February what we wanted our order book to look like, we'd have probably wanted it to look different. So we have got to be realistic. The pandemic has changed the kitchen market – you can't just go and get an oven or dishwasher. That takes time. There are shortages of materials and products. We'd be limited if someone said they wanted an oven tomorrow, put it that way!"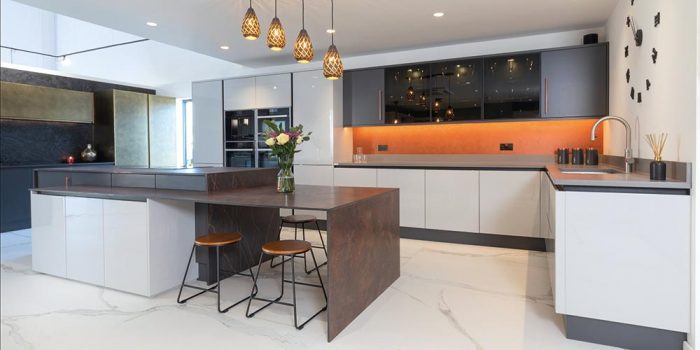 Order book
Baymoor is selling around two to three kitchens a month at present and the average sale is between £30,000 and £50,000. Their typical customer is semi-retired or retired with disposable income. They will not do supply-only, they don't do finance and they won't touch the budget end of the market. But they do offer a lifetime guarantee on their kitchens.
Turner and Chappell share the design work, although Chappell admits he is still getting to grips with the CAD software. They also find that most of their projects involve some building work.
"It's not kitchen out, kitchen in," says Chappell. "Quite often there's a lot of building work involved. Most of our customers want to make changes to the room. It's not just a kitchen, it's a full project." And they have a local builder they have worked with for 15 years to handle all of that for them.
Baymoor's website looks good and has plenty of blogs giving hints and advice. The majority of that and their marketing is handled by Chappell's daughter Becca. For social media, they have a presence on Facebook and Instagram.
Chappell sums it up by saying: "We want to look after our customers. Our customers are important to us – they're not cash cows. We want people to remember us. We want people to recommend us.
"We could have gone down the route of getting cheaper kitchens – doing more of them and going down the same route as everybody else, but then you are just in a race to the bottom when it's all about price. That's not where we want to be."
As for the future, the guys are clear they will not be diversifying into bathrooms or bedrooms.
"We decided that kitchens are what we want to do and we want to specialise in one thing only," Chappell says firmly.
Over time however, they do plan to expand and may well look at a second showroom.
As Chappell concludes: "This is only the beginning."