Supply shortages in 2021 have caused some kitchen and bathroom product manufacturers to rein in their marketing to ensure they'll meet current demand. However, Robin Cordy, marketing director at NBS, explains why a focus on future strategies will lead to a brimming order book next year and beyond, when supply challenges have eased.
Taps, tiles, hobs, and sinks are in high demand right now, putting a strain on retailers and manufacturers in our industry, who are desperate not to let their customers down. Brexit, the chronic HGV driver shortage, Covid and even freak weather conditions have caused a perfect storm of supply chain delays this year, impacting kitchen and bathroom product manufacturers.
It's understandable that some companies are dialling down their marketing output for fear of not being able to honour product orders, but this worries me for two reasons. Firstly, we are seeing evidence that the home improvement boom is beginning to slow meaning the demand for building and interiors products is moderating.
Secondly, savvy kitchen and bathroom manufacturers should always be looking beyond the 'here and now', focusing on longer-term strategies, so that once short-term spikes in demand and supply-side challenges are overcome, the order book won't be woefully empty. Knee-jerk decisions that could affect the longevity of new business leads should be avoided at all costs.
An effective way to lay reliable foundations for future sales is by targeting the specification audience – the designers and architects who plan future building and design projects months and often years down the line. Thousands of kitchen and bathroom products get specified through NBS each year, and we're keen to help more manufacturers develop their sales pipeline in this way.
Our Bathroom & Kitchen Manufacturers: How to get specified webinar explores the opportunities in detail, showing how NBS users are actively looking for bathroom and kitchen products. The key message was that by building a profile, and being more accessible and useful to specifiers, manufacturers can build sales and help shield themselves from unpredictability in the marketplace.
The growth of online specification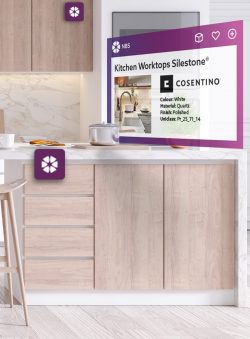 The recent rise in the number of architects using BIM (Building Information Modelling) and 'Digital Twins' has meant that the appetite for digital information is greater than ever.
A 2019 study by NBS and the Construction Products Association found that once architects had chosen their desired product, 72% would look to download the product information for 'immediate use'. What's more, 95% of respondents wanted product information in a digital format. It's clear that architects increasingly want access to digital information regarding products, to help them work more efficiently.
This is food for thought for manufacturers who haven't yet digitised all of their product data, or are unconvinced of the effectiveness of online platforms. Specifiers today use platforms like NBS Source to find product information and BIM objects and NBS Chorus to create construction project specifications.
Being found via a Google search is great, but why not make life a little easier for specifiers, and raise the visibility of your products in other ways, ideally eclipsing your competition in the process. Manufacturers in the UK and Europe are turning to NBS Source to build a presence and impress busy specifiers by making reliable digital product data available at their fingertips.
NBS Source is an easy-to-use, search engine for specifiers, and is home to tens of thousands of product listings. The platform allows specifiers to easily compare products and make accurate, informed choices at any stage of their project. Manufacturers can also put their products directly in NBS Chorus, putting their products in front of specifiers when they build specifications. These platforms are a powerful addition to the marketing toolkit, and allows suppliers to build engaging relationships with specifiers due to the collaborative nature of the set-up.
Digital product information wins business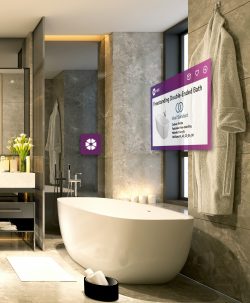 Architects have been known to respecify products from reputable companies that supply quality products and provide easy-to-access information, increasing the likelihood of being used on further projects for a steady sales pipeline.
At NBS, we've seen the impact this can have first-hand. Ideal Standard International, one of the world's leading manufacturers of bathroom and washroom solutions, saw an extremely positive response following the launch of their BIM offering. By investing in digital solutions that allow architects to access their product information online, the company was able to win business with numerous contractors, architects and other industry professionals. The results were so successful, they've since been awarded sole supplier agreements with contractors and have taken market share from competitors.
Marketing is all about brand visibility and voice. Now is not the time for your bathroom or kitchen product branding to disappear into thin air, which is the reality of a short-term marketing budget cut. The impact can be felt months or even years later.
By building a digital presence on both a specification platform and a product data platform now, manufacturers can nurture commercial relationships that will last long into the future.