When Sam Woodland and her daughter Hannah left an established kitchen retailer to set up on their own, what made them do it and what were the challenges they faced? Chris Frankland meets them to find out
There are lots of designers out there selling kitchens successfully without a showroom. In fact, Sam and Hannah Woodland started out that way before deciding to set up a showroom in Stevenage.
They had built up a good base of clients who were quite happy to let new customers view their kitchens but, as Hannah points out: "It creates trust when you can show people that you have an actual base."
Of course, Sam was no stranger to kitchen retailing, and knowledge of the market is a bonus when setting up on your own. She trained as an interior designer and dove straight into kitchen retailing as manager of Alno in nearby St Albans. Before long, she left to join a Schüller retailer, where she worked for three years.
While she was working there, a vacancy arose for a receptionist and so daughter Hannah joined her there and also gained some design experience when another staff member – who did hand drawings – got her to help by transferring them to the new CAD system.
Sam's first break happened when a property developer friend of hers approached her and said he needed four kitchens and utility rooms for some houses he was building. She approached the retailer she was working for but they quoted her a really expensive price that she knew her friend wouldn't go for.
She explains: "So I ended up approaching another Schüller dealer who gave me a fantastic price, and that's where it all started really. The guy I was working for knew that I was doing my own interior design jobs in my own time and I was self-employed anyway. So I thought, why am I working for someone else when I could be doing it for myself? I had all the contacts. It was a big decision, but that was it. That was around three-and-a-half years ago."
So, Sam and Hannah set up in a garage with a couple of laptops and a few door samples. And because she had always liked its products, she decided, after a brief flirtation with another German brand, to carry on her relationship with Schüller, who, she recalls, donated the door samples free of charge.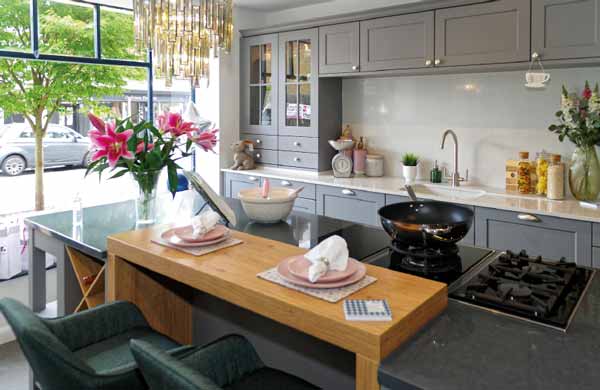 And it all grew by word of mouth and Sam recalls how many customers became friends and are still in contact with them today.
By the time they started looking seriously at premises, they were undertaking large projects, such as supplying the product for 74 flats in London's Maida Vale.
The first premises they looked at were in Welwyn Garden City but they decided it was not right for them. One reason for deciding to go with Schüller in their chosen location was, as Hannah puts it, that "not everyone does Schüller. There is a lot of Häcker around here and unless you go into central St Albans you don't get any higher-end German kitchens".
Sam is full of praise, too, for the Schüller importer InHouse. She says: "InHouse are very good. You get your questions answered instantly. And hardly anything ever comes in wrong, and that is what you need, especially if you have been waiting for a kitchen for six to eight weeks.
"We do the entry-level C Range, but I think that in the area we are in we could sell Next 125. We have heard that the shop next door might be closing in the next couple of years and if that happens, we could expand into it and put in some Next 125 displays. I don't think we would have any trouble selling it."
Visibility
Sam and Hannah eventually chose premises on the High Street in Stevenage Old Town as it gave them good visibility and footfall. It also has many artisan and craft-style shops that they thought would attract the right kind of footfall. And there was no other kitchen studio close by.
Hannah comments: "It was in the high street. Quite a nice high street with nice bars and restaurants. And we are right on the A10, so it has easy access. The station is just down the road, giving easy access
from London."
She adds: "And around here you have only really got Magnet, Wren and Howdens, so this is offering something higher-end, and if we did Next 125 that would be even better. No one has seen this sort of thing around here before and it really stands out."
To finance the showroom, Sam used some of the proceeds from the sale of her house last year, which meant that they didn't need to take out a bank loan or set up a costly overdraft facility. They budgeted around £50,000 to get it all up and running.
"So everything in here is paid for," she explains. "We had offers from some kitchen companies who said they could help us with free displays and then take a percentage of sales afterwards, but we didn't want that. We wanted to make the decisions ourselves."
Sam and Hannah also made quite a saving as they did not have to pay for any of the worktops or splashbacks for their five displays. These were supplied free of charge by their local stone supplier in Baldock and by Splashbacks of Distinction in Watton at Stone. Schüller also helped by offering a very good discount on the display furniture.
They even managed to keep fit-out costs to a minimum as the builders they use did the work at cost price, knowing Herts Kitchen Design would put plenty of work their way in the future. Her brother-in-law also fitted some of the displays, with their usual kitchen fitter coming in for a couple of days to do "the finishing touches".
Unfortunately, the property was not in the best condition when they moved in, as it had previously been unoccupied for two years and there were damp issues to be sorted.
Sam elaborates: "Being a listed property, there were beams in the ceiling which meant we couldn't touch any of those, and so we had to put in false ceilings. We did a lot of work."
Suppliers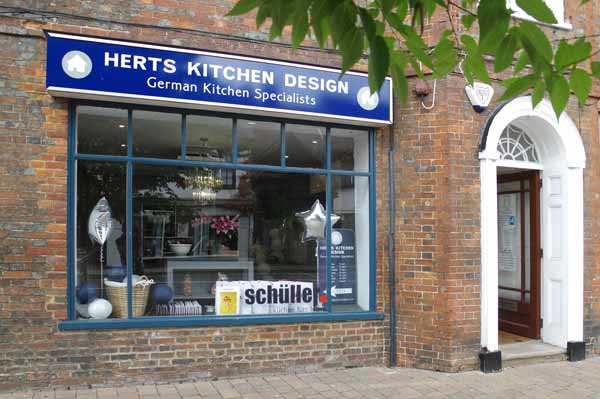 In terms of other suppliers, Sam says: "Our sinks and taps are Blanco. And Elica for hoods as there is no one else selling them around here. For appliances, we have Miele, Neff and Siemens. We will also have a working kitchen display with a hot tap, which will also be from Blanco."
Sam and Hannah expect their average kitchen sale to be around £25,000 and are aiming at a base level of four kitchens a month. And, Sam says, "if people are coming into us with plans and quotes from Magnet down the road, hopefully, when they see our kitchens, they will spend a little bit more for the quality we offer".
The grand opening took place on July 30. They put signs up in the window in the week before that and mailshotted all their existing customers. The café just down the road from them provided coffee and cake and there was also German beer on offer to wet the head of their new baby.
They say there was a steady flow of people and the event was busy until 7pm. Sam and Hannah say they got around half-a-dozen new enquiries as a result. Sam explains how people even told her they were pleased to see them open as there had been nothing like it there before.
So, what would they say were their biggest challenges on the way to opening up? Unsurprisingly, the first answer was "getting appliances". But apart from that, they say there were no major upsets.
In terms of the future, Sam and Hannah's immediate goals are to build up awareness of their business in the local area by word of mouth, their website and social media. As they have done work for developers in the past, they would like to continue that side of the business, but perhaps keeping numbers per project to 10. But, as Sam says: "I think we are open to anything really. We're never going to turn anything down because it is all money at the end of the day."
They do not rule out a second showroom and if the shop next door becomes vacant, we can expect to see them take on the extra space for those Next 125 displays they believe would sell well to local clients.
SAM AND HANNAH'S TOP TIPS FOR SETTING UP YOUR OWN SHOWROOM

LOCATION, LOCATION, LOCATION 
Warehouse-style premises on a retail park are cheaper to rent, but that may not be right for you.

CHOOSE THE RIGHT SUPPLIERS 
You must believe in the quality of the product. That will help sell it.

BUDGET
Set a budget to get up and running and stick to it.

SIZE DOESN'T MATTER
Your showroom doesn't have to be huge or cost a fortune. You can start small, with two displays and some door samples.

KNOW THE LOCALE
One entrepreneur told us never to set up in a place you don't know.

FITTING OUT
Try to find friends or family who can save you money on the fit. But don't compromise on quality.