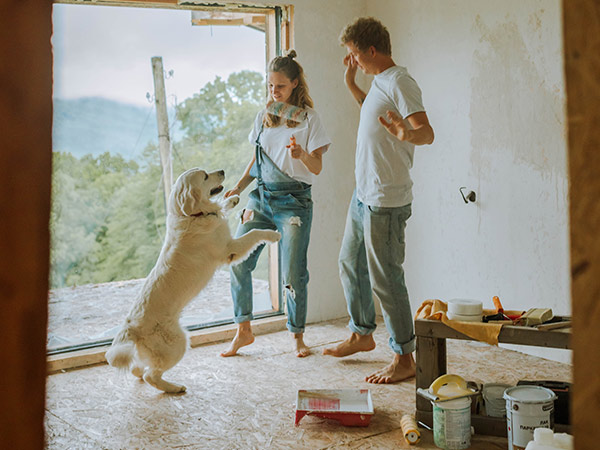 Rising living costs are not putting the brakes on home improvements as the latest figures show the number of people planning home improvements in the next 12 months rose from 16% in Q4 of 2021, to 22% in Q1 of 2022.
The new research from NatWest and S&P Global found that those consumers who are planning to upgrade in the next 10 years are pushing their projects forward. According to the results, In the next decade, 63% of homeowners said they intend to make home improvements, which is up from 54% last spring.
One of the major home improvement areas is improving energy efficiency to combat increased energy costs by reducing overall consumption.
Commenting on that trend, Lloyd Cochrane, head of mortgages at NatWest, said: "One of the best ways of saving money on bills is to reduce the amount of energy that we need to use. Therefore, helping people understand how to make their home more energy-efficient can be a really effective way to help cut their bills, something that's particularly important in the context of rising prices. It could also help to reduce their climate impact as homes account for 15% of the UK's carbon emissions."
In the June issue of kbbreview, we looked at the kitchen and bathroom market to see the state of the industry. There were mixed responses but the majority of KBB retailers, manufactures and experts, said that they expect the boom to continue, while some thought it may already be slowing.
Bill Miller, MD of buying group KBBG (Der Kreis), is optimistic and thinks that despite challenges there is still a good opportunity in the market for independent retailers. He said: "KBBG members are still experiencing a high level of enquiries and the post-lockdown sales boom is continuing well into 2022. I do sense a more difficult period ahead with consumers reluctant to spend money with the rising cost in fuel and energy bills, etc."
He added: "However, there are still many reasons to remain optimistic. For example, the housing market is red hot, which has a positive impact on the independents that supply kitchens and bathrooms to new-build homes."
Jayne Barber, founder of analyst JKMR, believes the mass-market will be affected more than the high-end where KBB retailers operate. She said: "Over the next 12 months, disposable incomes will be affected by rising utility costs and taxes, and consumer confidence in committing to 'big-ticket' purchases may start to waver. Rising interest rates will also potentially reduce budgets for major refurbishment. These impacts, however, are likely to disproportionately affect mass volume retailers, rather than kitchen studios that are more focused on higher-end budgets."