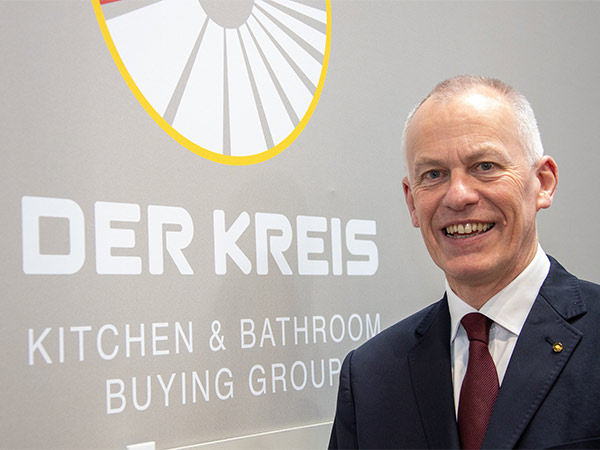 The Kitchen Bathroom Buying Group (KBBG) has seen sales grow by 78% in 2021 versus 2020. Plus, turnover for Jan to May 2022 was up by 51.8% compared to the same period in 2021.
In 2021, there were 41 new members to the KBBG, and already this year, they have signed up 31 new members. In addition, in the last six months, new suppliers have joined KBBG, including components and kitchen supplier BA and surface and panel manufacturer Multipanel.
KBBG managing director Bill Miller (pictured) gave a full report on KBB and parent company Der Kreis at last week's annual general meeting. He said: "The growth is driven by the acquisition of new members, more turnover from existing new members, and the introduction of new suppliers."
Der Kreis saw sales grow from €4.27 billion (£3.61bn) to €4.73 billion with a growth of 10.8%. With total membership growing from 3409 to 3498 in 2021. The buying group operates in 11 countries and just opened in Italy.
Miller also gave insights into the said: "I said at the last AGM eight months ago that the kitchen and bathroom industry is facing some of its biggest challenges. To be truthful, I had hoped that some of that issues would be resolved in eight months. But, I think it is fairly obvious that many of the challenges have not been resolved, but the list of challenges has grown longer."
"Everyone, be supplier or retailer, has seen amazing business over the last two years, I know not for everyone, but generally, the market has been flying along."
The AGM was held on June 13 at Manufacturing Technology Centre (MTC) in Coventry, an independent research and technology organisation. The day has special speakers talking about design and the industry: Vanessa Brady OBE, founder of the Society of British and International Design, Michael Boland, sales director of AB Distributors, which handles De Dietrich in Ireland, and Steve Nesbitt, chief technologist of the MTC.
Miller said about the event: "Following the success of last year's meeting, we wanted to exceed the expectations of our members once again with a variety of engaging speakers and workshops along with another exceptional venue.
"We hope that our guests found the event to be insightful as well as resourceful and were able to benefit from the networking opportunities and on-the-day offers and promotions from suppliers. We thank our event sponsor and the staff at the MTC for such a memorable day, and we look forward to next year's meeting."