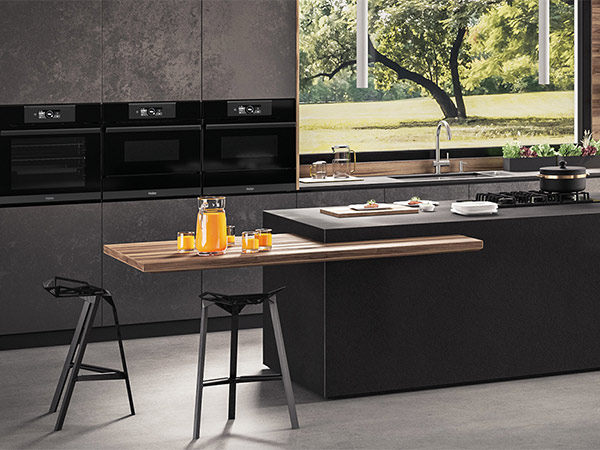 Haier: Smart appliances designed by data
How can a global brand design for its customers? Vicki Evans met up with CEO of Haier Europe, Yannick Fierling, at Haier's AGM to find out more
The easiest and fastest way to appreciate the scale of Haier Global is to look at the numbers. Its total assets are worth more than €23 billion, with 122 manufacturing plants, 108 marketing centres and 10 R&D centres that employ more than 99,757 people. In addition, there are more than 230,000 retailers in the Haier network operating in 200 countries around the world.
For 13 consecutive years, Euromonitor International has placed Haier at the top of its charts for global major appliances brand rankings.
The Chinese brand's global sales revenue reached £28.04 billion (RMB 227.5bn) in 2021, with year-on-year growth of 15.6%. Haier Europe saw an even stronger year in 2021, with growth of 20% and £2.43bn (RMB 19.7bn) in revenue.
Haier Europe consists of three main brands: Candy, Hoover, and Haier. Plus, it owns Rosières, GE Appliances and Fisher and Paykel, which are significant players in the UK and European markets.
But what does all that mean for you, the retailer, in the UK? And how can they know what your customers want?
Always connected
The global brand is fully committed to the smart home – to the point that it changed its name in 2019 from Qingdao Haier to Haier Smart Home to reflect its pledge to connected appliances.
There has been a shift in the market in the past few years and, as more and more people are becoming used to technology in the home and connected appliances, the demand for them is rising. And Fierling has recognised this as a key purchasing factor for consumers. He explains: "Connectivity is one of the market's biggest or fastest-growing purchase drivers today. So, I think connectivity will probably be a given in a few years."
The smart home is no longer a novelty for the tech enthusiast and is becoming more commonplace. As a result, retailers are getting on board with intelligent technology, and more consumers are now demanding it. Although there are some learning curves, more and more retailers are comfortable selling connected appliances.
One way that Haier listens to its customers is through data and research that is used to drive the design. Market research is so much easier with connected appliances, as it is possible to get all the data directly from the end-user.
Every time a consumer uses their appliance, that data is relayed back to Haier to be used for new product development, new functionalities or even to fine-tune programs on existing smart appliances. That said, Haier points out that its customers' privacy and data security are its highest priorities.
It sometimes sounds like Big Brother is always watching you, but it is in the customer's best interest as these data points help improve and refine future technology. One example is the new Rapid'Ó, a super-quick wash setting for washing machines. This program was created because consumer data showed that most customers used quick-wash cycles. Haier took that information and quickly ran with it, creating a new function that now many customers are using.
"We are in the homes of four million people daily. We understand exactly what problems those four million people are having," explains Fierling. "We have never been as close to our customers as we are today, because we're gathering all this data from them and designing accordingly."
Fierling suggests that even though the demand is there, it is still up to the retailer to show the different ways the customer can use a smart appliance.
"Connectivity has entered our daily life and is being requested more and more by consumers," says Fierling. "I think the resistance to it is much less, but how do you communicate the smart home experience on the shopfloor? That's the biggest challenge. We have very few retailers today who do not believe in any connectivity."
One hundred per cent of the new home appliances from Haier are connected, or at the very least have the capacity to be connected with electronic cards.
But Haier believes there has to be a point to that connectivity. There is no point in having a smart device for its own sake, as it has to add value to the end-user's life.
"Connectivity for connectivity's sake, has no meaning, has no added value," says Fierling. "I like to speak about progress because progress is when innovation is meeting customer expectations."