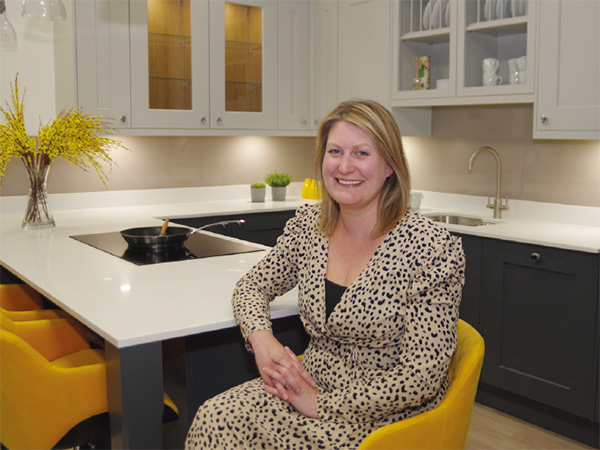 'We want to inspire our customers'
Elliotts Living Spaces in Lymington has moved into a larger showroom in the new 54,000sq ft Elliotts builders merchant branch that opened there in April. Chris Frankland went to find out more from showroom category manager Victoria Anderson
As you pull into the Ampress Park industrial estate in Lymington, the new Elliotts builders merchant and KBB showroom looms large and visitors get their first real impression of what 54,000sq ft actually means in terms of scale.
At the time of kbbreview's visit, the new Elliotts Lymington branch has been open just a month. At one end, is the entrance to Hampshire's only drive-through builders merchants, at the other, the entrance that will take you to the first floor and its dedicated kitchens and bathrooms business, Elliotts Living Spaces.
There is plenty of natural light in the entrance hall and the building has a light and airy feel. Visitors are greeted by a shaker display from Stoneham in grey and light blue. Aall of the Miele appliances in this kitchen work, where, for its grand opening on April 7, a local chef came in to cook for 70 invited guests.
Showroom category manager Victoria Anderson recalls: "We invited around 70 new and existing customers and we had a local chef come in. We had a bar set up on the Laura Ashley island and we had a magician walking round. We also had the local mayor and the teddy bear ladies from The Repair Shop to officially open the branch."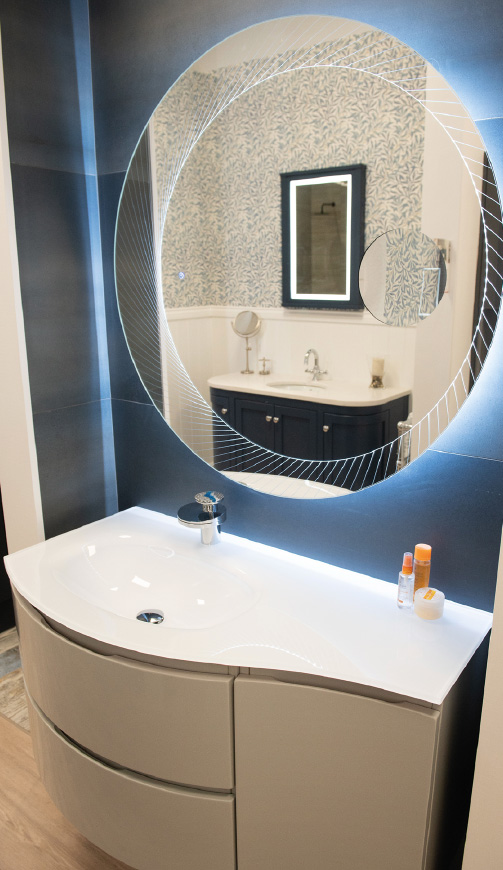 The new branch is the first Elliotts builders merchant in Lymington, but Elliotts Living Spaces was already established there, having taken over the Hardleys kitchen and bathroom showroom, just round the corner from the new building, in 2014. It rebranded as Elliotts Living Spaces in 2016.
As well as the new Lymington showroom, Elliotts Living Spaces also has branches in Romsey, Fareham and Ringwood. There is also a separate warehouse at Lymington.
Anderson manages all four showrooms and has been with Elliotts for 11 years.
So what was the thinking behind the new KBB showroom?
"I started by doing some research into what other people were doing with showroom design. Ikea is one of the most successful businesses with showrooms and it has designed its showroom based around the Gruen Effect, where your senses are assaulted as you walk in – you get sounds, smells, visuals. Then they lead you on a one-way system around the showrooms, so you actually see everything."
Customer experience
So Anderson adapted the Ikea model. "For us, it is more about the customer experience," she explains. "We thought, what do customers actually want when they are looking around the showroom? And that is to be inspired by things. They have loads of decisions to make already, they just want us to make it easy.
"So by going down the room set route, we can show customers an average-sized room and what they can achieve, with different layouts – islands, U-shaped worktops, utility rooms, pantries, bathrooms with sloping ceilings. This helps customers get to their final choice quicker."
And it means a boost in order values and add-on sales: "It gives us the opportunity to upsell as well and increase our average order value by adding a Quooker tap or a Kaelo, by having lighting, bar stools, radiators – you should be selling them to prevent them going online."
One of Anderson's objectives for the new showroom was to display a complete, functioning Symphony Freedom accessible kitchen.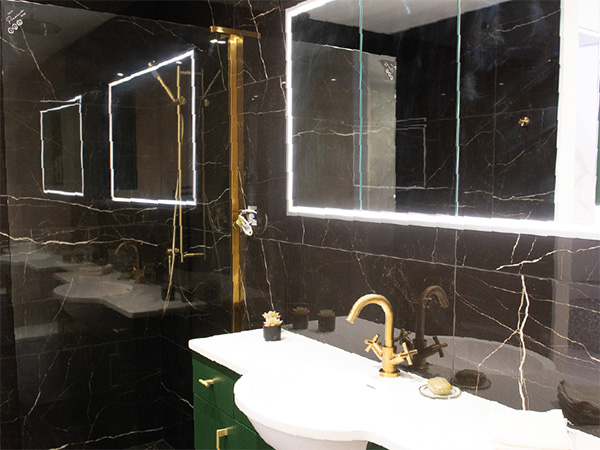 "We never sold accessible kitchens in the past. We had enquiries, but you really need it on display to be able to sell it. Where we are, on the south coast, there is an ageing population. Our display is a fully accessible kitchen, not necessarily for someone in a wheelchair, it can be for someone with limited mobility. There is nowhere in the area that shows accessible kitchens properly and nowhere in the county."
Contracts business accounts for 60% of Elliotts Living Spaces' turnover. "That is largely because of the Elliotts connection," explains Anderson. "Because we are a builders merchant, we have a lot of house builders already buying building materials from us.
"That is part of our growth strategy, to tap into the Elliotts customer base, because at the moment we probably only deal with around 10% of the customers they have."
Anderson tells kbbreview that they do not employ their own kitchen or bathroom installers.
"We don't employ our installers, but this year we have employed an installations manager. He talks to our subcontractors, but as he used to be a fitter he also goes out to do remedial work, as getting subcontractors back to do remedial work when they have moved on to another job can be difficult. Finding new installers is difficult and although Elliotts knows lots of installers as customers, it doesn't seem to help."
As for the future, Anderson says she may be looking to incorporate some of the ideas from Lymington into the other showrooms. A new website for Elliotts Living Spaces is also in the pipeline, as is a move into e-commerce.
Looks like Anderson will have plenty to keep her busy.