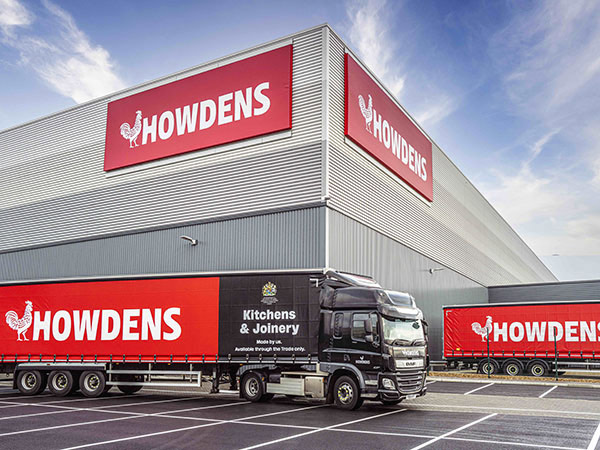 Trade kitchen supplier Howdens is switching to vegetable oil fuel to run its fleet of vehicles in a "landmark commitment" to reduce CO2 emissions.
Howdens is introducing Hydrogenated Vegetable Oil (HVO) to run its fleet, which it says should save 90% on CO2 emissions for every journey.
Part of its ongoing sustainability strategy, HVO fuel was first used to refuel trucks at its Raunds distribution centre in Northamptonshire and is now used extensively throughout its logistics fleet.
Howdens has committed to buying 350,000 litres of HVO fuel before the end of 2022 and plans to increase volumes in coming years.
HVO fuel works as a drop-in solution, produces 90% less CO2 than diesel per litre and does not require any modifications to vehicle engines.
Howdens is also trialling zero-emissions electric trucks, with one DAF truck currently being evaluated and plans to buy at least three more in 2023. These vehicles will be used for next-day deliveries within a 150-mile range.
To further reduce its CO2 emissions, the company is also introducing six bio-liquid natural gas vehicles at its Raunds and Portbury sites, with an expected CO2 reduction of 80%.
Howdens head of transport Gareth Sterland said: "The move towards HVO, LNG and electric vehicles demonstrates our commitment to CO2 reduction across our expanding fleet and network.
"At Howdens, we understand what we must do, and we will absolutely deliver on our carbon reduction promises. We travel millions of kilometres every year and sustainable opportunities to improve and drive down our emissions are always being reviewed, to find the best option for long-term success and benefits to the local, national, and global environment. We are excited by the difference we will make."
In January this year, Howdens was awarded a carbon neutral certification from the Carbon Trust for its manufacturing sites in Howden and Runcorn.