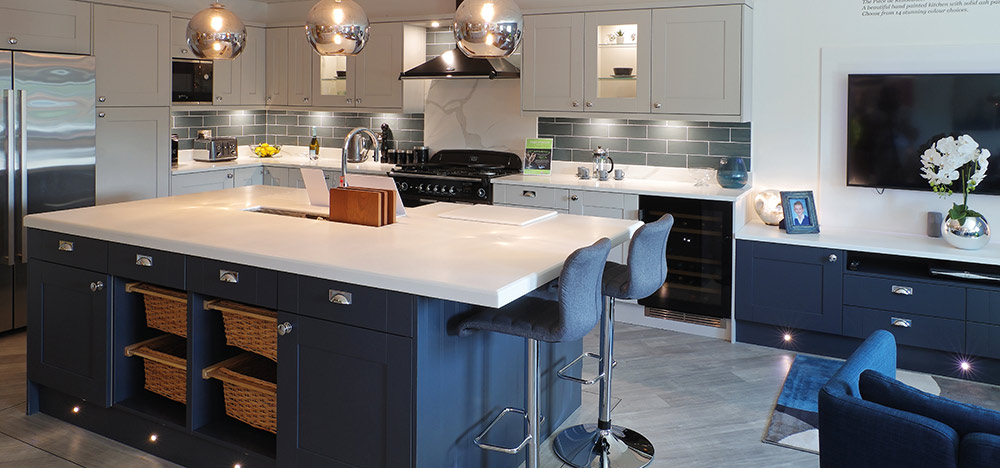 Regal Interiors: 'true Yorkshire values'
Regal Interiors is 25 years old this year and has expanded rapidly, outgrowing its small high-street shop in Keighley and moving to an 8,000sq ft custom-designed unit on an out-of-town business park. Chris Frankland meets MD Adrian Frost to find out more about the business.
On Regal Interiors' website, it describes itself as "a true Yorkshire-based family business with true Yorkshire values". And with the KBB retailer celebrating 25 years trading, I decided to pay them a visit to find out what those values are that have seen them grow and succeed since they first started out in 1997.
Looking at that proud claim, Regal Interiors is clearly a family business. Managing director Adrian Frost welcomed daughter Lucy and son William into the business in 2016, when his original partner and co-founder, Michael Hawksworth, retired. Lucy looks after after-sales and customer care, while William, a qualified electrician, is part of the installation team.
But what are those "true Yorkshire values" that the website refers to?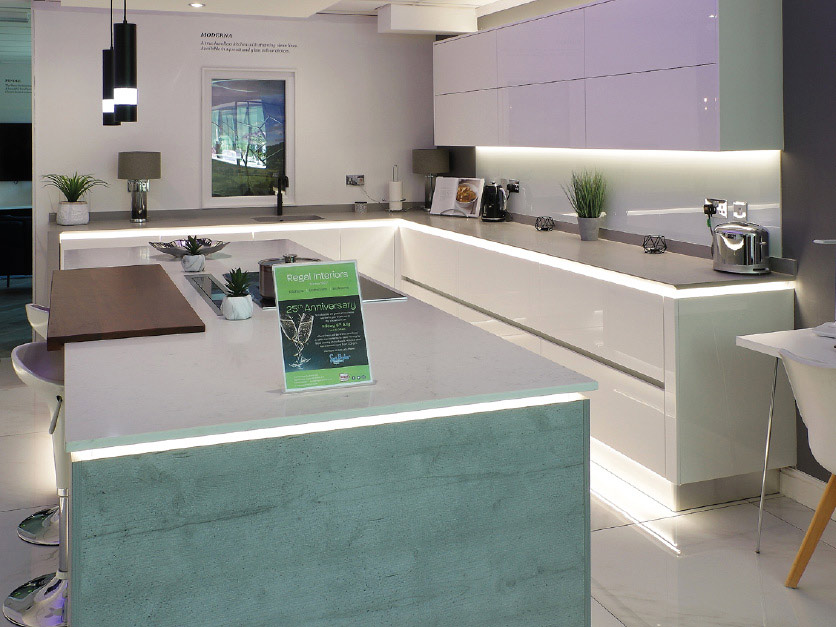 "We hold those values dear to our heart," Frost tells me. "If I go and do a job, and it is my customer, I make sure that whatever I have said to that customer during the selling process, I deliver. If things go wrong, I am going to be there. I am not saying we have never had issues, because there's not a business out there that hasn't had issues. But, at the end of the day, I will get in my car and say I am sorry it happened and I will not stop until we have put it right and they are happy. It doesn't happen often, but in all those cases, when you deal with it properly, they always come back, because we never walked away from the problem. It doesn't matter what challenges we have got, we will always rise to it and overcome it."
And he adds: "As soon as we step away from those values, there is no more Regal Interiors." And he instils those values in all of the staff: "It has been drilled into them. If we get it wrong, we make it right."
Frost believes in seeing that level of service through from the very moment the client walks in the showroom to when the fitter completes the job.
"When a customer comes in," he explains, "whether they are buying or not and regardless of what car they pulled up in, they get the same treatment, whoever they are. We want them to leave thinking 'aren't they nice in there'. We send out questionnaires for every job we do to get feedback, and that includes the fitters.
"It's no good them coming in here, us creating a great impression and then the fitter making a mess. The service has to be good from the moment they walk through our door to the moment the fitter rolls up his dust sheets and leaves.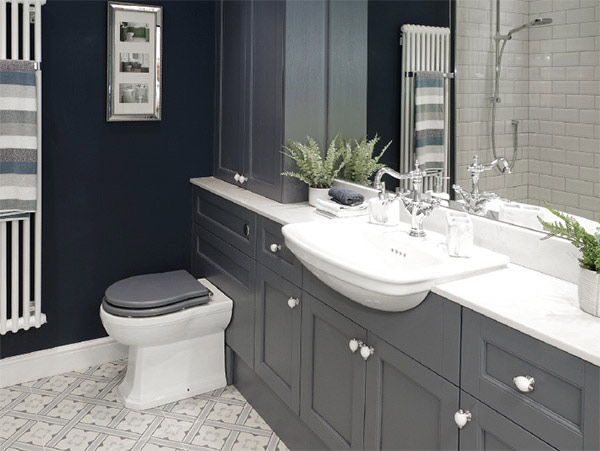 "What makes Regal Interiors the business we are is the way we do things, which works for us and it clearly works for our customers."
And it is that level of commitment and service that Frost uses to shift potential customers away from online.
"In kitchens, our appliance prices are always internet-matched. We work on a low margin so they can Google and they will find that we are actually quite cheap. But they can't Google the furniture or anything else in the kitchen."
He adds: "It is more of a problem on bathrooms. We've just had a £12,000 bathroom confirmed this week and the client has Googled Hansgrohe. I explained exactly what our policy is, and I said that I'd put a £200 discount on the quote. I told him it was nothing to do with me trying to price-match, that is a road we cannot go down, but it was as a gesture, to help. And he was really appreciative of that."
And the approach usually pays off, says Frost: "In the end, they do come round to our way of thinking. Maybe they'll save £1,000 by buying a bathroom online, but what if it goes wrong? Here, they can come in and if needs be they can have my mobile number. I tell them that it's never off and they can get me anytime.
"We can't do more than that. They have the managing director's mobile number and I am guaranteeing them the job will be right."
The impressive 8,000sq ft showroom on the Crossings Business Park near Keighley, is open seven days a week and is within striking distance of Skipton, Ilkley, Bradford and Keighley and a stone's throw from the Yorkshire Dales National Park. Regal Interiors serves customers within a 20-mile radius of the store.
To celebrate its 25th anniversary in style, Regal Interiors staged a special event at its showroom, inviting 120 existing and previous customers to go along and enjoy a hog roast, live music and participate in the tombola and raffles to raise money for local charity Manorlands, which provides end-of-life care. All in all, the event raised more than £2,000 and Frost tells me it was a great success.
It was their first such event since before lockdown and, based on the success of this one, Frost confirms he will definitely look at doing something similar next year.
Looking at the showroom today, you realise how far the company has come since Adrian Frost and Michael Hawksworth opened its first high-street store on Cavendish Street, bang in the middle of Keighley.
Before starting Regal Interiors, both Frost and Hawksworth had worked at a DIY shop owned by Frost's uncle. Frost started there straight from school, realised his natural talent for sales, eventually becoming manager of his uncle's flagship store in Ilkley, where he took bathroom sales to a different level, from typically selling suites at £300 to complete bathrooms at £3,000.
When Hawksworth joined the company, Frost recognised how good a fitter he was.
Frost recalls: "One Saturday, I was working in the storeroom. I had been there 13 years, I was 29 years old, and I'd been thinking for a while that I wanted to do something for myself. I decided I was going to open a bathroom showroom. And Mick said if I did, he'd go in with me.
"So that's what we did. We planned it for a year. We got the keys to the shop and off we went."
So how did Frost find the new premises, some seven miles NW of Keighley on the Crossings Business Park at Crosshills? Frost explains: "We'd been looking for premises and I'd passed this business park many times when I had been out on my travels. When we went to look, there were no units for sale. This unit was just a plot of land and there were two guys looking at it, who turned out to be the owners. We exchanged business cards and they said to send a drawing of what I wanted, which I did. So we had a meeting to discuss costs and the deal was done."
That original shop in the centre of Keighley was staffed by just Frost and Hawksworth and was on two floors with eight bathroom and three kitchen displays. In the current showroom, there are a total of 17 staff, including six full-time installers, and more than 30 displays.
Back in Cavendish Street they were selling around two bathrooms a week and one kitchen a month, whereas now it is 40 to 50 bathrooms and 10 kitchens a month.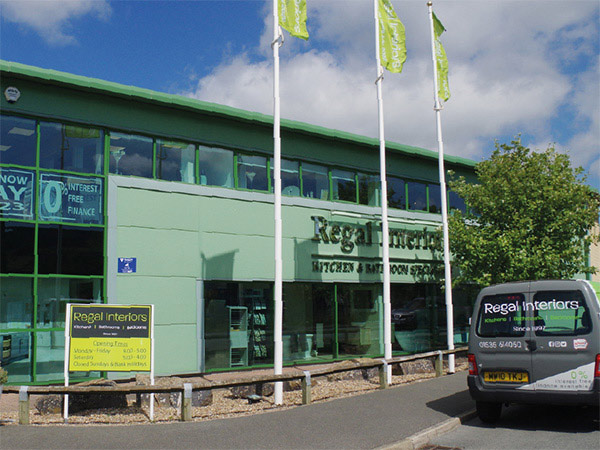 As kitchens are higher-value sales, turnover is split around 45% each for bathrooms and kitchens, with bedrooms accounting for the remaining 10%.
In terms of displays, Regal Interiors used to have more kitchen displays, around 18, but Frost took a bold decision to change that. As he recalls: "Before, we had smaller, L-shaped displays. People still loved the showroom, but I was never happy with them and didn't think they were very inspiring. So, during lockdown we decided that our other displays had to have the same impact as our larger 'VIP' display [which has a living area with media unit and dining/living area with table and banquette seating] and we had to get them ready for when we could reopen.
"One of the most impor-tant things was the lighting. LED ceiling lighting just kills displays – it's not like real life."
Regal Interiors sources its kitchens from JJO and for bathrooms, its main brands are VitrA, Carronite baths, Utopia, JJO bathroom furniture, Crosswater, Duravit, Aqualisa – "there's probably eight to 10 brands that we use regularly".
Appliances, though, as with so many other retailers, are causing Regal Interiors a few headaches. Frost tells kbbreview: "It is an absolute nightmare at the moment. With those appliances we can't get, we are going to John Lewis, AO and Donaghy Bros in Belfast and we are paying more for them than we have sold them to the customer for, but it means we can service our customer and start the job. There is no end in sight. We have been managing like this for 12 months. There is a cost to it and it has been affecting margins, but it's more important to keep things going, as we are managing to do."
Regal Interiors also offers its customers various finance options, which Frost says has worked well for them: "If you went to buy a sofa from DFS, you can't buy it another way than through finance, and cars are the same. It was a pain to get the accreditation and FCA approval, which took almost 12 months.
Service has to be good from the moment the client walks through our door to the moment the fitter rolls up his dust sheets and leaves
"We have been doing it six or seven years now and it did increase turnover and we were getting jobs that we might not otherwise have got. And it has helped push order values up. So it was worth doing."
So what's next for Regal Interiors?
A trade counter is something Frost may look at, but before that he wants to open up some satellite stores – small high-street shops in busy areas that can feed business back to the main store.
Frost also acknowledges there is work to do in terms of the digital side of the business.
He says: "It is hugely important and it's something that we should do an awful lot more with. The website is OK and we get good comments from it. In terms of social media, we don't use that anywhere near how we should do. And we have got such an opportunity and there is such a story to tell and we have never done it.
"We are fully aware we should do more, and we will in time. It's easy to think we're busy and turnover is growing. It's an area that's going to grow and grow and we need to be a part of it."