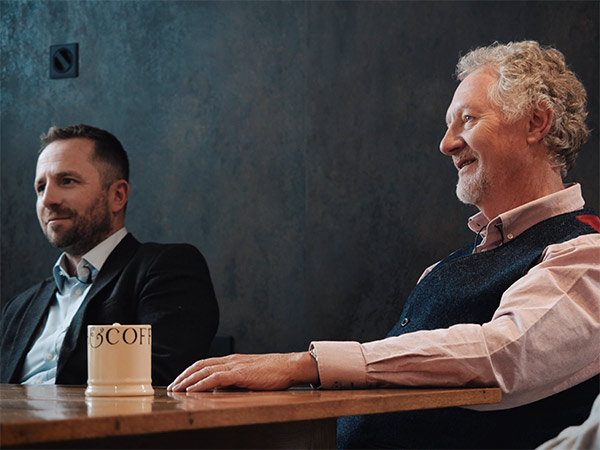 Qettle: Creating the blueprint
Norfolk-based Greg Rowe Limited is the company behind the new 4-in1 boiling water tap, Qettle. We speak to CEO Greg Rowe Senior and MD Greg Rowe Junior about the brand and why it's a good fit for independent retailers
It's fair to say that, as names go, Rowe is about as synonymous with the KBB industry as you can get.
Along with his then business partner, Bob Perrin, in the 1970s Greg Rowe Senior invented Triflow, the first 3-in-1 tap or, as Rowe senior puts it, 'the first tap appliance'. They were also the names behind Perrin and Rowe – the premium tap brand now owned by Fortune Brands Group.
Though he may not have been visible in the industry for years, like all true innovators and entrepreneurs – of which Greg Rowe Senior is a shining example of both – alongside his family, including son Greg Rowe Junior, he has been developing his latest innovation, the Qettle boiling water tap, behind the scenes since 2015.
The Rowes describe the Qettle 4-in-1 design as unique – with patents granted in the UK, Europe, USA and China. After developing the product and building its presence online, the company is now ready to engage with independent retailers across the UK. While the boiling and hot water tap category is undoubtedly one of the fastest-moving in the KBB industry right now, it is already well served by a number of big brands, so what can Greg Rowe Ltd and its Qettle offer independents that they're not already getting?
Q&A
Q: Tell me about Qettle. What's the concept, where did the idea come from and why?
Greg Rowe Senior: I became involved in making taps in the 1960s, around the World Cup. I started out as an apprentice engineer, worked my way up to production manager and started my own business in the late 1970s where, along with my then business partner Bob Perrin, we invented the world's first 3-in-1 tap – Triflow – with hot, cold and cold filtered water from one device.
As manufacturers and innovators, our heritage includes the first real tap appliance so, creating the 4-in-1 Qettle boiling water tap was just a natural progression.
Even in the 1970s, it was clear to Bob and I that the convenience of boiling water at the sink was something really desirable. It's certainly something we considered back then, but we found it too demanding technically to do at the time, and there really wasn't the market for it then either.
Qettle is a genuinely 100°C product that is more than a match for the small number of other 'truly' boiling brands on the market. It looks like a conventional tap but it's anything but. There are no electronics in this model which is another important aspect of its story.
We're engineering the majority of taps in the UK with a plan to onshore as much of the remaining manufacturing as possible over the next five years.
GRJ: We're not interested in being a me-too business, we always want to push for more, we always want to be the ones that create the blueprint if you like. And that's what's so exciting about what we're doing today because Qettle is setting the bar high.
Q: You've been making the Qettle for a few years but why are we, the KBB industry, really just hearing about it now?
GRS: We don't have the huge budget other brands have, so we felt that in order to build a new brand in today's market, we had to use digital direct selling and social media to get the name out there and create the buzz around the product. Now that we've got the conversation going about it, and we're established as a brand, what we want to do, of course, is work with independent retailers. We really want to draw on the success we had, and the strong relationships we built with our retailer programme when we were Perrin and Rowe.
We understand how to build relationships with retailers, and we know what they need and want from a supplier. The challenge for us now is to move into that channel again, while staying active online but finding a working relationship with retailers.
Q: What are your plans to get Qettle into independent showrooms?
GRS: We have two products. One is more of a budget range where the components are made offshore and then we have the Signature range, which is made in the UK from components sourced from here too. Showroom retailers can access and sell both product ranges.
Both will still be sold online, but there'll be no discounting and we've made the product, so there is sufficient margin in there for us to share with displaying retailers.
We know that what matters to retailers is margin, so with the Signature range, because it's a higher-quality product – 100% stainless steel – it can stand the higher price point, which then gives us more scope to work with retailers.
We're not a me-too business; we always want to be the ones creating the blueprint
Greg Rowe Junior
Q: Playing devil's advocate, why would an independent retailer work with Greg Rowe Ltd and the Qettle brand if the product is also available online?
GRJ: The consumer buying the product online is very different from the consumer going into the retailer. They have very different needs. We're assuming the consumer buying a Qettle tap from a showroom is shopping there for a whole kitchen and buying into their design service offering. That's where the value is for retailers. Plus, they are able to display it and demonstrate its USPs – which we just can't do online.
We're also backing up this affordable, quality technology and margin opportunity with a great retailer support package. Retailer trade terms and working display offers – a dedicated in-house customer support team, online sales training with our experts, marketing support for imagery and social media content and access to accredited installers local to their showroom.
GRS: In my 50-year career in the industry, by far the biggest change is the emergence of the digital world – the internet and social media. You just cannot turn your back on it because it's part of the consumer purchasing journey nowadays. We're realistic and appreciate that the digital channel isn't going away, in fact it's growing. Even I'm digitally aware and I'm 74. The next generation is more digitally-minded and the generations to follow will be even more switched on. So, trying to deny people access to products online is a fool's game. It's more about how you manage the process than trying to defend the involvement of the digital market.
Let's be clear, footfall into an independent retailer's show-room is generated by people looking to buy a kitchen. It's not generated by people coming in to look at a tap. You're not selling the tap – you're selling the benefits. Even in today's digital world, you cannot under-estimate the power of the independent retail showroom. An element of our business has always been retail because of the replacement cartridges our previous products featured. Our manufacturer-to-consumer connection was developed over a number of years. So, we, as a company and individuals, have developed a real understanding of what the consumer wants. And that's valuable for the retailer.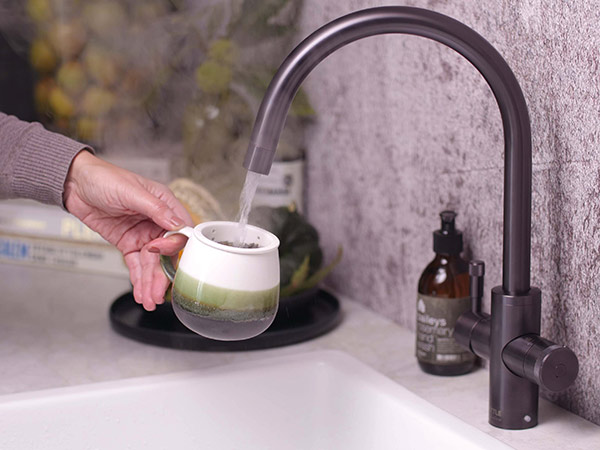 GRJ: We're a small family busi-ness, with years of combined industry experience. Our communication between each department is seamless and we're really flexible – if we need to move quickly in a new direction, we'll do it. In many ways, we're like independents in that sense.
GRS: Also, the KBB retail market is a very complex landscape – there's not one type of retailer. There are retailers who buy in kitchens and assemble them
and there's those retailers that also manufacture. There's no one-size-fits-all approach so, as a manufacturer, being flexible and having the ability to move and change quickly is a real strength.
Q: How does your knowledge and understanding of the consumer help you on your journey with retailers now?
GRS: What it does is just help keep us all focused on what the most important element is of this whole process – the consumer. With that at the forefront of our minds, we can ensure we provide our retailers with the means to meet the needs of the consumer.
Q: It might be one of the fastest-growing categories, but the hot and boiling water tap category is also well served by many of the big tap brands. What differentiates the Qettle from the others and how can compete with the bigger brands?
GRS: We're already working with retailers and in addition to Qettle's 'Britishness' and functionality, what's really hooking them is the pricing, which
is significantly less than competitors – and that is simply down to the tap's clever, all-mechanical design.
What's exciting about this sector is that it's probably the first new category in the kitchen since the microwave. It's a revolution. It not only changes your relationship with the kitchen tap, but it also changes the dynamic of your relationship with the kettle. I have nothing but respect for Quooker. It's their persistence that helped get this category recognised.
GRJ: The potential of this category is huge when you think that it's merged two of the most important elements of everyday life. What you're getting with the Qettle is top-end technology at a great price and that's what we're really proud of. Perrin and Rowe has always been known for innovation but at a premium price point and we, at Qettle, are proud to be doing the same, but at a different price point.