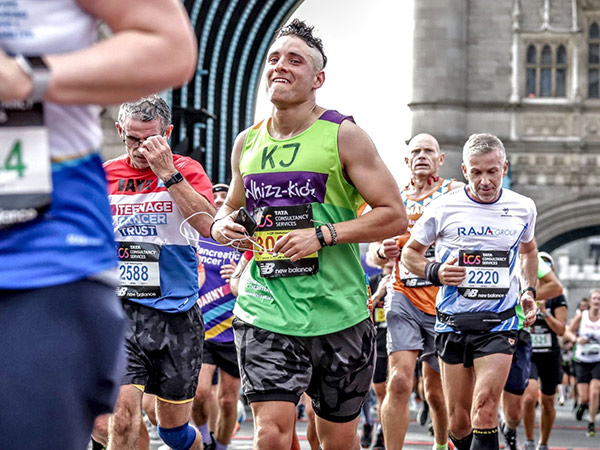 Kevin Jabou, founder of drinks cooler maker Kaelo, ran the London Marathon on Sunday October 2 to raise funds for UK children's charity Whizz-Kidz.
Jabou completed the marathon in under for hours and raised a total of £2,635 for charity Whizz-Kidz, which provides disabled children with mobility equipment and has a mission statement to make sure that every young wheelchair user is enabled, mobile and included. Since it began in 1990, the charity has changed the lives of more than 20,000 disabled children.
Speaking about the experience, Jabou told kbbreview: "The experience was unforgettable. Everyone should do it at least once in their life. There's nothing that compares to going down London's iconic streets with people shouting your name to boost you the entire way – truly like a dream. I credit the sub-four-hour time to those legendary humans that keep spurring you on – it feels like you are in a team sport and they are part of your attack and defence."
He also spoke of his reasons for choosing the Whizz-Kidz charity.
"As soon as I get out of bed and my legs hit the floor, I already feel so lucky and blessed and I remind myself that not everyone is born with mobility in life, yet so many of us take it for granted. I applied to run for Whizz-Kidz because they support kids who weren't as lucky as most of us, and their range of life experience and development can be severely impaired if they don't get access to the right wheelchair. I've always wanted to support their incredible cause."
Jabou completed the marathon in just 3 hours and 57 minutes after being on holiday in Spain the previous week.
Jabou added that he intends to continue his passion for helping young people by mentoring students at his old secondary school, St Bonaventure's in east London, and by helping final-year product design students at Imperial College to develop their ideas into viable commercial products, as he did with Kaelo 14 years ago.
"Giving back is super-important to me," said Jabou, "especially to the next generation. What better thing to leave behind in this world than knowledge that can help shape a better future?"