Falmec UK, distributor of the Italian cooker hood brand, has seen its business double year on year since it was first launched to the UK in January 2020.
It started trading in the UK just before the beginning of the coronavirus pandemic and in the first couple of years achieved a turnover of more than £2 million.
Like all other brands, Falmec faced many challenges created by the pandemic and broader industry issues
Sean Drumm, MD of Falmec UK, said: "We've had such a hard time trading, but we've doubled business year on year. We're going to have a fabulous year this year and next year, because we've started from the bottom. We're growing all the time and we're still trying to get around to see the kitchen studio owners."
Lead times are currently a maximum of six to eight weeks and Falmec says that the warehouse is stocked to deliver what their customers need.
Ron Blount, business development manager at Falmec UK, said: "[Falmec UK] is a good, solid business that is now dependent, in my opinion, on trustworthy, enjoyable relationships with good premium retailers. We have a six-to-eight-week maximum lead time. So that product will be sitting here with their name on ready for when they want it, without fail."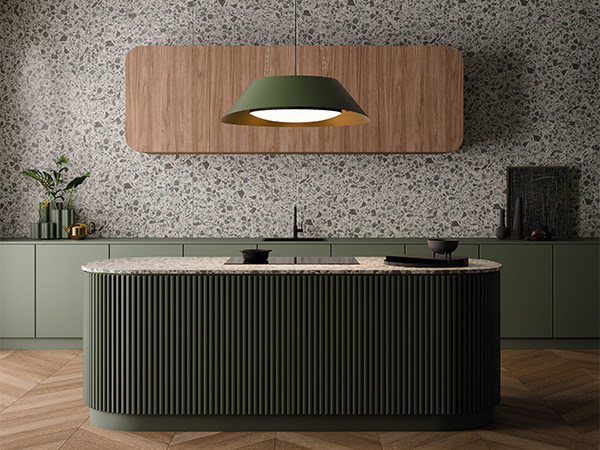 Drumm added: "When nobody had stock, we had stock. While other manufacturers are struggling and unable to supply until next year. We're moving stock every day of the week and our logistics partner sends it out."
Falmec has built up a retailer network of UK showrooms since its launch. There are now five people in the sales team, which looks after its retail showroom clients, and this team is set to double by 2024.
Drumm said that Falmec is 100% committed to independent kitchen studios. He said: "We love the kitchen studios. Our customers know our names, and we like to talk to them. We can see the pressures that they're under from outside, and we're here to support them.
"Falmec is here to make showrooms look fabulous with our products. We have 11 different categories, and we offer solutions all the way across the range and that's why we're so important to kitchen studios."
Drumm predicts that in 10 years Falmec UK could have a turnover between £15m and £20m because of the number of products it has available for its UK retailers and showrooms.