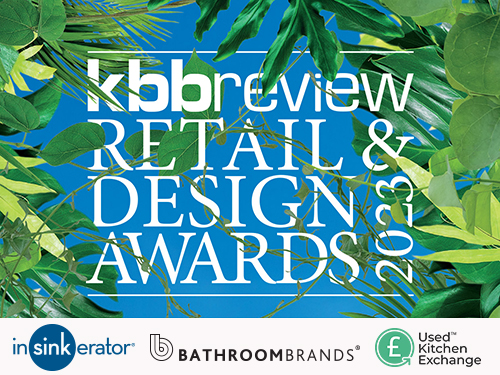 The kbbreview Retail & Design Awards, the biggest kbb industry event of 2023, is once again championing the importance of sustainability in the sector.
WIth the generous support of its Sustainability Partners – Bathroom Brands, InSinkErator and Used Kitchen Exchange – the awards are taking the vital message direct to the consumer.
For its 2023 Sustainability Partner initiative, the kbbreview Retail & Design Awards 2023 is teaming up with its sister consumer magazine Kitchens Bedrooms & Bathrooms and its digital partner TheseThreeRooms.com.
Together, they're collaborating with industry bodies AMDEA (Association of Manufacturers of Domestic Appliances) and the BMA (Bathroom Manufacturers Association) to support consumer-facing campaigns designed to educate consumers on sustainable options right at the point they're actively researching their new kitchen or bathroom.
In practice this means dedicated print and online editorial content with an equivalent advertising spend of more than £30,000.
"How we source, use, replace, and reuse the materials that make up our kitchens, bedrooms and bathrooms is a massive issue for this industry," said kbbreview managing editor Andrew Davies. "There is, unquestionably, both a moral and commercial imperative to find ways to minimise the environmental impact of its products and services and it will be one of the most significant factors driving this sector forward over the next decade.
"For 2023, we are focusing on one of the biggest considerations the sector must tackle if it is to drive the sales of more sustainable kitchens and bathrooms – the education of the consumer.
"This wouldn't be possible without the generous support of our Sustainability Partners at the kbbreview Retail & Design Awards 2023."
Promotion of the sustainability agenda has been a key focus for the awards for several years, and has included symbolic gestures such as donating hundreds of trees to a huge Royal Horticultural Society development in Salford when the event was held in Manchester, and helping a local school build a herb garden.
This gives an equivalent advertising spend of more than £30,000…
Andrew Davies
The kbbreview Retail & Design Awards has also been a carbon neutral event since 2019.
Paul Hide, CEO, AMDEA said: "We are delighted to be teaming up with the kbbreview Retail & Design Awards for this fantastic opportunity. It's great to talk directly to householders right at the point of researching and making decisions on both what appliances to choose for their new kitchen and how to use these appliances in the most sustainable manner.".
Tom Reynolds, CEO, Bathroom Manufacturers Association said: "The BMA is really excited to be working with the kbbreview Retail & Design Awards on getting the vital message about sustainability in the bathroom out to consumers. The research phase of customers' buying journey is crucial in enabling them to make informed green choices."
The kbbreview Retail & Design Awards 2023 takes place on Thursday, April 20 in Cardiff. To find out all the details and to book your tickets go to kbbreview.com/awards