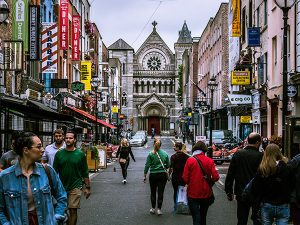 Retail footfall, the measure of how many shoppers are out visiting stores, increased by 5.3% in April, compared to the same period last year.
But while that overall figure from the British Retail Consortium (BRC) sounds positive, it belies more mixed results in the detail. It was 1.9 percentage points better than the March figures but a lot worse than the three-month average of 13.4%
England saw the highest increase in footfall of all nations at 9.7%, followed by Scotland at 7.7% and Wales at 3.0%. Northern Ireland saw the lowest increase at 2.9%.
It also varied depending on the environment, 'High Street' footfall increased by 10.5%, which was worse than the three-month average rise of 13.4%. Shopping Centre footfall also increased, with an April year-on-year rise of 7.9%, again still a drop from the three-month average rise of 9.1%.
Retail Parks saw the only footfall decrease, dropping by 6.9%, more than the three-month average decline of 5.6%.
The historical data presents an even gloomier picture. Compared to pre-pandemic levels, total UK footfall decreased by 16.2%; High Streets by 21.2%, Retail Parks lower by 6.1%, and Shopping Centres by 18.2%.
The BRC has been campaigning for better trading conditions for physical retailers for some time.
Andy Sumpter, Retail Consultant EMEA for Sensormatic Solutions, said: "Footfall saw growth again in April, even if more modest than in the first quarter. This is despite a continuing cost of living crisis and inflation in most categories, not least food. With April marking a year on from the end of the last remaining covid restrictions across the UK, as well as the first energy price cap increase, remarkably, retailers are starting to see some stability.
"This can partially be attributed to consumers adjusting to the times by shopping down or shopping more carefully. As we became used to "living with covid", consumers have now lived with higher prices for over a year, meaning shopping habits are beginning to stabilise. Stability brings predictability and predictability brings retailers the confidence to plan. There is also positive news from some retailers, with HMV making a much-anticipated return to Oxford Street after a four-year hiatus, and M&S announcing it is investing £12.5 million into developing its London store portfolio this year.
"The outlook does remain tough however, and double-digit growth was always going to fizzle out as the year went on and footfall trends began to normalise. Nevertheless, rising consumer confidence and a May full of holidays is surely something that retailers can look forward to."